Yerba Biological Maté
From
Regular price
14,95€

i.e. 0,12€ / capsule
Sale price / Kg
14,95€
Regular price / Kg
i.e. 0,12€ / capsule
Biological quality

Effective appetite suppressant

Improvement of sleep and muscle relaxation
Learn more
Payment in 3 installments without fees
Splitting the cost of your basket into 3 payments, nothing could be simpler with Alma! Available from 50 euros
Black Friday conditions
Black Friday:
-5% below 100€
-15% from 100€
-25% from 200€
-30% from 300€
Delivery estimated on 08/12
We guarantee fast delivery
in less than 5 days, at your home or in
relay point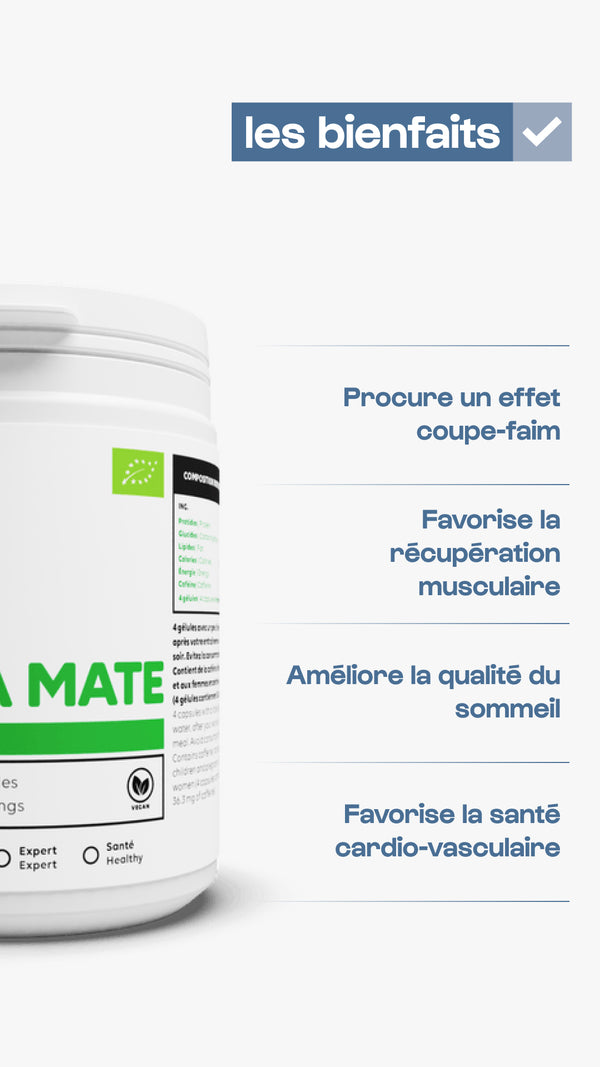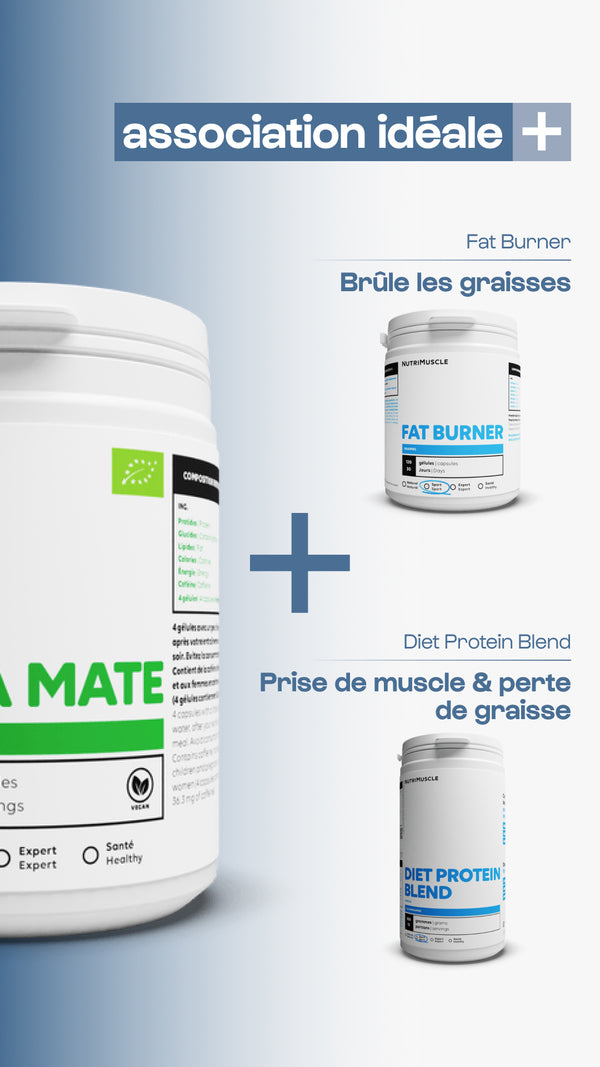 Good to know
It is rare, however essential to find organic maté Yerba. The active molecules are better preserved by avoiding high temperatures.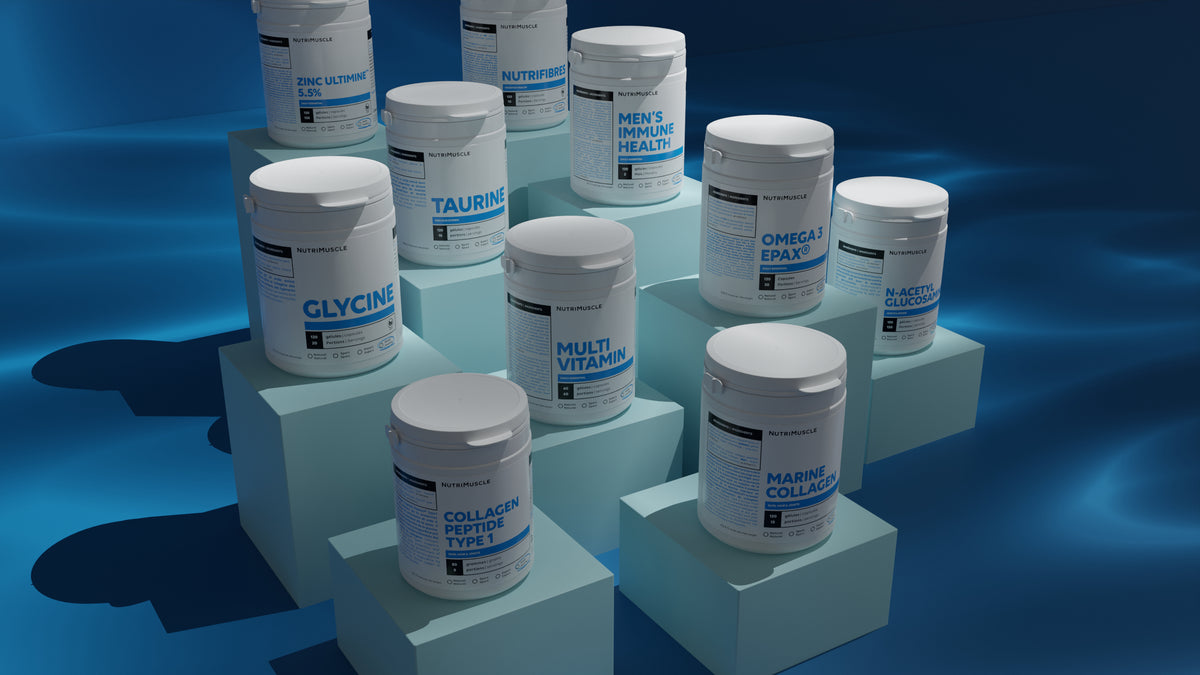 What the product does
Appetite suppressant effect
The Maté Yerba polyphenols prove to be the best stimulants of the appetite suppressant hormones and represent an ally of choice during a diet.
Muscle recovery
Taken after the effort, the Maté Yerba promotes muscle relaxation and accelerates the return to calm.
Everything about this product
Interaction with other Nutrimuscle products
The very first mixture that it is possible to make with the Yerba Maté Biological Nutrimuscle consists in taking it with organic green tea. The latter will accentuate the stimulating, but non -exciting effects of the Yerba Maté Biological Nutrimuscle.

The second mixture consists in taking the Nutrimuscle biological yerba with the ZMB Pidolates in the evening before going to sleep. Indeed, these are two complements that promote nerve and muscular relaxation.

Unlike a received idea, the Yerba Maté Biological Nutrimuscle will not prevent your creatine (Creapure®) from acting. On the contrary, their effects strengthen each other with regard to the increase in muscle performance and dry mass gains.

The Nutrimuscle Biological Maté Yerba slows down the assimilation of rapid proteins: Peptopro® and Whey Protein.
References
(1) Grujic N. Effects of Different Extraction Methods and Conditions on the Phenolic Composition of Mate Tea Extracts. Molecules. 2012 Mar 2; 17 (3): 2518-28.
(2) Silva RD. The Effect of Aqueous Extract of Gross and Commercial Yerba Mate (Ilex Paraguaria) on intra-abdominal and epididymal fat and glucose levels in male wistar rats. Fitoterapia. 2011 Sep; 82 (6): 818-26.
(3) Pérez-Parada A. Transfer of Pesticides to the Brew During Mate Drinking Process and Their Relationship with Physicochemical Properties. J approximately SCI Health B. 2010 Nov; 45 (8): 796-803.
(1) Boaventura BC. Association of Mate Tea (Ilex Paraguaria) Intake and Dietary Intervention and Effects on Oxidative Stress Biomarkers of Dyslipides Subjects. Nutrition. 2012 Jun; 28 (6): 657-64.
(2) Gosmann G. Phenolic Compounds from Maté (Ilex Paraguariensis) inhibit adipogenesis in 3t3-l1 preadipocytes.plant Foods Hum Nutr. 2012 Jun; 67 (2): 156-61.
(3) Schinella G. Cardioprotective Effects of Ilex Paraguariensis Extract: Evidence for a Nitric Oxide Dependent Mechanism. Clin Nutr. 2005 Jun; 24 (3): 360-6.
(4) by Morais Ec. Consumption of Yerba Mate (Ilex Paraguaria) Improves Serum Lipid Parameters in Healthy Dyslipidemic Subjects and Provids An Additional LDL-Cholesterol Reduction in Individuals on Statin Therapy. J agric Food chem. 2009 Sep 23; 57 (18): 8316-24.
(5) Matsumoto RL. Effects of Mate Tea (Ilex Paraguarians) Ingestion on mrna Expression of antioxidant enzymes, lipid peroxidation, and total antioxidant status in healthy young women. J agric Food chem. 2009 Mar 11; 57 (5): 1775-80.
(6) comforted as. Yerba Mate (Ilex Paraguaria) consumption is associated with high bone mineral density in postmenopausal women. Bone. 2012 Jan; 50 (1): 9-13.
(7) Hussein GM. Mate Tea (Ilex Paraguaria) promotes Satiety and Body Weight Lowering in Mice: Involvement of Glucagon-Like Peptide-1. Biol Pharm Bull. 2011; 34 (12): 1849-55.
(8) Tenorio Sanz. [Mineral Elements in Mate Herb (Ilex Paraguaria St. H.)]. Arch Latinoam Nutr. 1991 Sep; 41 (3): 441-54.
Learn more
It is rare to know the names of the suppliers of the raw materials of the supplements that we consume. However, it is essential in order to ensure the traceability of the product.

At Nutrimuscle, we only use very high -end Yerba whose quality is guaranteed.

The Maté Yerba from Guayapi is from Paraguay, a country from which he takes his scientific name (Ilex Paraguariansis).

Guayapi focuses on wild plants, picked by local tribes, respecting traditions. It is therefore an organic farming that preserves the environment. Guayapi respects the quality charters of many organic and fair trade certification organizations. We are far from intensive culture, chemical extraction and GMOs.

Indeed, what matters to us primarily is the quality of raw materials, your health and the results you will get using our nutritional supplements.
Who is the product for?
The Nutrimuscle biological maté Yerba is addressed:

to athletes to promote muscle relaxation after training;
to sedentary to accompany them during a diet or improve their sleep.
Our customer reviews
Your opinions

Free delivery
in France
3x payment without fees
from 100€