A amino acids of collagen 4.4.1 in capsules
From
Regular price
24,95€

i.e. 0,10€ / capsule
Sale price / Kg
24,95€
Regular price / Kg
i.e. 0,10€ / capsule
Association of three amino acids: glycine, proline, lysine

Ratio: 4.4.1

Suitable for vegan diets
Learn more
Payment in 3 installments without fees
Splitting the cost of your basket into 3 payments, nothing could be simpler with Alma! Available from 50 euros
Livraison gratuite*
We guarantee fast delivery
in less than 5 days, at your home or in
relay point
1 à 2 jours de livraison supplémentaires
En raison d'un volume important de commande, veuillez observer 1 à 2 jours supplémentaires sur le délai de livraison classique. Merci !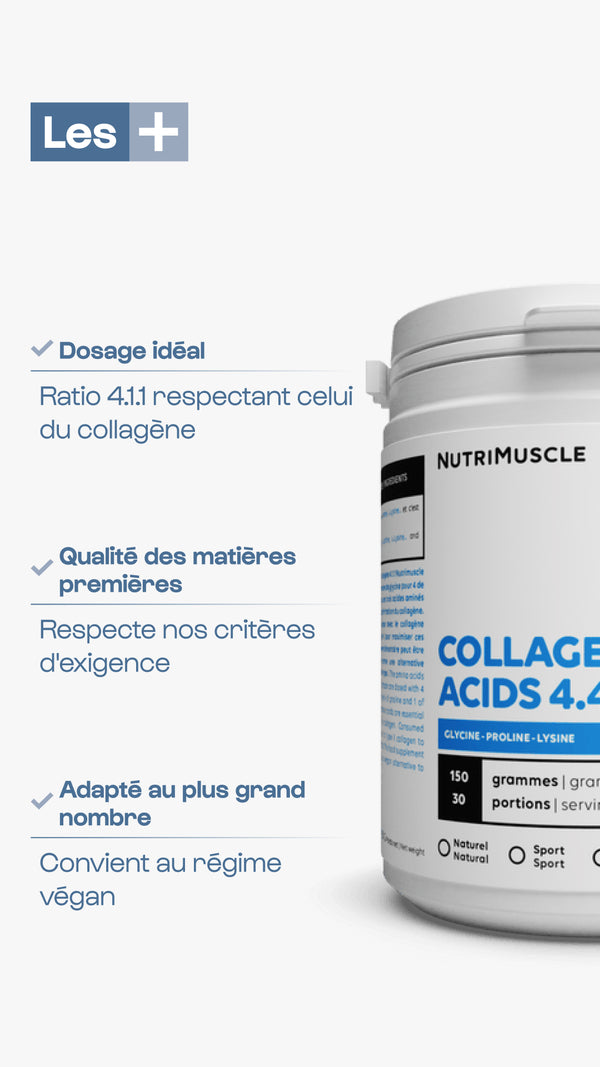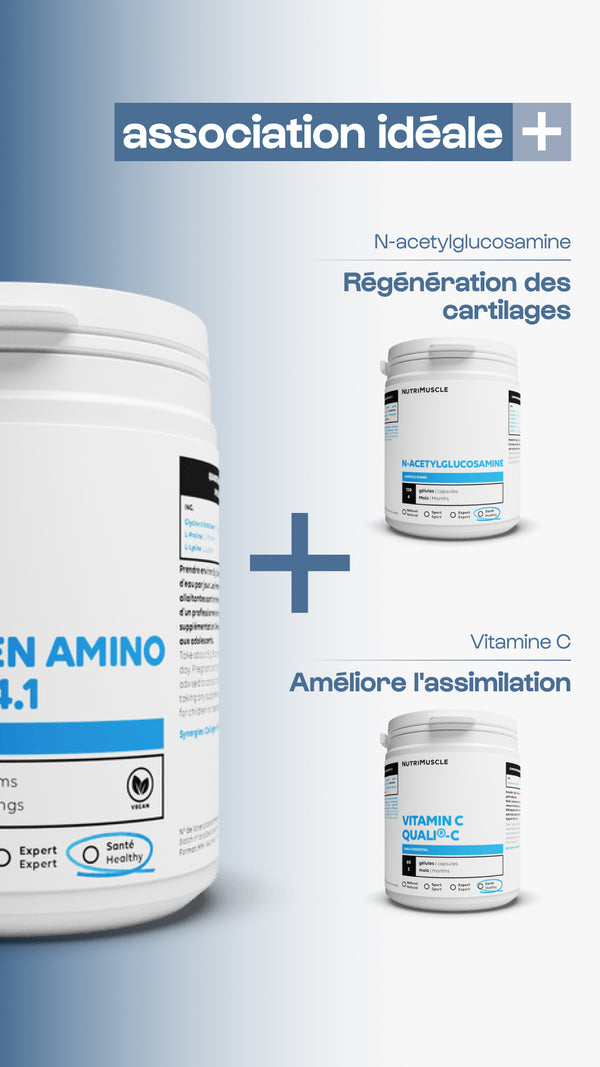 A amino acids of collagen 4.4.1 in capsules
From
Regular price
24,95€

i.e. 0,10€ / capsule
Sale price / Kg
24,95€
Regular price / Kg
i.e. 0,10€ / capsule
Everything about this product
Interaction avec d'autres produits Nutrimuscle
Prendre de la Vitamine C en plus des Acides Aminés du Collagène 4.4.1 permet de favoriser l'hydroxylation de la lysine et de la proline.

Elle améliore également l'assimilation des acides aminés du collagène.

Il est préférable de consulter un professionnel de santé avant l'utilisation concomitante de plusieurs compléments alimentaires.

1. La vitamine C contribue à réduire la fatigue et l'épuisement, ainsi qu'à la formation normale de collagène pour favoriser la santé de la peau, des dents, du cartilage et des os.

2. La vitamine C participe au bon fonctionnement du système immunitaire et à la formation normale de collagène pour assurer une fonction osseuse normale.

Les Acides Aminés du collagène 4.4.1 Nutrimuscle ne sont pas à prendre en même temps que le Bicarbonate de potassium pour éviter les ballonnements.
Références
Wu, G., Bazer, FW, Burghardt, RC et al. Métabolisme de la proline et de l'hydroxyproline : implications pour la nutrition animale et humaine. Acides aminés 40 , 1053–1063 (2011).

Paz-Lugo, P., Lupiáñez, J.A. & Meléndez-Hevia, E. High glycine concentration increases collagen synthesis by articular chondrocytes in vitro: acute glycine deficiency could be an important cause of osteoarthritis. Amino Acids 50, 1357–1365 (2018).

Gannon MC. The metabolic response to ingested glycine. Am J Clin Nutr December 2002 vol. 76 no. 6 1302-1307

van den Baar MT. Plasma amino acids and sports injuries. Amino Acids. 2004 Feb;26(1):71-6.

Tofas T. Plyometric exercise increases serum indices of muscle damage and collagen breakdown. J Strength Cond Res. 2008 Mar;22(2):490-6.

Brown SJ. Indices of skeletal muscle damage and connective tissue breakdown following eccentric muscle contractions. Eur J Appl Physiol Occup Physiol. 1997;75(4):369-74.
En savoir plus
Comme pour tous nos acides aminés, ce mélange répond à nos exigences en termes de qualité et de pureté.

Le combo des 3 acides aminés permet de bénéficier d'une excellente assimilation et interagissent mieux ensemble.




De plus, l'association de la proline (précurseur de l'hydroxyproline) et de la lysine (précurseur de l'hydroxylysine) favorise l'hydroxylation. L'hydroxylation permet de transformer la proline en hydroxyproline et la lysine en hydroxylysine.

La lysine, la proline et la glycine sont des acides aminés qui jouent un rôle important dans la formation et la structure du collagène, une protéine présente dans les tissus conjonctifs du corps (2).

La glycine constitue environ un tiers à un quart de tous les acides aminés présents dans les protéines de collagène (3). Des études ont montré que chez les athlètes, des niveaux insuffisants de glycine étaient associés à un risque accru de blessures par rapport à la normale (4).

Après un exercice musculaire intense, il a été observé une intensification de la dégradation du collagène au niveau des articulations et des tendons. Cela se manifeste par une augmentation des taux sanguins d'hydroxyproline et d'hydroxylysine, qui sont des marqueurs de ce catabolisme articulaire et tendineux. Ces niveaux augmentent considérablement pendant plus de 48 heures après un entraînement intensif. (5).

Au lieu d'être réutilisées pour la synthèse du cartilage et du tendon, il a été observé que l'hydroxyproline et l'hydroxylysine sont éliminées en grande quantité dans les urines. Après une séance de musculation intensive, des niveaux élevés de ces deux acides aminés dans les urines ont été constatés pendant une période de plus de 9 jours. (6).
À qui s'adressent les Acides Aminés du collagène 4.4.1?
Ce mélange contient les 3 acides aminés les plus importants du collagène : la glycine, la proline et la lysine avec un ratio de 4.4.1. Ce ratio respecte celui des acides aminés présents dans les collagène de type I et II.
Une dose de 5g de ces acides aminés correspond proportionnellement à 10 g de collagène.
Ils sont d'origine végétale et conviennent parfaitement aux régimes végans.
Les femmes enceintes et allaitantes sont invitées à prendre l'attache d'un professionnel de santé avant toute supplémentation. Déconseillé aux enfants et aux adolescents.
Our customer reviews
Your opinions

Free delivery to a relay point from 30€ of purchase
in France
3x payment without fees
from 100€