BCAA 2.1.2 Resistance in capsules
From
Regular price
14,95€

i.e. 0,12€ / capsule
Sale price / Kg
14,95€
Regular price / Kg
19,95€
i.e. 0,12€ / capsule
GMO without GMOs

Resistance improvement

Better recovery after effort
Learn more
Payment in 3 installments without fees
Splitting the cost of your basket into 3 payments, nothing could be simpler with Alma! Available from 50 euros
Livraison gratuite*
We guarantee fast delivery
in less than 5 days, at your home or in
relay point
1 à 2 jours de livraison supplémentaires
En raison d'un volume important de commande, veuillez observer 1 à 2 jours supplémentaires sur le délai de livraison classique. Merci !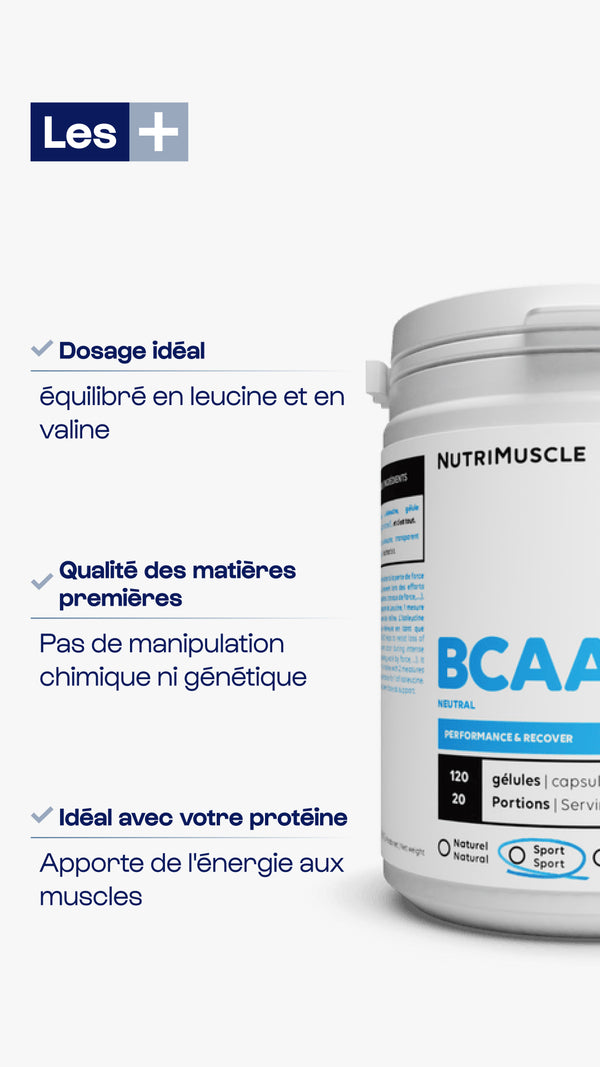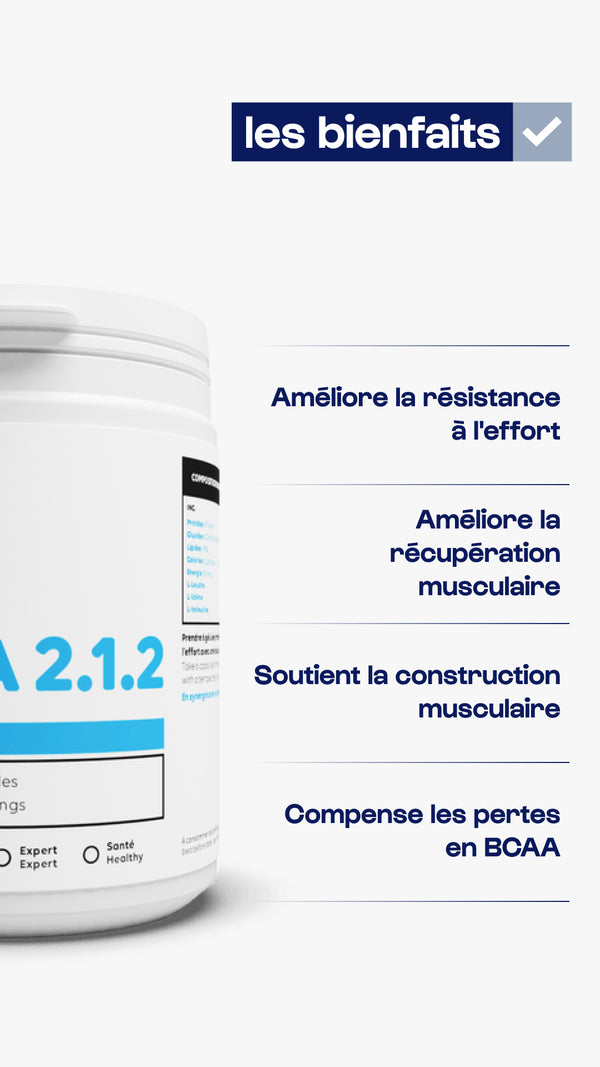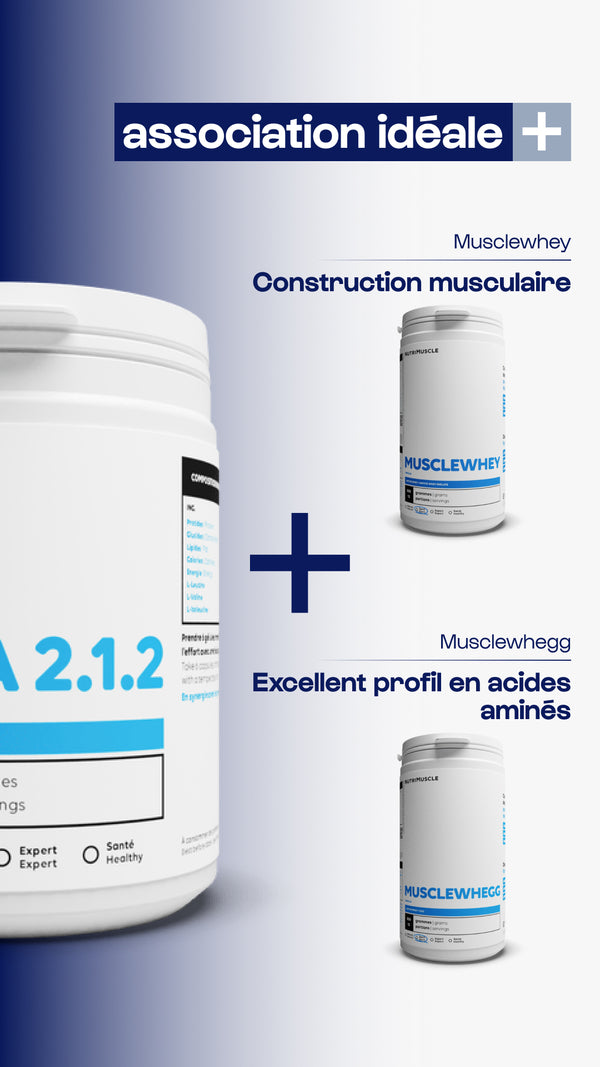 Good to know
BCAA are essential amino acids: they must be brought by an external source.
Everything about this product
Interaction with other Nutrimuscle products
BCAA 2.1.2 Nutrimuscle resistance improve the assimilation of L-leucine, Carnitine and Créatine.

BCAA 2.1.2 Nutrimuscle resistance are to be used with caution at the same time as potassium bicarbonate.
References
(1) LF link. The STEDMAN PROJECT: Biophysical, Biochemical and Metabolic Effects of A Behavioral Weight Loss Intervention During Weight Loss, Maintenance, and Regain. Omics. 2009 Feb; 13 (1): 21-35.
(2) Jitomir J. Leucine for Retention of Lean Mass on Hypocaloric Diet. J Med Food. 2008 Dec; 11 (4): 606-9.
Learn more
What matters to us is the quality of the raw materials that we are going to consume on a daily basis, over time.

in Nutrimuscle none of our products undergoing chemical or genetic manipulation.

Regarding the raw materials used for the manufacture of L-leucine L-Isoleucine and L-Valine, these are bacteria from the fermentation of a mixture of non-transgenic guaranteed corn syrup and dextrose.

This double quality is essential for amino acids such as BCAA 2.1.2 Nutrimuscle resistance and BCAA 4.1.1 Nutrimuscle manufacturer that you often consume (every day or even several times a day) and in large quantities.
Who is the product for?
BCAA 2.1.2 Nutrimuscle resistance are addressed:

to athletes to improve their performance in force and endurance sports.
to sedentary if their hypocaloric diet causes significant fatigue for find energy.
Our customer reviews
Your opinions

Free delivery to a relay point from 30€ of purchase
in France
3x payment without fees
from 100€