Diet Protein Blend
From
Regular price
23,95€

i.e. 479,00€ / Kg
Sale price / Kg
23,95€
Regular price / Kg
27,95€
i.e. 47,90€ / Kg
Prolonged satiety

Fighting of fat

High inulin and fiber intake
Learn more
Payment in 3 installments without fees
Splitting the cost of your basket into 3 payments, nothing could be simpler with Alma! Available from 50 euros
Livraison gratuite*
We guarantee fast delivery
in less than 5 days, at your home or in
relay point
1 à 2 jours de livraison supplémentaires
En raison d'un volume important de commande, veuillez observer 1 à 2 jours supplémentaires sur le délai de livraison classique. Merci !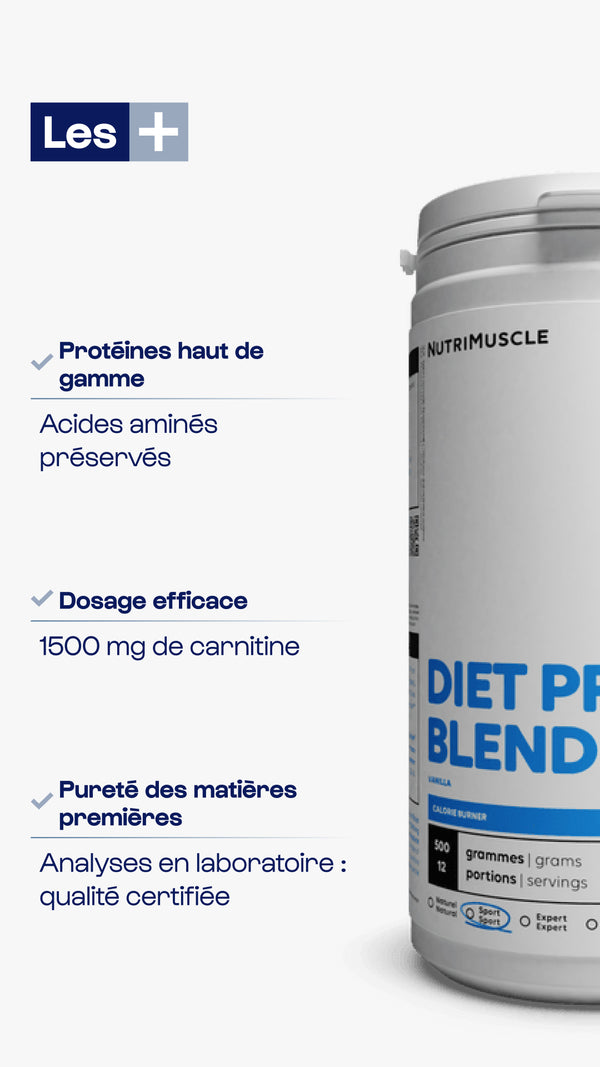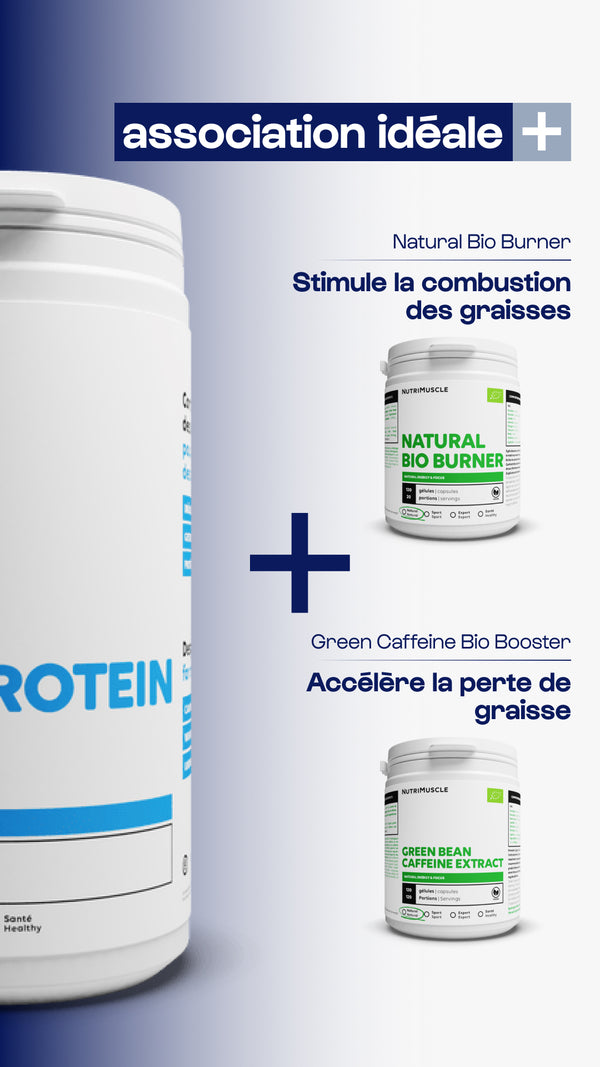 Diet Protein Blend
From
Regular price
23,95€

i.e. 479,00€ / Kg
Sale price / Kg
23,95€
Regular price / Kg
27,95€
i.e. 47,90€ / Kg
Good to know
The Diet Protein Blend is the perfect ally for dry.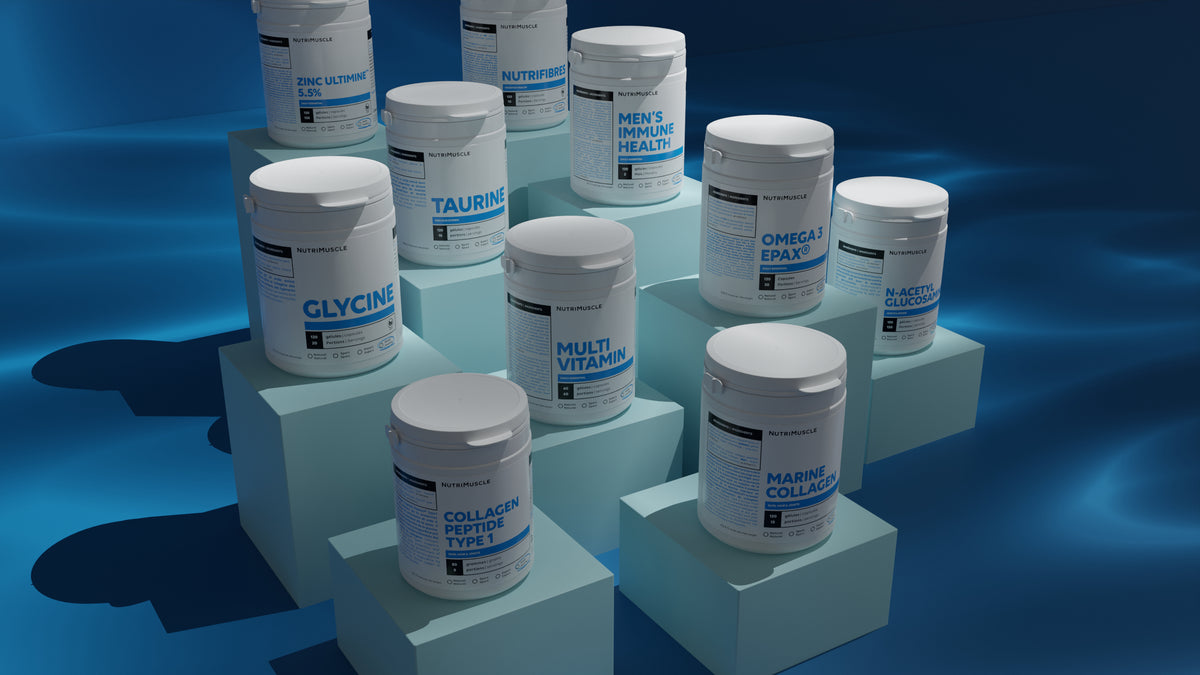 What the product does
Weightloss
Total proteins and Nutri-Fibers provide a prolonged satiety effect allowing to better control calorie intake during the following meals. This also helps avoid snacking between meals.

L-carnitine optimizes fat combustion during a hypocaloric diet combined with physical exercise. Glutamine and taurine limit fat storage.
Muscle mass maintenance
The Whey-Casein Synergy of total proteins allows a continuous intake of amino acids, thus supporting muscle growth.
Everything about this product
Interaction with other Nutrimuscle products
The Diet Protein Blend acts in synergy with the Natural Bio Booster, the Natural Bio Burner, the Green Caffeine Bio Booster, Natural Caffeine, Guarana and Ceylon Green Tea.

The Diet Protein Blend is not to be taken at the same time as potassium bicarbonate, this could cause digestive disorders.
Learn more
At Nutrimuscle, we only use very high -end proteins whose quality is guaranteed by global leaders: Ingredia produces total proteins of Nutrimuscle milk.

The Swiss group Lonza ©, certified HACCP and ISO9001, is the producer of carnitine L-Carnipure® Nutrimuscle. This provenance guarantees that L-Carnipure® contains no impurity, no trace of d-carnitine, no GMOs, no allergenic substances.

we use very high-end taurine whose quality whose quality is guaranteed by Qianjiang Yongan Pharmaceutical Co., Ltd.

We use very high -end glutamine, whose quality is guaranteed by the Japanese leader in pharmaceutical bikingology Biokyowa Inc. Biokyowa Inc, Certified HACCP and ISO9001.

We use very high-end carbohydrates, whose quality is guaranteed by world leaders: Roquette © produces Nutri-Fibers Nutrimuscle in its HACCP and ISO9001 certified factory in France.
Benefits of the Diet Protein Blend Nutrimuscle
To find out more about the benefits of the Diet Protein Blend, we invite you to go to the product sheets of all his ingredients:

Total proteins
Nutri-Fibers
Glutamine Carnitine Carnipure®
Taurine
Biotics


Proteins contribute to the development and maintenance of muscle mass.
A qui s'adresse le produit ?
Le Diet Protein Blend Nutrimuscle s'adresse :

Aux sportifs ayant un objectif de sèche.
Our customer reviews
Your opinions

Free delivery to a relay point from 30€ of purchase
in France
3x payment without fees
from 100€