Powder magnesium citrate
From
Regular price
19,95€

i.e. 1.108,33€ / Kg
Sale price / Kg
19,95€
Regular price / Kg
i.e. 110,83€ / Kg
Made in France

Combined effect of citrate and magnesium

Preserves muscle mass
Learn more
Payment in 3 installments without fees
Splitting the cost of your basket into 3 payments, nothing could be simpler with Alma! Available from 50 euros
Livraison gratuite*
We guarantee fast delivery
in less than 5 days, at your home or in
relay point
1 à 2 jours de livraison supplémentaires
En raison d'un volume important de commande, veuillez observer 1 à 2 jours supplémentaires sur le délai de livraison classique. Merci !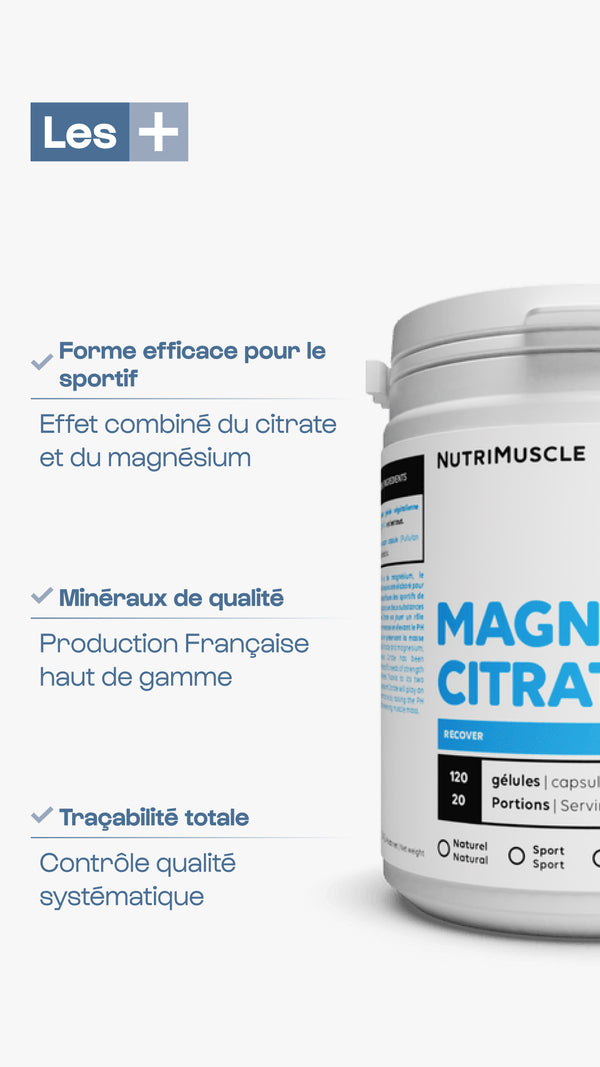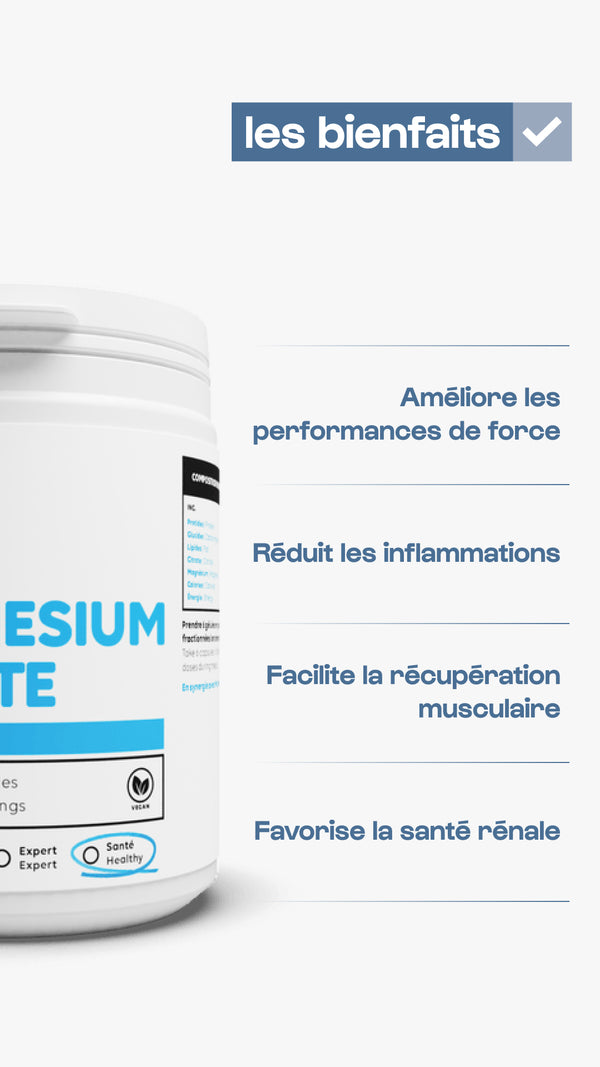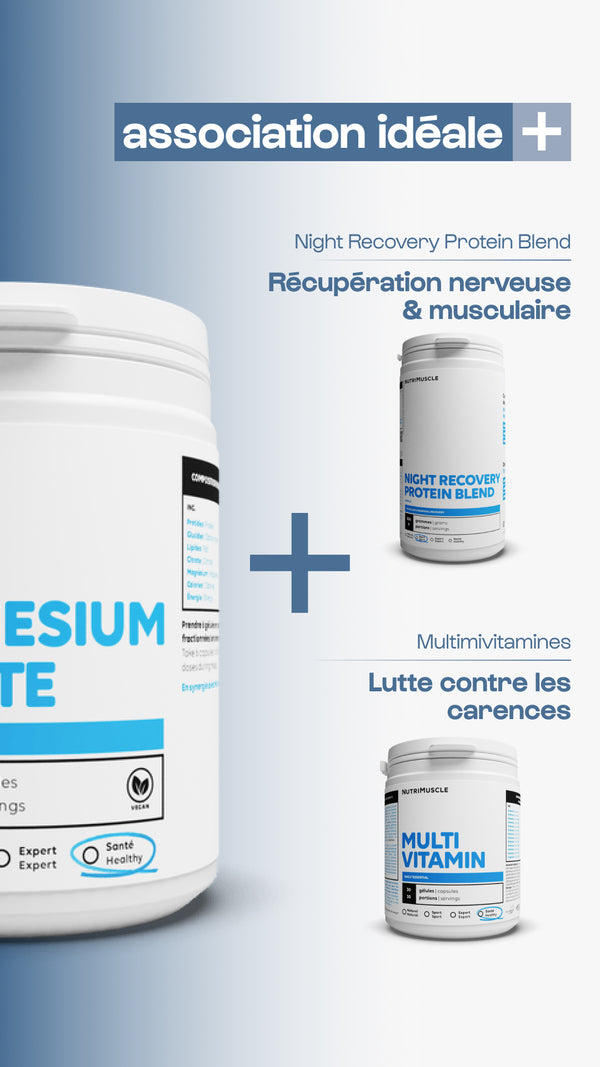 Powder magnesium citrate
From
Regular price
19,95€

i.e. 1.108,33€ / Kg
Sale price / Kg
19,95€
Regular price / Kg
i.e. 110,83€ / Kg
Good to know
athletes have magnificent needs 10 to 20 % higher than average.
Learn more.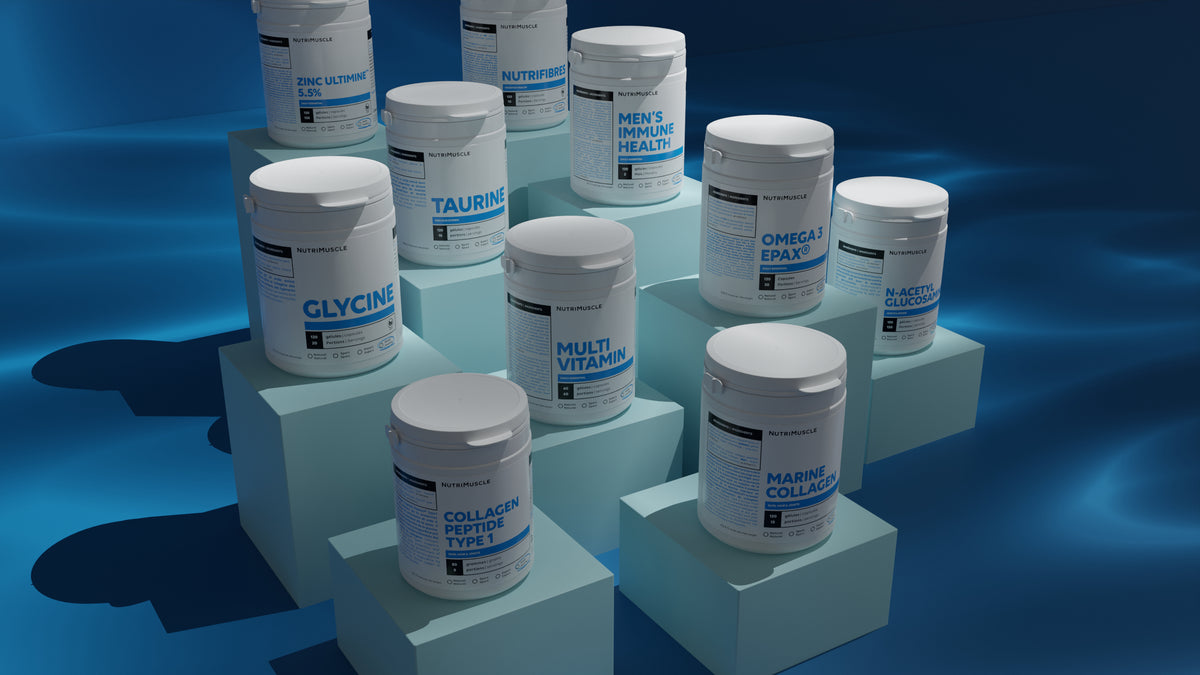 What the product does
Health of the Assured Sportsman
Magnesium intake is necessary during intense and regular physical efforts. A sportsman needs to increase his magnesium intake from 10 to 20 % compared to the recommended dose.
Increase in performance
A correlation exists between magnesium intake and muscle mass. The greater the food supply of magnesium, the more people have muscle and strength, even the sedentary.
Everything about this product
Interaction with other Nutrimuscle products
No negative interaction known with other supplements
References
(49) Assarzadegan F. Serum Concentration of Magnesium as an Independent Risk Factor in Migraine Attacks: A Matched Case-Control Study and Review of the Literature. Int Psychopharmacol clin. 2016 Sep; 31 (5): 287-92.
(50) Chiu Hy. Effects of intravenous and oral magnesium on reducing migraine: a meta-analysis of randomized controlled trials. Phys. 2016; 19: E97–E112.
(51) von Luckner A. Magnesium in migraine prophylaxis-is there an evidence-based rational? A Systematic Review. Headache J. Head Face Bread. 2018; 58: 199–209. (52) Kirkland A. The Role of Magnesium in Neurological Disorders. Nutrients. 2018 Jun 6; 10 (6). Pii: E730.
Learn more
As a consumer of our products, we favor traceability and transparency for our producers and supplements.

at Nutrimuscle, we only use very high -end minerals whose quality is quality is Guaranteed by world leaders: the French group Solabia © Certified HACCP and ISO9001 produces the Nutrimuscle magnesium citrate.

Before an effort, the action of the citrate is slower to settle than that of the bicarbonate. In addition, the doses of magnesium citrate must be used to increase blood pH being very important, the incidence of side effects is very strong in the digestive level (40).

the taking of 500 to 900 mg of Citrate per kilo of body weight is used for studies; This leads to taking 40 to 80 g for an 80 kg athlete. However, it is necessary to put studies into perspective: they test megadoses, in one go. This does not correspond to the reality of the sportsman. The latter must start slowly in order to avoid digestive discomforts. Then, the objective of supplementation is not to test once a megadosis, but rather to use a much more modest dosage regularly.

must absolutely not follow dosages and taking techniques studies. Thus, you will have no side effects, your performance will improve more and you will benefit from protective effects for term health (see below) (41-42).

Conclusions: As a first intention, it is necessary to keep the bicarbonate. The addition of citrate will strengthen the action of bicarbonate, which allows, if necessary, to take less bicarbonate (43).

In addition, magnesium citrate is much easier to use , since it can be taken with proteins, which is not the case with bicarbonate. And above all, magnesium citrate provides magnesium while bicarbonate brings potassium, two minerals very important for health.
Nutrimuscle magnesium citrate benefits
The objective of supplementation in magnesium citrate is double. First of all, it aims to ensure the health of the athlete, who sees her magnesium needs increase due to intense and regular physical efforts. The second objective is to optimize its performance and progress.

but the choice of this form of magnesium is not neutral, since the magnesium citrate does not contain a single, but two molecules active for the sportsman . Like magnesium, citrate will also ensure the health of the sportsman while increasing his performance.

Sport reduces magnesium levels because it accelerates the use and elimination of this mineral in sweat and urine. In other words, sport increases magnesium needs (1-2-3-4-5-6).
This phenomenon of elevation of needs is particularly true in force sports (7-8) .

It is for these reasons that doctors recommend that athletes increase their magnesium intake from 10 to 20 % compared to basic recommendations (9).

Many studies have underlined a correlation between magnesium intake and muscle mass. The greater the food intake of magnesium, the more people have muscles and strength, even the sedentary (10-11-12-13).
On the contrary, a magnesium deficit is associated with a lesser mass muscle mass .

Other studies highlight an improvement in performance and strength in relation to a placebo, thanks to magnesium taking (14-15-16-17-18).
< BR> Several action mechanisms are advanced. First, magnesium plays an important role in the process of synthesis of muscular proteins (anabolism) (19). Then, magnesium reduces the incidence of chronic inflammation and helps to fight against acidosis (20).

similarly, in high -level athletes, magnesium supplementation reduces muscle lesions as well as that the damage caused to DNA, which facilitates recovery between two training sessions (21-22-23). ??


Finally, the intake of magnesium before an effort promotes the metabolism of glucose, contributing to a better maintenance of blood sugar, which fights against fatigue (25-26).

Medical research tends to show that intense physical activity can have a harmful impact for the kidneys (44). Indeed, acid urine promotes the aggregation of kidney stones (45-46-47-48). The objective of the magnesium citrate is to increase the pH of the urine in order to dissolve the calculations before they manage to form.

A low level of magnesium in the blood is associated with higher mortality with a greater incidence of cardiovascular and cancer diseases (30-31-32-33-34). Magnesium also acts as an inhibitor of vascular calcification (35). This action is very important, especially in athletes, because the regular practice of a sporting activity promotes the calcification of blood vessels



1. Magnesium contributes to electrolytic balance, reinforces Muscle functions (neurotransmission and muscle contraction, including heart muscle) and protein synthesis.

2. Magnesium participates in normal energy metabolism.

3. Magnesium contributes to Good functioning of the nervous system.

4. Magnesium contributes to reducing fatigue and exhaustion.

5. Magnesium preserves bone health.

6. The magnesium contributes to good dental health.
Who is the product for?
Nutrimuscle magnesium citrate is an additional supplement:

athletes to preserve their health and improve their performance;
The sedentary people who need a magnesium supplement.
Research & received ideas on product
The magnesium level in magnesium citrate is 11.7 %. So taking 1 g of magnesium citrate, 730 mg of citrate and 117 mg of magnesium are obtained.


The average urinary tract losses of magnesium are around 100 mg per day. It is imperative to compensate them.

In Europe, the daily regulatory dosages of magnesium amount to 300 mg for women and 350 mg for men.

The needs of athletes are at least from 10 to 20 % higher. Although not regulatory, but advised by the medical profession, daily doses will have to take this into account.

The average intestinal absorption when everything is fine is 30 to 50 % of the magnesium ingested for a food intake of 370 mg per day.

The more magnesium we take, the more this level of absorption is reduced, which can fall to 20 %, hence the need to split its contributions throughout the day.

Obviously, these are average values ??with certain individuals with a much better assimilation rate, which considerably reduces their needs. On the contrary, in a person who has an absorption rate lower than the average, combined with a high level of elimination, magnesium needs can be well above.

These are in these People found the migrainers, who respond well to the high doses of magnesium. Similarly, in subjects with conventional intestinal problems, assimilation of magnesium is generally reduced.

The assimilation of magnesium does not improve with age, since it decreases over the years. It seems wise to compensate for this decrease if we want to fully benefit from the effects of magnesium on our longevity.

It is because of this complexity of assimilation mechanisms and those responsible for elimination that 'It is estimated that a supplementation is needed for at least 4 weeks to fully benefit from the effects of magnesium.

as the body is poorly stores magnesium and that the elimination of this mineral is constant, you have to ensure a Continuous contribution if you do not want to create a nutritional deficit. We therefore do not recommend making cures which would consist in taking magnesium citrate for a period and then stopping it for a certain period of time.

what can be done is a modulation of the contributions in depending on your needs. These increase during periods of stress, intense training or when it is hot (since we eliminate more magnesium by perspiration). On the other hand, for people who suffer from migraines or who are experiencing poor assimilation, we recommend a constant contribution, relatively high throughout the year without pause.

Some studies have suggested that magnesium supplementation improves muscle performance. For example, a study published in the newspaper "Nutrients" in 2017 examined the effect of magnesium supplementation on physical performance in male athletes. The results have shown a significant improvement in muscle strength, power and endurance capacity in participants taking a magnesium supplement compared to the placebo group.
Our customer reviews
Your opinions

Free delivery to a relay point from 30€ of purchase
in France
3x payment without fees
from 100€