Creatine (Creapure®) in powder
From
Regular price
17,95€

i.e. 1.196,67€ / Kg
Sale price / Kg
17,95€
Regular price / Kg
i.e. 119,67€ / Kg
Superior quality: CREAPURE® label

Made in Germany

Increases high intensity physical performance *

Reinforces muscle strength **
Learn more
Payment in 3 installments without fees
Splitting the cost of your basket into 3 payments, nothing could be simpler with Alma! Available from 50 euros
Livraison gratuite*
We guarantee fast delivery
in less than 5 days, at your home or in
relay point
1 à 2 jours de livraison supplémentaires
En raison d'un volume important de commande, veuillez observer 1 à 2 jours supplémentaires sur le délai de livraison classique. Merci !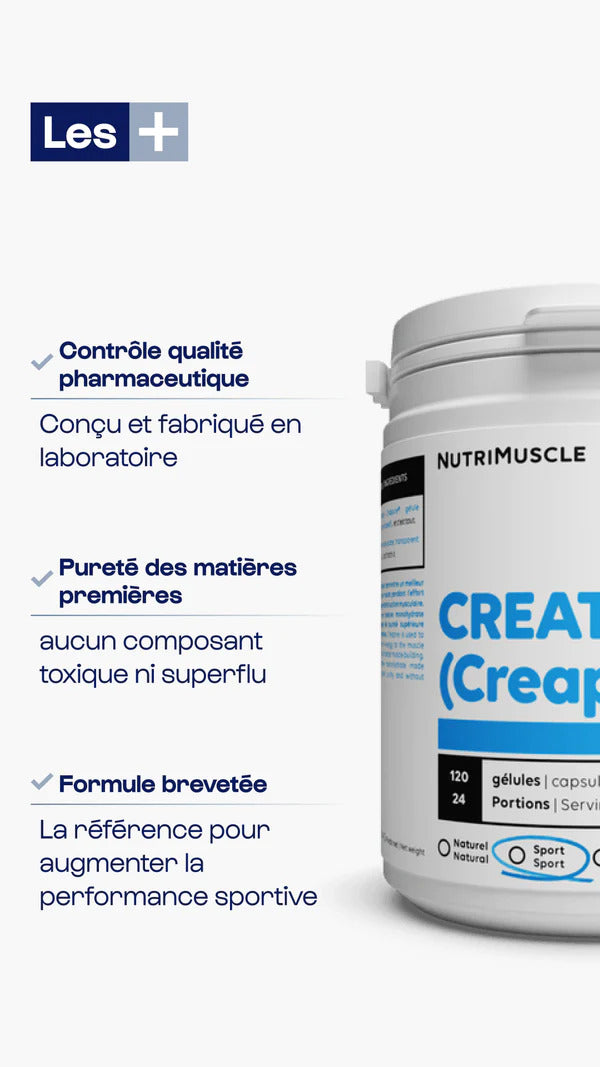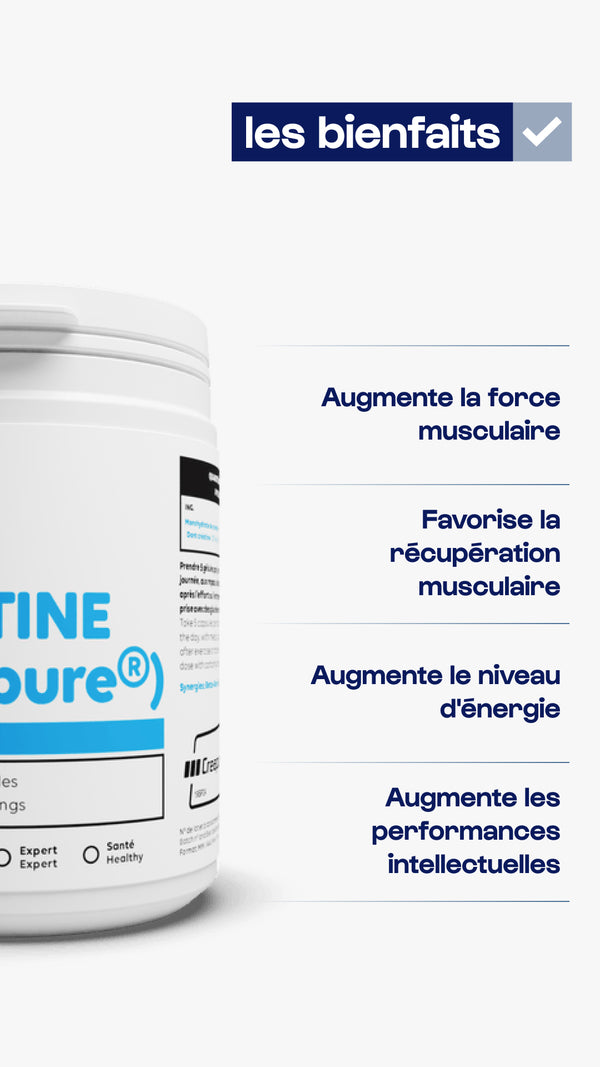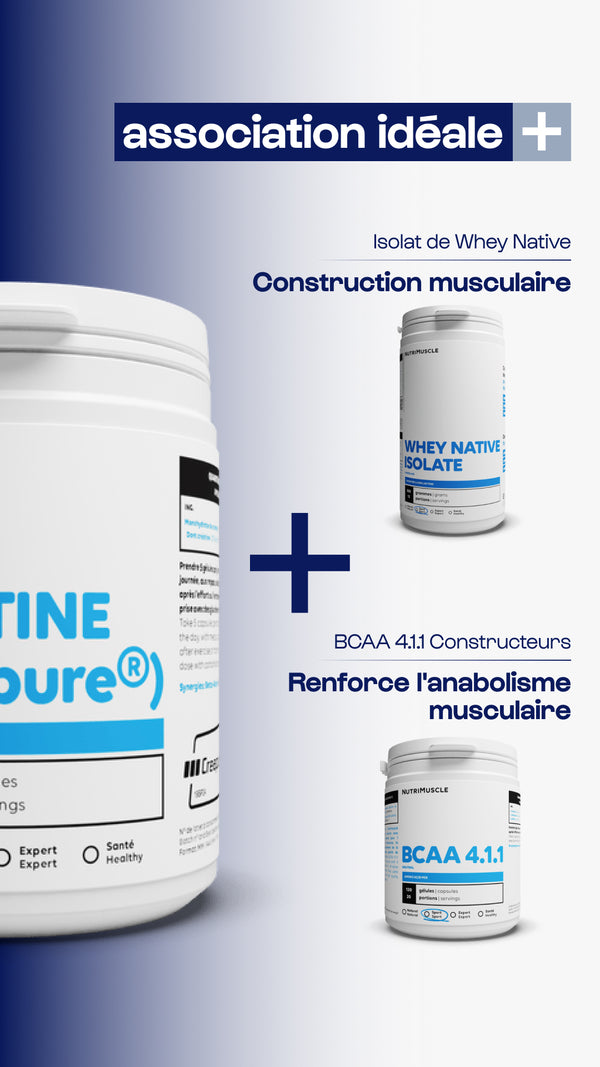 Creatine (Creapure®) in powder
From
Regular price
17,95€

i.e. 1.196,67€ / Kg
Sale price / Kg
17,95€
Regular price / Kg
i.e. 119,67€ / Kg
Good to know
In the form of phosphocreatine, it allows to quickly regenerate adenosine triphosphate (ATP), which is the main source of energy used by cells for fast and powerful activities.

(29), (30), (31), (32), (33)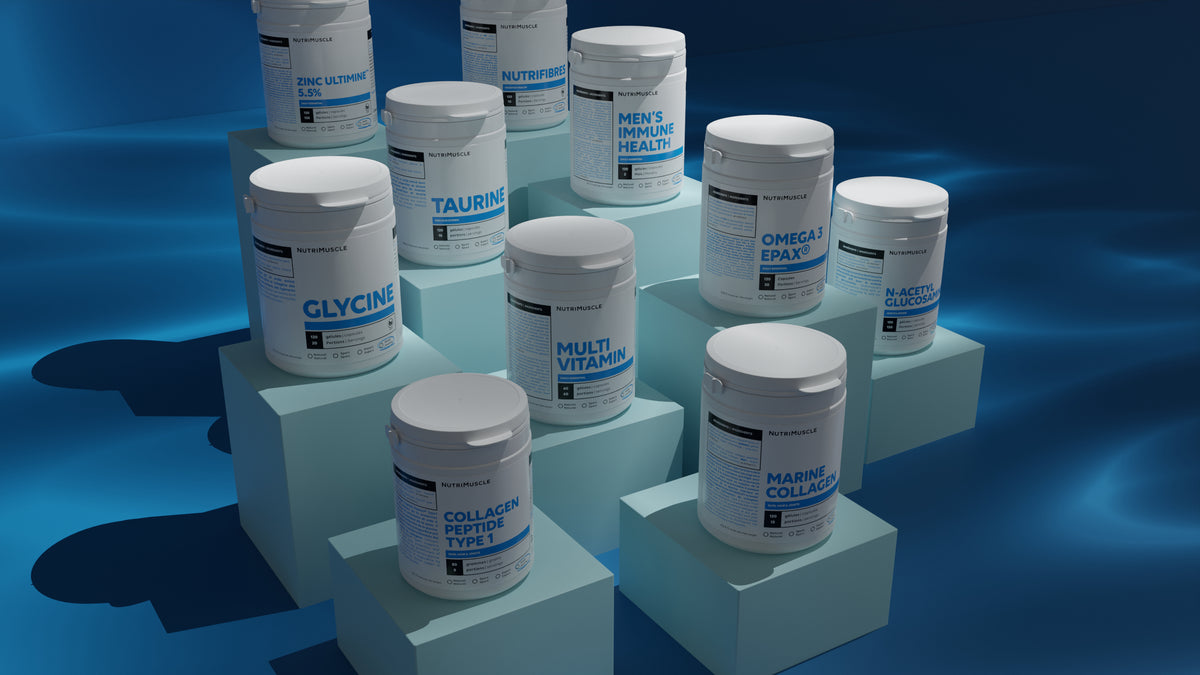 What the product does
Performance increase:
Creatine increases physical performance during successive short -term and high intensity exercise (34).




Creatine and brain
Creatine is an energy source (ATP) for brain cells. Following a use of several weeks, brain creatine increases by around 10 % (3)


Everything about this product
Interaction with other Nutrimuscle products
All of our proteins

It is better to consult a health professional before the concomitant use of several food supplements.
References
(1) Kalra pa. Renal Dysfunction accompanying oral creatine Supplements. The Lancet. 1998. 351. pp. 1252.
(2) Greenhaff-P. Renal Dysfunction accompanying oral creatine Supplements. The Lancet. 1998. 352. pp. 233.
(3) Roschel H, Gualano B, Ostojic SM, Rawson es. Creatin Supplementation and Brain Health. Nutrients. 2021 Feb 10; 13 (2): 586. DOI: 10.3390/NU13020586. PMID: 33578876; PMCID: PMC7916590.
(4) Poortmans Jr. Effect of Short-Term Creatine Supplementation On Renal Response in Men. EUR J APPE Physiol. 1997. 76: pp. 566.
(5) Poortmans Jr. Long-Term Oral Creatine Supplementation Does Not Oddness Renal Function in Healthy Athletes. Med SCI SPORTS EXERF. 1999 Aug; 31 (8): 1108-10.
(6) Mayhew Dl. Effects of Long-Term Creatine Supplementation On Liver and Kidney Functions in American College Football Players. Int j sport nutr Exercise metab. 2002 Dec; 12 (4): 453-60.
(7) Farquhar WB. Effects of Creatine Use on the Athlete's Kidney. Curr Sports Med Rep. 2002 APR; 1 (2): 103-6.
(8) Gualano B. Effects of Creatine Supplementation On Renal Function: A Randomized, Double-Blind, Placebo-Controlled Clinical Trial. EUR J APPE Physiol. 2008 May; 103 (1): 33-40.
(9) Pliny Ka. The Effect of Creatine Intake On Renal Function. Ann Pharmacother. 2005 Jun; 39 (6): 1093-6.
(10) Robinson TM. Dietary Creatine Supplementation Does Not Affect Some Haematological Indices, or Indices of Muscle Damage and hepatic and Renal Function.br J Sports Med. 2000 Aug; 34 (4): 284-8.
(11) Yoshizumi WM. Effects of Creatine Supplementation On Renal Function. J Herb Pharmacother. 2004; 4 (1): 1-7.
(12) Kreider-R. Long-Term Creatine Supplementation Does Not Forestaly Affect Clinical Markers of Health. Med SCI SPORTS Excercise. 2000. 32. P: S134.
(13) Willis J. Protein and Creatine Supplements and Misdiagnosis of Kidney Disease.BMJ. 2010 Jan 8; 340: B5027.
(14) Gualano B. Creatine Supplementation Does Not Oddness Kidney Function in Type 2 Diabetic Patients: A Randomized, Double-Blind, Placebo-Controlled, Clinical Trial. EUR J APPE Physiol. 2011 May; 111 (5): 749-56.
(15) Taes Ye. CREATINE Supplementation do not affect kidney function in an animal model with pre-existing renal failure. Nephrol transplant dial. 2003 Feb; 18 (2): 258-64.
(16) Edison Ee. Creatine Synthesis: Production of Guanidinoacetate by the Rat and Human Kidney in Vivo. AM J Physiol Renal Physiol. 2007 Dec; 293 (6): F1799-804.
(17) Levin RM. Metabolic Responses of Rabbit Corpus Cavernosum Tissue to Various Forms of Stimulation. Int j tax. 1995 Sep; 7 (3): 187-94.
(18) Levin RM. Metabolic Studies on the Rabbit Corpus Cavernosum. J Androl. 1993 Sep-Oct; 14 (5): 329-34.
(19) Vandenberghe K. Caffeine Counteracts the Ergogenic Action of Muscle Creatine Loading. J APPE Physiol 1996 FEB; 80 (2): 452-7.
(20) Hespel P. Opposite Actions of Caffeine and Creatine on Muscle Relaxation Time in Humans. J Applied Philsiol. 2002 Feb; 92 (2): 513-8.
(21) Doherty M. Caffeine is ergogenic after the Supplementation of Oral Creatine Monohydrate. Med SCI SPORTS EXERF. 2002 Nov; 34 (11): 1785-92.
(22) Lee cl. Effect of Caffeine Ingestion After Creatin Supplementation We intermittent High-Intensity Sprint Performance. EUR J APPE Physiol. 2011 Aug; 111 (8): 1669-77
(23) Chia Lun lee cl. Effect of Creatine Plus Caffeine Supplements On Time to Exhaustion During An Incremental Maximum Exercise. European Journal of Sport Science Volume 12, Issue 4, 2012 pages 338-346
(24) Williamson L. How the Use of Creatine Supplements Can Elevate Serum Creatinine in the Absence of Underlying Kidney Pathology. BMJ CASE REP. 2014 Sep 19; 2014.
(25) Barcelos RP. Creatine and the Liver: Metabolism and possible interactions. Mini Rev Med Chem. 2015 Jul 21. [Epub ahead of print]
(26) Tavaresdos Santos Pereira R. Can Creatine Supplementation Form Carcinogenic Heterocyclic Amines in Humans? J physiol. 2015 Jul 6. [EPUB AHEAD OF PRINT]
(27) PATRA S. A SHORT REVIEW ON CREATINE-CREATINE KINASE SYSTEM in Cancer and Some Experimental Results on Creatine as Adjuvant in Cancer Therapy. AMINO ACIDS. 2012 Jun; 42 (6): 2319-30.
(28) Norman K. Effects of Creatine Supplementation On Nutritional Status, Muscle Function and Quality of Life in Patients With Colorectal Cancer-A double Blind Randomized Controlled Trial. Clin Nutr. 2006 Aug; 25 (4): 596-605.
(29) Harris, R. C., Hultman, E., & amp; Nordesjö, L. O. (1974). Glycogen, intermediate glycolytic and high-energy phosphates Determined in biopsy samples of musculus quadriceps femoris of man at rest. Methods and Variance of Values. Scandinavian Journal of Clinical and Laboratory Investigation, 33 (2), 109-120.
(30) Greenhaff, P. L., Bodin, K., Söderlund, K., & amp; Hultman, E. (1994). Effect of Oral Creatine Supplementation On Skeletal Muscle Phosphocreatine Resynthesis. American Journal of Physiology-Cell Physiology, 266 (5), C725-C730.
(31) Hultman, E., Söderlund, K., Timmons, J. A., Cederblad, G., & amp; Greenhaff, P. L. (1996). Muscle Creatine Loading in Men. Journal of Applied Physiology, 81 (1), 232-237.
(32) Casey, A., Constantin-Teodosiu, D., Howell, S., Hultman, E., & amp; Greenhaff, P. L. (1996). CREATINE Ingestion PrédaBLY Affects Performance and MUSLE METABOLISM During maximum exercised in Humans. American Journal of Physiology-Endocrinology and Metabolism, 271 (1), E31-E37.
(33) Balsom, P. D., Söderlund, K., & amp; EKBLOM, B. (1994). Creatin in Humans with special reference to creatine supplementation. Sports Medicine, 18 (4), 268-280.
(34) Lanhers C, Pereira B, Naughton G, Trousselard M, Lesage FX, Dutheil F. Creatine Supplementation and Upper Limb Strength Performance: A Systematic Review and Meta- Analysis. Sports Med. Jan 2017; 47 (1): 163-73.


Learn more
Nutrimuscle attaches capital importance to the quality of the products. Our creatine is made from carefully selected and tested raw materials to ensure optimal purity.
We provide detailed information on the origin of our ingredients, the manufacturing process and quality control tests are carried out. p>
Who is the product for?
Creatine (Creapure®) Nutrimuscle is aimed:

to sportsmen to improve their sports performance
To the elderly
to sedentary people
Bienfaits du produit



La créatine est un supplément qui est surtout connu pour renforcer la force.

La consommation quotidienne de créatine peut renforcer l'effet de la pratique de la musculation sur la force musculaire chez les adultes âgés de plus de 55 ans.

L'effet bénéfique est obtenu par la consommation journalière de 3 g de créatine en liaison avec la pratique de la musculation, qui permet d'augmenter progressivement la charge de travail et devrait avoir lieu au moins trois fois par semaine pendant plusieurs semaines, avec une intensité équivalant à au moins 65 %-75 % d'une charge maximale de répétition (La charge maximale de répétition est le poids maximal qu'un individu peut soulever ou la force maximale qu'il peut exercer lors d'un seul exercice).
Our customer reviews
Your opinions

Free delivery to a relay point from 30€ of purchase
in France
3x payment without fees
from 100€