Glutathione Setria®
From
Regular price
14,95€

i.e. 0,49€ / capsule
Sale price / Kg
14,95€
Regular price / Kg
i.e. 0,49€ / capsule
Increases glutathione stores

Produced using an exclusive fermentation process

Contains no additives, artificial flavors or preservatives

Vegan
Learn more
Payment in 3 installments without fees
Splitting the cost of your basket into 3 payments, nothing could be simpler with Alma! Available from 50 euros
Livraison gratuite*
We guarantee fast delivery
in less than 5 days, at your home or in
relay point
1 à 2 jours de livraison supplémentaires
En raison d'un volume important de commande, veuillez observer 1 à 2 jours supplémentaires sur le délai de livraison classique. Merci !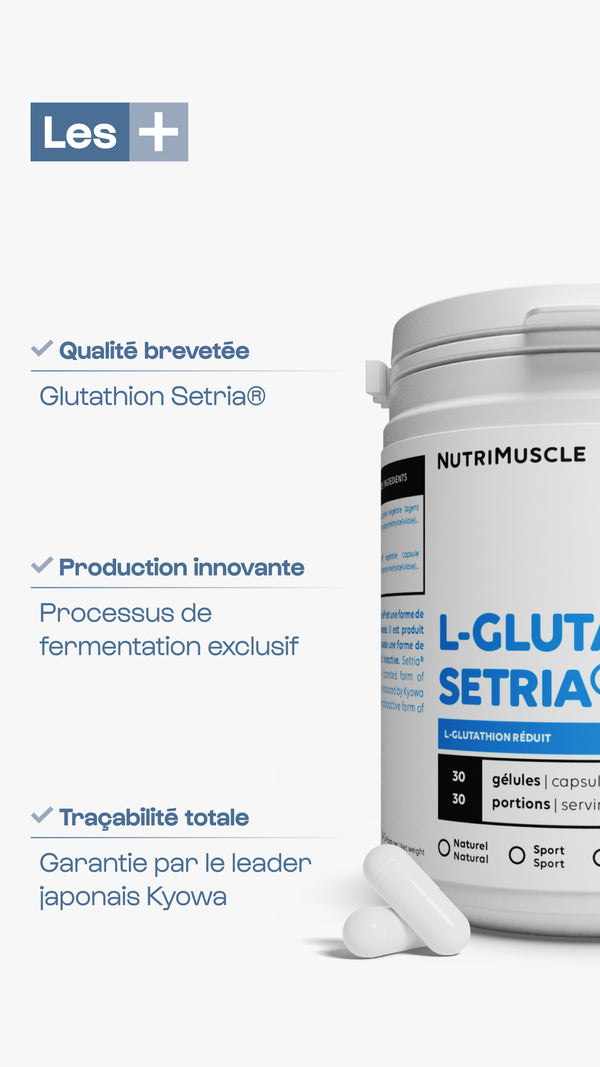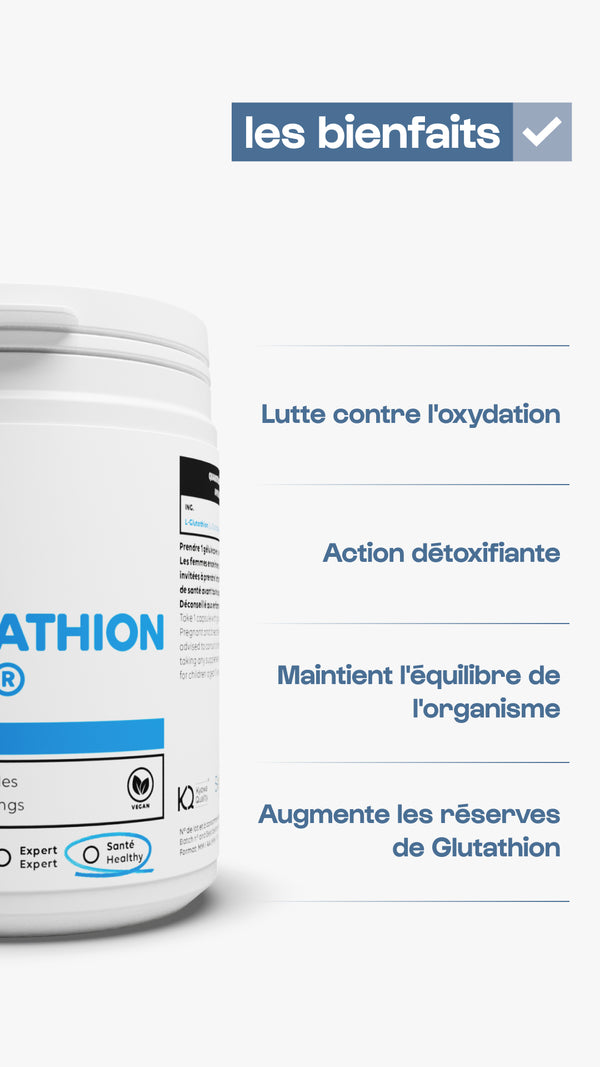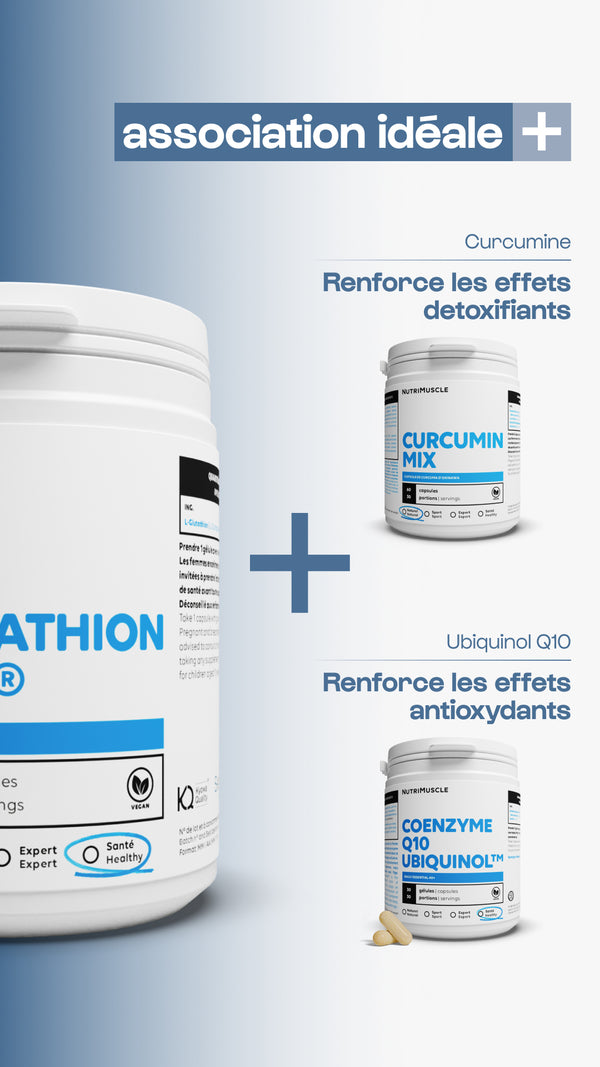 Glutathione Setria®
From
Regular price
14,95€

i.e. 0,49€ / capsule
Sale price / Kg
14,95€
Regular price / Kg
i.e. 0,49€ / capsule
Good to know
It is useful to have a glutathione intake during heavy metal poisoning or impaired lifestyle (tobacco, alcohol, or other).
Learn more.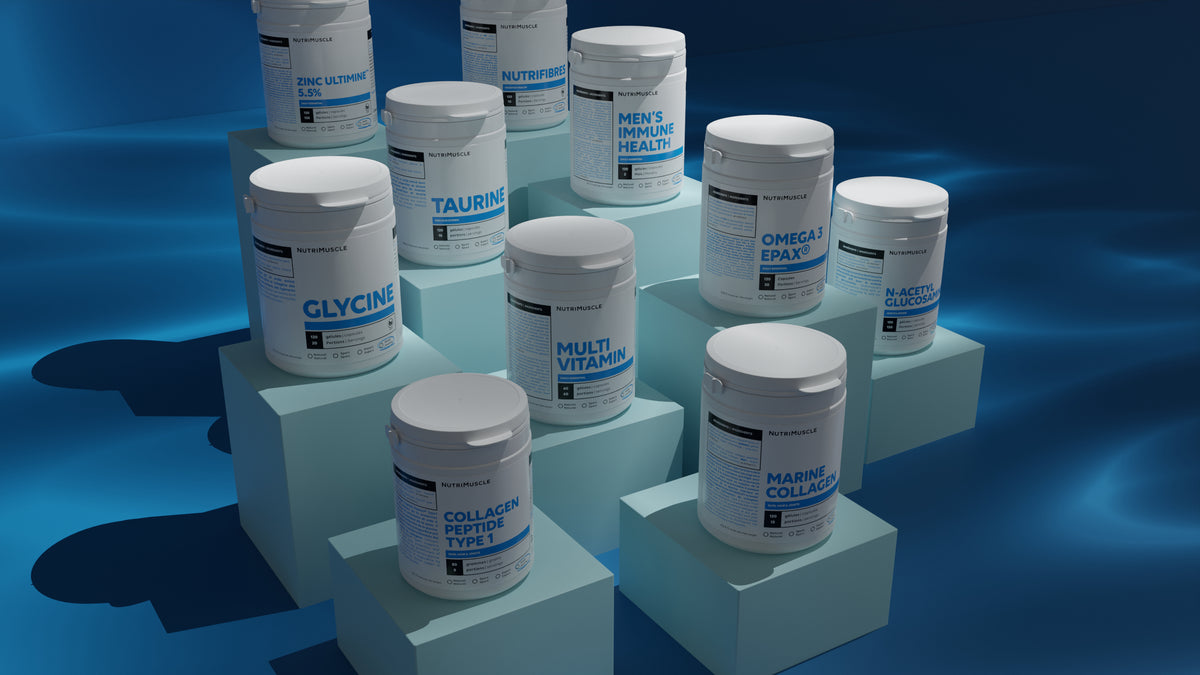 What the product does
Fight against oxidation / Antioxidant and detoxifying action
Glutathione is an antioxidant. The actions of an antioxidant are as follows:
neutralization of free radicals (3) (6) (7)

supporting the function of the liver, kidneys, digestive tract and intestinal tract

helps eliminate toxins and harmful substances in the body

optimizes the central nervous system (the brain and spinal cord): ensures the maintenance of physical and mental activity
Balance within the body
Cellular damage can occur if there are too many free radicals in your body. The antioxidant actions of glutathione help maintain balance.
Glutathione deficiency leads to oxidative stress, an imbalance between free radicals and antioxidants.
Everything you need to know about Glutathione
À qui s'adresse le produit ?
Le L-Glutathion Setria® Nutrimuscle s'adresse :

Aux sportifs

Aux personnes sédentaires

Aux personnes préventives de leur santé

Le glutathion Sétria® Nutrimuscle convient aux régimes vegan et végétarien.

Richard B. K. Essentials of Exercise & sport Nutrition - Science to Practice. Lulu. Vol. 1.

Dröge W, Breitkreutz R. Glutathione and immune function. Proc Nutr Soc. nov

2000;59(4):595?600.

Perricone C, De Carolis C, Perricone R. Glutathione: a key player in autoimmunity. Autoimmun Rev. juill 2009;8(8):697?701.

Richie JP, Kleinman W, Marina P, Abraham P, Wynder EL, Muscat JE. Blood iron, glutathione, and micronutrient levels and the risk of oral cancer. Nutr Cancer. 2008;60(4):474?82.

Richie JP, Nichenametla S, Neidig W, Calcagnotto A, Haley JS, Schell TD, et al. Randomized controlled trial of oral glutathione supplementation on body stores of glutathione. Eur J Nutr. mars 2015;54(2):251?63.

Sekhar RV, Patel SG, Guthikonda AP, Reid M, Balasubramanyam A, Taffet GE, et al. Deficient synthesis of glutathione underlies oxidative stress in aging and can be corrected by dietary cysteine and glycine supplementation. Am J Clin Nutr. sept 2011;94(3):847?53.

Bast A, Haenen GR. Interplay between lipoic acid and glutathione in the protection against microsomal lipid peroxidation. Biochim Biophys Acta. 16 déc 1988;963(3):558?61.

Premranjan Kumar, Chun Liu, Jean W Hsu, Shaji Chacko, Charles Minard, Farook Jahoor, Rajagopal V Sekhar et al. Glycine and N-acetylcysteine (GlyNAC) supplementation in older adults improves glutathione deficiency, oxidative stress, mitochondrial dysfunction, inflammation, insulin resistance, endothelial dysfunction, genotoxicity, muscle strength, and cognition: Results of a pilot clinical trial 10.1002/ctm2.372
Interactions avec d'autres produits Nutrimuscle
Il est préférable de consulter un professionnel de santé avant l'utilisation concomitante de plusieurs compléments alimentaires.




Précurseur du glutathion, la glycine peut aider à soutenir la production de glutathion dans le corps (8).




Vitamines antioxydantes : Vitamine C et E

Ces vitamines antioxydantes peuvent agir en association avec le Glutathion pour neutraliser les radicaux libres et protéger les cellules contre les dommages oxydatif.




Un minéral qui joue un rôle important dans le métabolisme du glutathion.




Pour une meilleure efficacité, la curcumine peut agir en association avec le glutathion.




L'Ubiquinol est un antioxydant qui joue un rôle dans la production d'énergie cellulaire. Elle peut travailler en collaboration avec le glutathion pour protéger les cellules et soutenir la santé globale.

Pas d'antagonismes notables.
En savoir plus
Nutrimuscle accorde une importance capitale à la qualité des produits.

Kyowa Quality® produit le glutathion Nutrimuscle breveté Sétria®, dans son usine via une technologie de fermentation de pointe. Le Sétria® est fabriqué selon un processus de fermentation qui préserve la bioactivité de ce tripeptide essentiel, tout en éliminant tout risque de contamination. Ils prônent la qualité, la sécurité et l'efficacité de leurs produits.

Le glutathion Nutrimuscle est certifié WADA, organisme mondial qui contrôle le respect du Programme mondial antidopage.
Our customer reviews
Your opinions

Free delivery to a relay point from 30€ of purchase
in France
3x payment without fees
from 100€