Ubiquinol Q10 in capsules
From
Regular price
39,95€

i.e. 1,33€ / capsule
Sale price / Kg
39,95€
Regular price / Kg
i.e. 1,33€ / capsule
Superior quality

Preservation of cardiovascular health

Improved sports performance
Learn more
Payment in 3 installments without fees
Splitting the cost of your basket into 3 payments, nothing could be simpler with Alma! Available from 50 euros
Livraison gratuite*
We guarantee fast delivery
in less than 5 days, at your home or in
relay point
1 à 2 jours de livraison supplémentaires
En raison d'un volume important de commande, veuillez observer 1 à 2 jours supplémentaires sur le délai de livraison classique. Merci !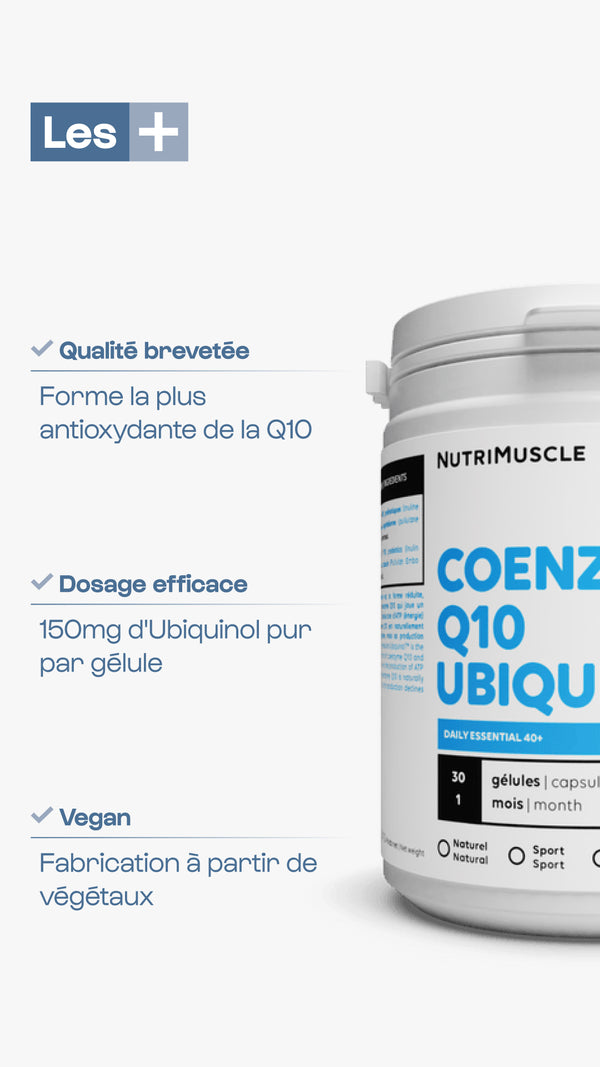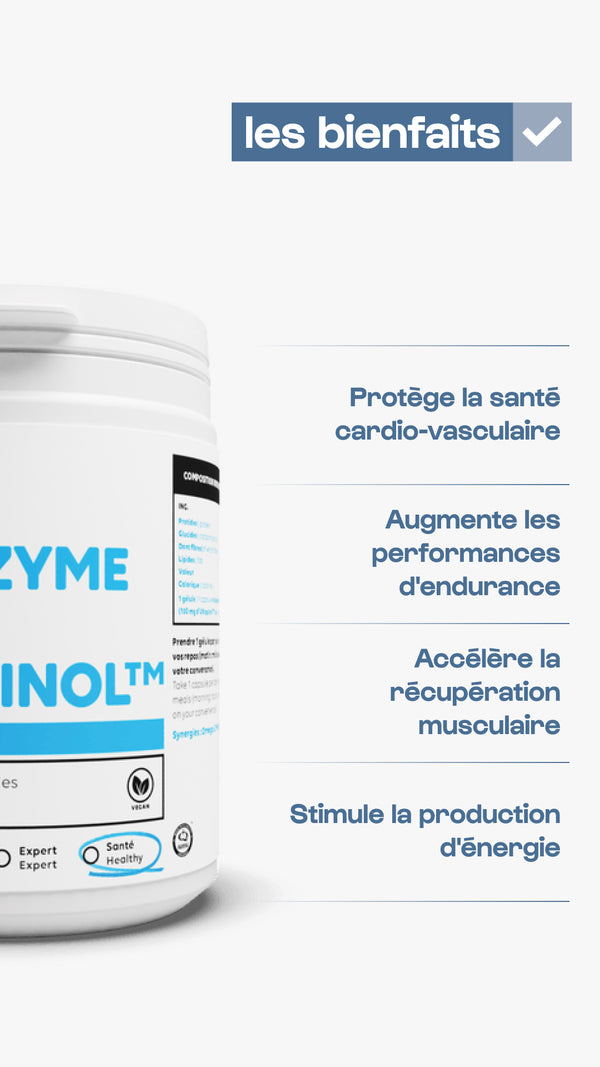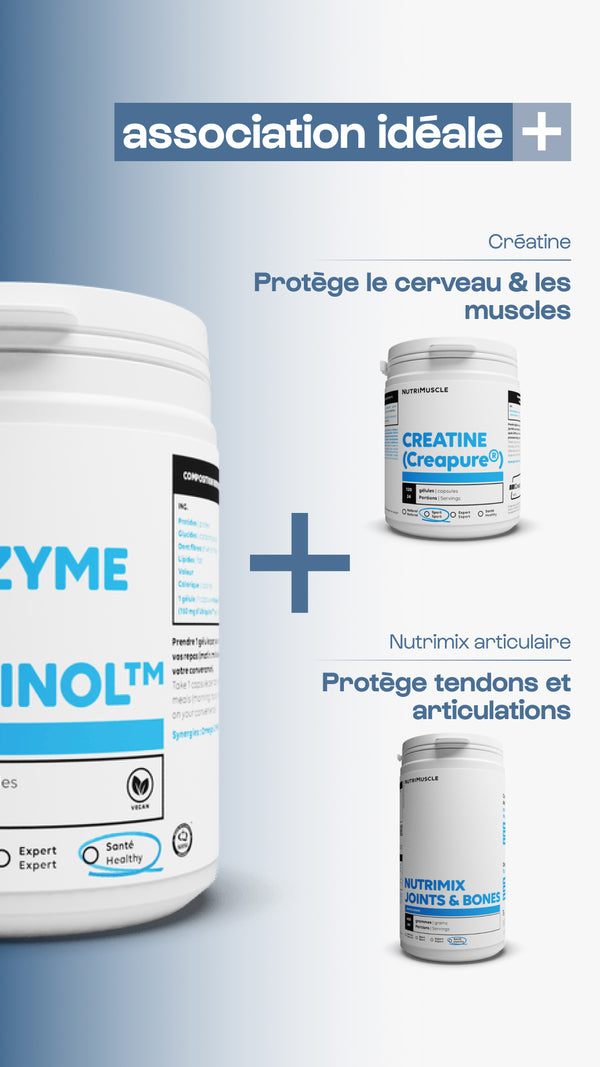 Good to know
The Ubiquinol is different from the Ubiquinone. Be careful not to confuse them.
Learn more.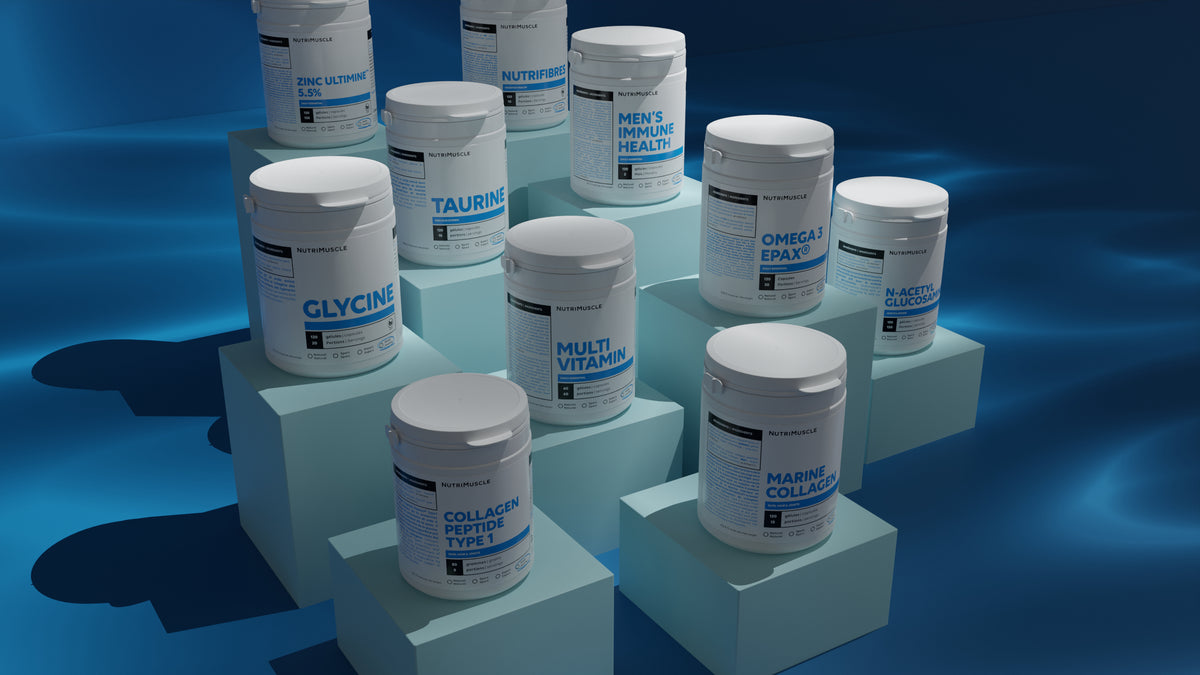 What the product does
Performance improvement
The beneficial action of Q10 on performance is especially noted in endurance sports. The Q10 protects the muscles of both muscular and hepatic catabolism in high -level athletes. This is the reason why the Q10 accelerates the recovery between two training sessions.
Cardiovascular health
By stimulating energy production, the Q10 helps the most important of our muscles to work well: the heart. It also reduces the formation of fibrosis, which contributes to maintaining good cardiovascular health over the decades.
Everything about this product
Interaction with other Nutrimuscle products
On patients with slight cognitive disorders because of Parkinson's disease, a treatment of several years of a combination of creatine + Q10 delays the cerebral degeneration of users compared to a placebo. It is therefore a good combination to protect the brain from aging.

No notorious antagonisms.
References
(1) Uchiyama S., et al. Between oxidative stress in muscle tissue and weight-lifting-induced muscle damage. PFLügers Archiv European Journal of Physiology. 2006 April; 452 (1) 109-116.
(2) Kuklinski, b.: Praxisrelevanz of nitrosatives stresses. 1. Mitteilung: diagnostik und therapy neurologischer erkran kungen. Om & Ernährung 124 (2008) F2-F21
(3) Tetsuya Watanabe, Ryuji Kaji, Nobuyuki Oka, William Bara, Jun Kimura, Ultra-High Dose Methylcobalamin Promates Nerve Regeneration In Experimental Acrylamide Neuropathy, Journal of the Neurological Sciences, Volume 122, Issue 2, April 1994, pages 140-143, ISSN 0022-510x, http://dx.doi.org/10.1016/0022-510x(94)90290-9.
(4) Hall, C. A. (1990), Function of Vitamin B12 in the Central Nervous System as Revealed by Congenital Defects. Am. J. Hematol., 34: 121–127. DOI: 10.1002/AJH.2830340208

(1) Mantle D. Coenzyme Q10 and Degenerative Disorders Affting Longevity: An Overview. Antioxidants (Basel). 2019 Feb 16; 8 (2). PII: E44.
(2) Shraddha S. Coq10 A Super-Vitamin: Review on Application and Biosynthesis. 3 Biotech. 2018 May; 8 (5): 249.
(3) Farsi F. Can Coenzyme Q10 Effective Supplementation Reduce Human Tumor Necrosis Factor-? and Interleukin-6 Levels in Chronic Inflammatory Diseases? A Systematic Review and Meta-Analysis of Randomized Controlled Trials. Pharmacol Res. 2019
(4) Sharma A. Coenzyme Q10 and Heart Failure: A state-of-the-art review. Circ Heart fail. 2016 APR; 9 (4): E002639.
(5) Zozina VI. Coenzyme Q10 in Cardiovascular and Metabolic Diseases: Current State of the Problem. Curr Cardiol Rev. 2018; 14 (3): 164-174.
(6) Jafari M. Coenzyme Q10 in the Treatment of Heart Failure: A Systematic Review of Systematic Reviews. Indian Heart J. 2018 Jul; 70 suppl 1: S111-S117.
(7) Hargreaves ip. Coenzyme Q10 Supplementation in fibrosis and aging. ADV Exp Med Biol. 2019; 1178: 103-112.
(8) Mortensen sa. The Effect of Coenzyme Q10 On Morbidity and Mortality in Chronic Heart Failure: Results from Q-Symbio: A Randomized Double-Blind Trial. Jacc Heart Fail. 2014 DEC; 2 (6): 641-9.
(9) Mortensen al. Effect of Coenzyme Q10 in Europeans with Chronic Heart Failure: A Sub-Group Analysis of the Q-Symbio Randomized Double-Blind Trial. Cardiol J. 2019; 26 (2): 147-156.
(10) Kalén A. Age-Related Changes in the lipid compositions of rat and human tissue. Lipids. 1989 Jul; 24 (7): 579-84.
(11) Miles MV. Age-Related Changes in Plasma Coenzyme Q10 Concentrations and Redox State in Apparently Healthy Children and Adults. Clin Chim Acta. 2004 Sep; 347 (1-2): 139-44.
(12) Orlando P. Effect of Ubiquinol Supplementation On Biochemical and Oxidative Stress Indexes After Intense Exercise in Young Athletes. REDOX REP. 2018 DEC; 23 (1): 136-145.
(13) Littarru GP. Coenzyme Q10: Blood Levels and Metabolic Demand. Int j tissue react. 1990; 12 (3): 145-8.
(14) Karlsson J. Plasma Ubiquinone, Alpha-Tocopherol and cholesterol in man. Int j vitam nutr res. 1992; 62 (2): 160-4.
(15) BATTINO M. METABOLIC and antioxidant Markers in the Plasma of Sportsmen from a Mediterranean TOWN PERFORMing Non-Agonistic Activity. Mol aspects med. 1997; 18 Suppl: S241-5.
(16) Kaikkonen J. Determinants of Plasma Coenzyme Q10 in Humans. Febs lett. 1999 Jan 25; 443 (2): 163-6.
(17) Karlsson J. Muscle Ubiquinone in Healthy Physically Active Males. Mol Cell Biochem. 1996; 156: 169-172.
(18) Laaksonen R. Serum and Muscle Tissue Ubiquinone Levels in Healthy Subjects. J Lab Clin Med. 1995; 125: 517-521.
(19) Loenneke JP. Statin use may reduce lower extremily peak force via reduced commitment in muscle-strenghthening activity. Physiol FUNCT. 2016; 38 (1): 151-154.
(20) Dunphy L. Rhabdomyolysis-Induced compartment Syndrome Secondary to Atorvastatin and Strenous Exercise. BMJ CASE REP. 2017
(21) Skarlovnik A. Coenzyme Q10 Supplementation Decreases Statin-Related Mild-to-Muscle Symptoms: A Randomized Clinical Study. Med SCI Monit. 2014 Nov 6; 20: 2183-8.
(22) Deichmann re. Impact of Coenzyme Q-10 On Parameters of Cardiorespiratory Fitness and Muscle Performance in Older Athletes Taking Statins. Physus Sportsmed. 2012 Nov; 40 (4): 88-95.
(23) Gül I. Oxidative stress and antioxidant defense in plasma After Repeated Bouts of Supramaximal Exercise: The Effect of Coenzyme Q10. J Sports Med Phys Fitness. 2011 Jun; 51 (2): 305-12
(24) Malm C. Effect of Ubiquinone-10 Supplementation and High Intensity Training on Physical Performance in Humans. Acta Physiol Scand. 1997; 161: 379–384
(25) Cooke M. Effects of Acute and 14-Day Coenzyme Q10 Supplementation On Exercise Performance in Both Trained and Untined Individuals. J int Soc Sports Nutr. 2008; 4: 5-8.
(26) Gökbel H. The Effects of Coenzyme Q10 Supplementation On Performance During Repeated Bouts of Supramaximal Exercise in Sedentary Men. J Strength Cond Res. 2010; 24: 97-102.
(27) Emami A. Effect of Oral Coq10 Supplementation Along with Precooling Strategy on Cellular Response to Oxidative Stress in Elite Swimmers. Food Funct. 2018 Aug 15; 9 (8): 4384-4393.
(28) Emami A. The Impact of Pre-Cooling and Coq10 Supplementation On Mediators of Inflammatory Cytokines in Elite Swimmers. Nutr Cancer. 2019 May 16: 1-11.
(29) Díaz-Castro J. Coenzyme Q (10) Supplementation Ameliorates Inflammatory Signaling and Oxidative Stress Associated With Streneous Exercise. EUR J NUTR. 2012 Oct; 51 (7): 791-9.
(30) Kon M. Reducing Exercise-Induced Muscular Injury in Kendo Athletes with Supplementation of Coenzyme Q10. BR J NUTR. 2008 Oct; 100 (4): 903-9.
(31) Sarmiento A. Short-Term Ubiquinol Supplementation Reduces Oxidative Stress Associated With Strenous Exempt in Healthy Adults: A Randomized Trial. Biofactors. 2016 Nov 12; 42 (6): 612-622.
(32) Trushina in. [Immunomodulating Effects of Using L-Carnitine and Coenzyme Q10 in the Nutrition of Junior Athletes]. Vopr pitan. 2019; 88 (2): 40-49.
(33) Pala R. Coenzyme Q10 Supplementation Modulates NF?B and NRF2 Pathways in Exercise Training. J SPORTS SCI MED. 2016 Feb 23; 15 (1): 196-203.
(34) Shimizu K. Coenzyme Q10 Supplementation Downregulates The Increase of Monocytes Expressing Toll-Like Receptor 4 in Responsible to 6-Day Intensive Training in Kendo Athletes. IMPLAIR PHYSIOL NUTR METAB. 2015 Jun; 40 (6): 575-81.
(35) Kizaki K. Effect of Reduced Coenzyme Q10 (Ubiquinol) Supplementation On Blood Pressure and Muscle Damage During Kendo Training Camp: A Double-Blind, Randomized Controlled Study. J Sports Med Phys Fitness. 2015 Jul-Aug; 55 (7-8): 797-804.
(36) Nachvak sm. Effects of Coenzyme Q10 Supplementation On Matrix Metalloproteinases and DAS-28 in Patients with Rheumatoid Arthritis: A Randomized, Double-Blind, Placebo-Controlled Clinical Trial. Rheumatol clin. 2019 Aug 7.
(37) Langsjoen pH. Comparison Study of Plasma Coenzyme Q10 Levels in Healthy Subjects Supplemeted with Ubiquinol versus Ubiquinone. DRUG DEVED DEV. 2014 Jan; 3 (1): 13-7.
(38) Zhang Y. Ubiquinol is Superior to Ubiquinone to Enhance Coenzyme Q10 Status in Older Men. Food Funct. 2018 Nov 14; 9 (11): 5653-5659.
Learn more
Kaneka produces both Ubiquinol and Q10. The Q10 is the first form to have been synthesized 30 years ago; It is therefore much older and less expensive. On the other hand, it is less effective than ubiquinol. However, some resellers play on this Ubiquinol - Q10 Kaneka ambiguity and pass their Q10 for ubiquinol so that their product appears cheaper.

In the body, there are three forms of Q10: the Q10 in oxidized form (Ubiquinone), in radical (semiquinone) or in reduced form (Ubiquinol). Likewise, there are three main forms of Q10 supplements: Q10, Ubiquinol and Ubiquinone. But it is the last two that are the most popular, because being more recent forms than the old Q10.

Like the words Ubiquinol and the Ubiquinone are alike, we quickly did not know who is who? There is a memoic means of differentiating them: at the end of the word Ubiquinone, we find "no". If you get used to Ubiquinon, you will no longer confuse. This helps to remember that if this form is the least expensive, it is also less effective, as illustrated by the following studies.

In subjects aged 29 to 50, taking 200 mg of Ubiquinol for 4 weeks twice as much the blood level of Q10 as the 200 mg of Ubiquinone (37). Elderly men on average 55 years received 200 mg either from Ubiquinol or from Ubiquinone with a meal for 2 weeks. Ubiquinol's taking increases the level of Ubiquinol in the blood by 250 % against 168 % following the taking of Ubiquinone (38). Ubiquinol's taking increases the level of ubiquinone in the blood by 272 % against 136 % following the taking of Ubiquinone.

Note, however, that there are very strong variations in the absorption level depending on the individual, but 60 % of the subjects responded much better to the Ubiquinol against 40 % who absorbed the ubiquinone better. Absorption levels above average are noted in 70 % of Ubiquinol users against only 20 % of Ubiquinone users (38).

Many brands boast of producing a ubiquinol made in France. Again, they play on words as well as on the ignorance of the consumer. Ubiquinol Kaneka comes from Japan. The other Q10s generally come from China. The only thing that is French is the packaging of Q10.
Benefits of Ubiquinol Q10 Nutrimuscle
The Q10 is a molecule close to vitamins (vitamin K) (2). The Q10 is present in cell membranes in order to act as an antioxidant and anti-inflammatory (3). More specifically, the Q10 helps mitochondria to produce ATP. By stimulating energy production, the Q10 helps the most important of our muscles to work well: the heart (4-5-6). It also reduces the formation of fibrosis, which helps to maintain good cardiovascular health over the decades (7).

For example, in seniors with heart problems, taking Q10 for 2 years lowers mortality of almost half (18 % in the placebo group against 10 % with the Q10) (8-9).
These cardiac benefits of Q10 will be very important for athletes. Indeed, if a moderate practice of sport is good for the heart, this muscle is put to the test as soon as training becomes intense and regular. This explains that athletes, as they get older, develop specific cardiac pathologies, which are little found among the sedentary population.

Medical analyzes show that physical activity immediately lowers the bodily levels of Q10 due to an acceleration of the destruction of this molecule (12). This explains that rates of Q10 below are found in athletes during training compared to sedentary persons (13-14-15-16). This is paradoxical because studies show that the more the muscles are rich in Q10, the more efficient they are. Hence the idea of ??supplementation to not only inhibit the scarcity of the Q10, but also to increase performance (17-18).

These paradoxes of aging and the sportsman constitute two examples which show that our body does not work at its optimal without external help from a complementation. Indeed, the senior and the sportsman suffer from less Q10 reserves when they need more than the average. Obviously, there will be a accumulation of deficits from the sportsman who is age over the decades.

The medical use of statins to reduce cholesterol produces several side effects. Many patients develop muscle pain and weaknesses (19-20). One of the reasons for these problems is the fall in the Q10 level that these drugs induce. It is therefore a good model to better understand what is happening when you lack Q10 and how to compensate for this deficit by an Q10 supplementation acts on the physiological level. Taking Q10 reduces muscle pain in 75 % of statins users and the general pain level from 30 to 40 % (21). Taking Q10 often makes it possible to reassemble their muscle performance (22).

The beneficial action of Q10 on performance is especially noted in endurance sports because medical research focuses essentially on aerobic performance and not on bodybuilding (23-24-25-26). < BR>
The Q10 protects the muscles of both muscular and hepatic catabolism in high-level athletes due to an attenuation of inflammatory and oxidative phenomena (27-28-29-30). These protective effects explain, at least partially, the reason why the Q10 accelerates recovery between two training sessions; This constitutes a practical application for all athletes, including in force disciplines such as bodybuilding (31).


Alone or in synergy with carnitine, the Q10 mitigates the immunosuppression noted after very intense efforts (32-33-34). The Q10 also reduces hypertension phenomena that develop during very intensive training periods (35). The Q10, undoubtedly because of its antioxidant action, can protect the joints by reducing the speed of degradation of the cartilages, thus reducing the level of pain (36).
Who is the product for?
Ubiquinol Nutrimuscle is addressed:

to sportsmen to increase sports performance;
to sedentary for its action on cardiovascular health.
Our customer reviews
Your opinions

Free delivery to a relay point from 30€ of purchase
in France
3x payment without fees
from 100€