Curcumin
From
Regular price
29,95€

i.e. 0,49€ / capsule
Sale price / Kg
29,95€
Regular price / Kg
i.e. 0,49€ / capsule
Okinawan turmeric

UkonMAX® patented curcumin

Mix curcumin + Ornithine

Vegan
Learn more
Payment in 3 installments without fees
Splitting the cost of your basket into 3 payments, nothing could be simpler with Alma! Available from 50 euros
Livraison gratuite*
We guarantee fast delivery
in less than 5 days, at your home or in
relay point
1 à 2 jours de livraison supplémentaires
En raison d'un volume important de commande, veuillez observer 1 à 2 jours supplémentaires sur le délai de livraison classique. Merci !
Curcumin
From
Regular price
29,95€

i.e. 0,49€ / capsule
Sale price / Kg
29,95€
Regular price / Kg
i.e. 0,49€ / capsule
Good to know
If you are planning a drunken evening, take 4 curcumin capsules with you to take at bedtime. If you are unable to swallow anything, take them the next morning when you wake up.
Everything you need to know about curcumin.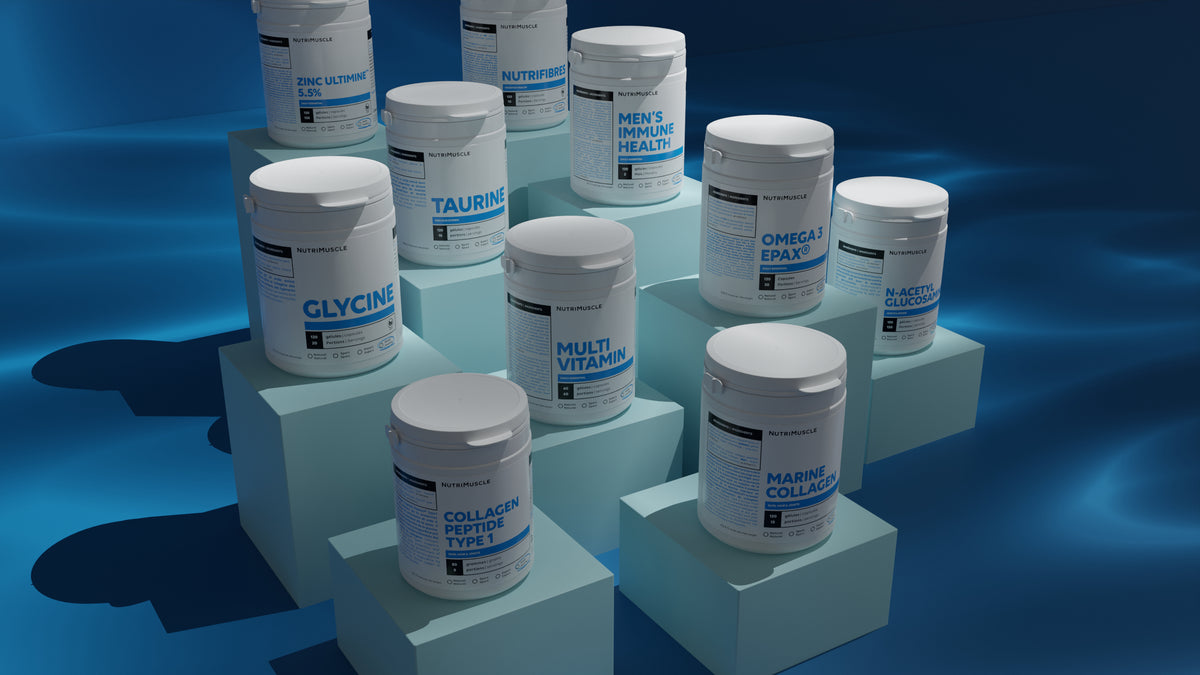 What the product does
Detoxifying
Curcumin is said to have detoxifying effects for the body, which allows the liver to protect itself against certain threats (1).
The amino acid ornithine enhances the actions of curcumin in detoxifying the body (2).
Anti-oxidant and anti-inflammatory actions
The antioxidant properties of curcumin help protect cells after training.
It also has anti-inflammatory properties, useful for the joints of athletes, the elderly or sedentary people (5).
Everything you need to know about Curcumin
Interactions avec d'autres produits Nutrimuscle
Vous pouvez prendre avec vos gélules de curcumine des Oméga 3, pour bénéficier des bienfaits anti-oxydants des deux.

Il n'existe pas d'antagonismes notables pour la curcumine.
Références
Piper JT, Singhal SS, Salameh MS, Torman RT, Awasthi YC, Awasthi S. Mechanisms of anticarcinogenic properties of curcumin: the effect of curcumin on glutathione linked detoxification enzymes in rat liver. Int J Biochem Cell Biol. 1998 Apr;30(4):445-56. doi: 10.1016/s1357-2725(98)00015-6. PMID: 9675878.

Sugino T, Shirai T, Kajimoto Y, Kajimoto O. L-ornithine supplementation attenuates physical fatigue in healthy volunteers by modulating lipid and amino acid metabolism. Nutr Res. 2008 Nov;28(11):738-43. doi: 10.1016/j.nutres.2008.08.008. PMID: 19083482.

Campbell MS, Carlini NA, Fleenor BS. Influence of curcumin on performance and post-exercise recovery. Crit Rev Food Sci Nutr. 2021;61(7):1152-1162. doi: 10.1080/10408398.2020.1754754. Epub 2020 Apr 22. PMID: 32319320.

Nanavati K, Rutherfurd-Markwick K, Lee SJ, Bishop NC, Ali A. Effect of curcumin supplementation on exercise-induced muscle damage: a narrative review. Eur J Nutr. 2022 Dec;61(8):3835-3855. doi: 10.1007/s00394-022-02943-7. Epub 2022 Jul 13. PMID: 35831667; PMCID: PMC9596560.

Dipak Kumar Sahoo, Romy M Heilmann, Biswaranjan Paital, Ashish Patel, Virendra Kumar Yadav, David Wong, Albert E Jergens et al. Oxidative stress, hormones, and effects of natural antioxidants on intestinal inflammation in inflammatory bowel disease 2023 Aug 28:14:1217165. doi: 10.3389/fendo.2023.1217165. eCollection 2023.
Pourquoi ce mélange ?
Afin d'obtenir le dosage optimal de curcumine, nous avons ajouté différents nutriments. En effet, étant difficile à assimiler par l'organisme, il est recommandé de la consommer sous forme de complément alimentaire.

Dans notre formule, la curcumine étant liposoluble, elle est combinée à de l'huile végétale afin d'améliorer son absorption. Cela permet à la curcumine de traverser la barrière intestinale et d'arriver dans le sang de manière intacte pour une assimilation optimale.

Elle est également couplée avec de l'ornithine, un acide aminé détoxifiant pour renforcer les effets de la curcumine. Ce mix des deux permet de doser justement la curcumine, trop souvent surdosée dans la plupart des gélules du marché. En effet, un surdosage peut avoir un impact négatif sur la testostérone, ce que tout pratiquant de musculation redoute. Il est important de ne pas dépasser un niveau de curcumine pour ne pas inhiber le niveau de testostérone.

Les autres composants permettent une meilleure assimilation de la curcumine et ont des bienfaits antioxydants et anti-inflammatoires (5).
En savoir plus
La curcumine Nutrimuscle est le fruit d'une exclusivité obtenue avec Japan Labo Co. Elle provient de deux curcumas différents :

Le Curcuma de printemps

Le Curcuma d'automne

L'un est riche en curcumine, le principal composé actif du curcuma, et l'autre est riche en huile de curcuma, ce qui augmente la biodisponibilité de la curcumine liposoluble.

Leur association permet à l'organisme de tirer le meilleur parti de ce complément.

Ces deux curcumas sont cultivés par notre fournisseur Japan Labo Co. au nord de l'île d'Okinawa dans la forêt Yanbaru National Park, réputée pour son climat subtropical, et propice à son développement.

Ils poussent dans un environnement riche en minéraux car l'île est majoritairement constituée de coraux et les agriculteurs qui les cultivent ont à cœur de maintenir la pureté et l'intégrité de la plante, en veillant à ce qu'elle soit exempte de pesticides et d'engrais chimiques, tout en favorisant des méthodes de culture durables : Le curcuma de printemps et d'automne sont produits dans le respect de la nature, préservant ainsi la santé de la terre et des consommateurs.

Nous avons également ajouté de l'extrait de curcuma afin d'augmenter l'apport en curcumine de notre mélange, et trouver le ratio idéal. Cet extrait de curcuma est breveté UkonMAX®, et provient du fabricant japonais Bio Actives qui partage les mêmes valeurs que nous. Plusieurs études cliniques ont été réalisées avec ce produit, afin d'en démontrer son efficacité. En effet, la perméabilité de ce curcuma a été testée afin de permettre une meilleure biodisponibilité et donc d'en améliorer son efficacité.

-« Une nette réduction des douleurs articulaires, meilleurs entraînements et amélioration de la concentration au quotidien. »

-« Gros effets bénéfique sur la digestion, moins de ballonnements, moins de gêne après les repas et diminution des douleurs articulaires (même si je prends du collagène) »

-« Très bon produit pour la peau a réduit les boutons sur le visage. Réducteur des douleurs articulaires ainsi que meilleure récupération. Garder à l'esprit avoir une bonne alimentation a côté. Je conseille se produit à prendre au coucher en synergie du collagène. »

-« Gélules souples très faciles à consommer. Effets rapides et très positifs sur la récupération articulaire et tendinite. Bons effets sur la récupération musculaire. Très bon produit ! »

-« Très bon produit. J'ai ressenti une amélioration de mon état à la suite à des douleurs tendineuses. Et un bon effet détox à l'issu d'une soirée arrosée. »
À qui s'adresse le produit ?
La curcumine s'adresse :

aux sportifs souhaitant bénéficier des effets anti-oxydants

aux personnes préventives de leur santé

Déconseillé aux personnes diabétiques et aux personnes sous traitement anticoagulant.

Déconseillé aux femmes enceintes et allaitantes et aux enfants.
Our customer reviews
Your opinions

Free delivery to a relay point from 30€ of purchase
in France
3x payment without fees
from 100€