Digestive enzymes (Digezyme®)
From
Regular price
14,95€

i.e. 0,49€ / capsule
Sale price / Kg
14,95€
Regular price / Kg
i.e. 0,49€ / capsule
Vegetable origin, GMO -free, gluten -free

Promotes digestion

Better assimilation of nutrients

Improves metabolic and intestinal health
Learn more
Included in the Black Friday offer, up to 30% off.

Payment in 3 installments without fees
Splitting the cost of your basket into 3 payments, nothing could be simpler with Alma! Available from 50 euros
Black Friday conditions
Black Friday:
-5% below 100€
-15% from 100€
-25% from 200€
-30% from 300€
Delivery estimated on 04/12
We guarantee fast delivery
in less than 5 days, at your home or in
relay point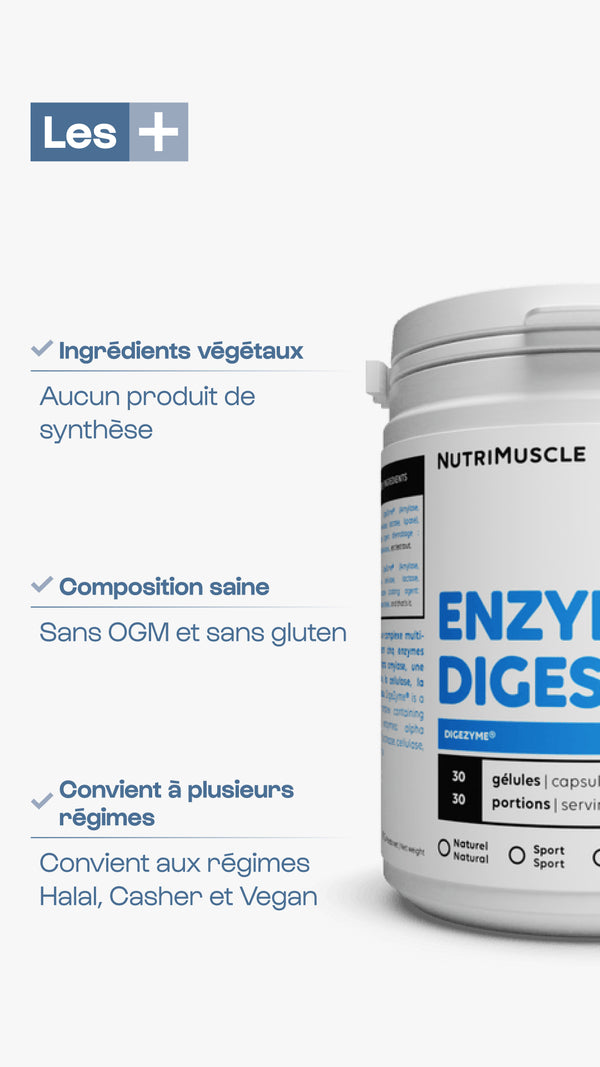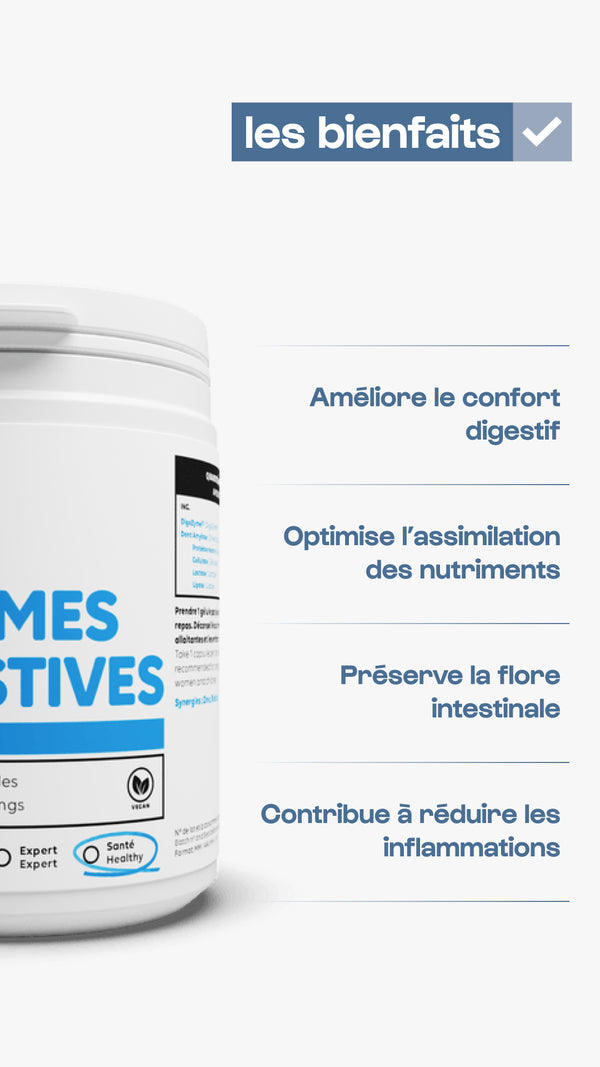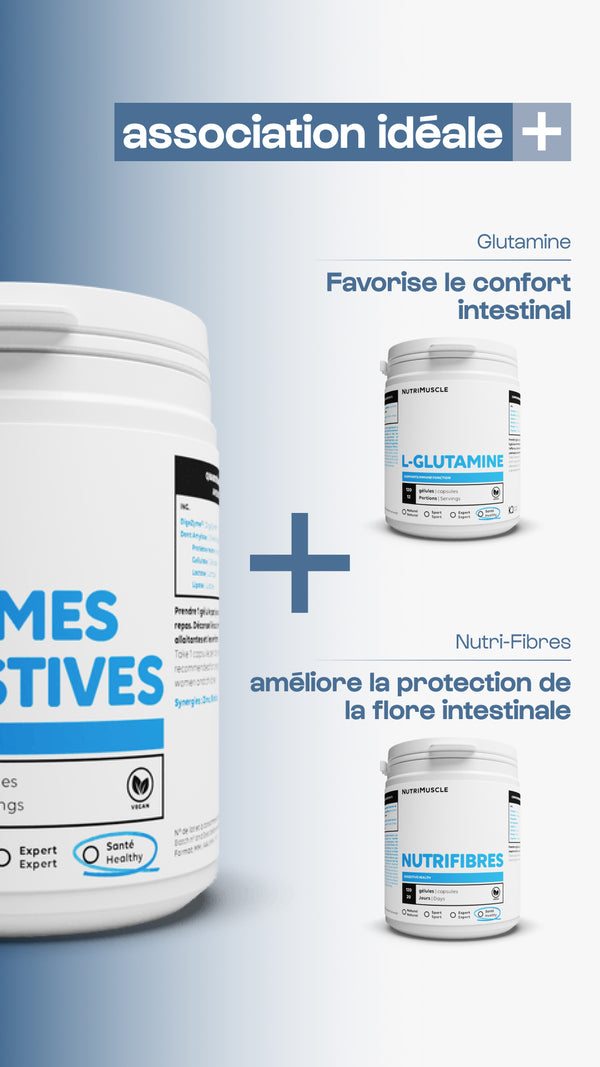 Good to know
Digestive enzymes play an essential role in the digestion of foods by decomposing nutrients with smaller molecules, thus facilitating their absorption by the body.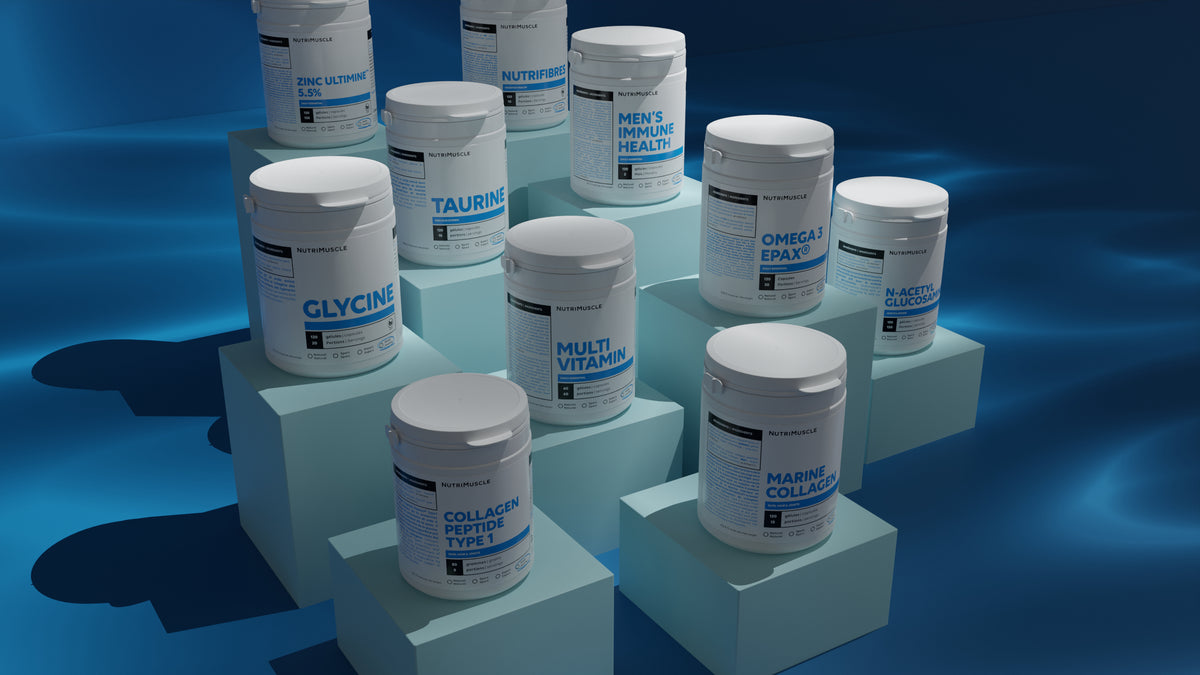 What the product does
Help in digestion and absorption
Digestive enzymes help facilitate digestion and absorption of macronutrients (proteins, carbohydrates, lipids). This contributes to better decomposition of fats and better assimilation of proteins to maintain muscle mass.

Digestive enzymes help minimize digestion disorders, heaviness and swelling. They also contribute to better lactose tolerance.
Intestinal functions maintenance
Digestive enzymes supplementation makes it possible to promote the cleaning of the colon and to reduce the toxic load generated by uncompromising food materials. Digestive enzymes therefore promote better intestinal flora.
Everything about this product
Interaction with other Nutrimuscle products
Digestive enzymes are supported by zinc which provides their normal function as well as the normal metabolism of macronutrients.

Biotics without lactase improves the digestion process so that it is optimal.

The Nutrifiber allows protection of the intestinal flora and therefore acts in synergy with the digestive enzymes.

Glutamine promotes intestinal comfort and completes the effects of digestive enzymes.

Thanks to digestive enzymes, proteins and sheaths will be absorbed more easily and their improved benefits.
References
(1) Multi - Enzyme Complex for the Management of Delayed Onset Muscle Soreness after EXERCISE: A RANDOMIVED, DOUBLE BLIND, PLACEBO Controlled Study, Majeed M, Siva Ka, Shaheen M, Pri V and Kiran KV, Sports Nutr Therrois 2016, 1: 3
(2) Miller P, Bailey S, Barnes M, Derr S, Hall E. The Effects of Protease Supplementation On Skeletal Muscle Function and Doms Following Downhill Running. Journal of Sports Sciences. May 1, 2004; 22: 365-72.
(3) Borges El, Mares-Guia M. Are Proteases Used as Anti-Inflammatory Agents in Reality Accelerating The Inflammatory Process? Medical hypotheses [Internet]. March 1, 2000 [Cited August 2, 2022]; 54 (3): 453-5.
Learn more
Nutrimuscle has chosen the Sabinsa group for their quality digestive enzymes, their transparency and product efficiency.

Sabinsa has decided to produce only vegetable and non -animal digestive enzymes, based on fungi or bacteria, to provide as many diets as possible. In addition to that, this form has advantages. The Lipase enzyme is considered similar to the pancreatic enzymes Bovines and pigs.

With this plant form, a lower dose can be used, and the PH range is more important than animal enzymes. The favorable pH range corresponds to the values ??where enzymes act optimally. Outside this beach, their activity malfunctions. Digezyme® will be able to operate throughout the intestine. (Digezyme® having a pH between 3.5 and 8, for a pH between 5 and 7.5 for our small intestine)
Benefits of Nutrimuscle digestive enzymes
Digestive enzymes will help digestion and absorption of macronutrients.

The food digestion process for food in the body is sometimes disturbed by several factors:

Stress due to sudden changes in food consumption habits, exposure to environmental pollutants, fatigue etc.
Somatic diseases, certain antibiotics and immunosuppressive drugs
Enzymes production sites, such as pancreas, can also be damaged by illness or injury, resulting in enzymatic insufficiency
Some individuals may suffer from an inherent lack of specific enzymes production systems, due to genetic factors or the age of the person, which leads to digestive and metabolic disorders
A contribution in digestive enzymes therefore counterbalances these disruptors.

The degradation of proteins begins in the stomach with the action of hydrochloric acid and pepsin, then continues in the intestine thanks to pancreatic enzymes (pancreatic proteases).

Digestion of starch begins in the mouth thanks to the salivary amylases and continues in the intestine thanks to the pancreatic amylases.

On the other hand, the majority of lipid digestion occurs at the entrance of the intestine into the duodenum thanks to the pancreatic enzymes, the lipases.

Supplementation in digestive enzymes therefore makes it possible to support these processes of digestion and assimilation of macronutrients.

A study shows that Digezyme® can have several potential applications. Protease supplementation when associated with a well-managed training program can cause faster recovery of damage caused to the contractile mechanism by the Doms (delayed post-effect muscle pain) (1).

The participants were evaluated according to the muscular pain perceived on their dominant leg and the extension power of their knee. The experimental group has demonstrated a higher recovery of the contractile function and a decrease in the effects of muscular pain in delay after a downhill race, compared to the placebo group.

The multi-enzymes complex therefore contains a multitude of enzymes which are indicated to relieve the symptoms of the doms.

Protease supplementation can also facilitate muscle healing and allow faster restoration of the contractile function after an intense exercise (2). Protease supplementation has been shown to attenuate the lesions of soft tissues (muscles, fat, tendons) resulting from intense exercise. Certain results indicate that protese supplementation can mitigate muscle pain after a downhill race.

Another study also shows that a protease (trypsin) could help improve the anti-inflammatory response of the body (3).
Our customer reviews
Your opinions

Up to -30% on a wide selection of products from November 20 to 30:

I take advantage

Free delivery
in France
3x payment without fees
from 100€