Total biological proteins
From
Regular price
26,95€

i.e. 539,00€ / Kg
Sale price / Kg
26,95€
Regular price / Kg
i.e. 53,90€ / Kg
Swiss origin

Direct filtration of organic milk

85.4 % protein
Learn more
Payment in 3 installments without fees
Splitting the cost of your basket into 3 payments, nothing could be simpler with Alma! Available from 50 euros
Livraison gratuite*
We guarantee fast delivery
in less than 5 days, at your home or in
relay point
1 à 2 jours de livraison supplémentaires
En raison d'un volume important de commande, veuillez observer 1 à 2 jours supplémentaires sur le délai de livraison classique. Merci !
Total biological proteins
From
Regular price
26,95€

i.e. 539,00€ / Kg
Sale price / Kg
26,95€
Regular price / Kg
i.e. 53,90€ / Kg
Good to know
Total biological proteins are quickly absorbed by the body and have an action is prolonged, thanks to casein.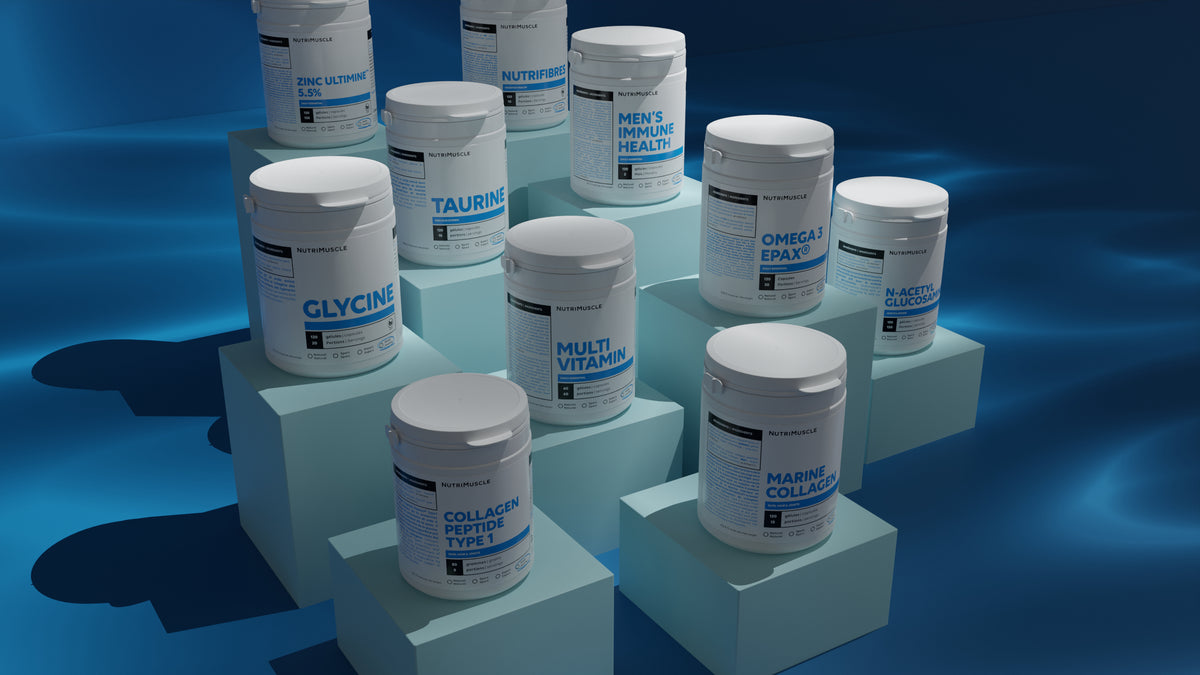 What the product does
Protein action
The total organic protein is both anabolic thanks to the rapid assimilation of Whey, and anti-catabolic thanks to the slow and durable assimilation of the micellar casein.
Muscle mass gain
Combining an anabolic protein with rapid digestion (Whey Bio-Active) with a slow-cotabolic protein with slow digestion (total milk protein) induces synergy favorable to muscle taking.

Everything about this product
Interaction with other Nutrimuscle products
This study (4) bears new lighting as to the profile of the BCAA that must be taken with its protein.
There are 2 different forms of BCAA Nutrimuscle:

1. The BCAA 4.1.1 Manufacturers who are the richest in leucine to optimize anabolism.
2. BCAA 2.1.2 Resistance, rich in leucine and valine in order to fight against catabolism and fatigue of training.

a casein intake induces a lower elevation of leucine. In order to optimize anabolism, it is therefore judicious to associate it with the BCAA 4.1.1 Builders richer in leucine. It would be less wise to do the opposite, which would even more unbalance the aminogram instead of rebalancing it towards an environment more favorable to anabolism.

Synergies between supplements
Total biological proteins Nutrimuscle are in synergy with the whey, but will tend to slow the assimilation of the latter.

Nutrimuscle total biological proteins are not to be taken at the same time as potassium bicarbonate to avoid bloating.
References
(1) Pennings B. Execising Before Protein Intake Allows for Greater Use of Dietary Protein-Derved Amino Acids for Novo Muscle Protein Synthesis in Both Young and Elderly Men. AM J Clin Nutr. 2011 Feb; 93 (2): 322-31.
(2) Levenhagen DK. POSTEXCISE NUTRIENT Intake Timing in Humans is Critical to Recovery of Leg Glucose and Protein Homeostasis. AM J Physiol Endocrinol metab. 2001 Jun; 280 (6): E982-93.

(1) CRINNION WJ. Organic Foods Contain Higher Levels of Certain Nutrients, Lower Levels of Pesticides, and May Provide Health Benefits for the Consumer. Altern Med Rev. 2010 Mar; 15 (1): 4-12.
(1) Lacroix M. Compared With Casein OR Total Milk Protein, Digestion of Milk Soluble Proteins is Too Rapid to Sustain The Anabolic Postprandial Amino Acid Requirement. AM J Clin Nutr. 2006 Nov; 84 (5): 1070-9.
(2) Boirie Y. Slow and Fast Dietary Proteins Differently Modulate Postprandial Protein Accretion. Proc natl acad sci u S A. 1997 Dec 23; 94 (26): 14930-5.
(3) Pennings B. Executive Before Protein Intake Allows for Greater Use of Dietary Protein-Derved Amino Acids for Novo Muscle Protein Synthesis In Both Young and Elderly Men. AM J Clin Nutr. 2011 Feb; 93 (2): 322-31.
(4) Smith TJ. Plasma AMINO ACID Resorts After Consumption of Beverages With Varying Protein Type. Int j sport nutr Exercise metab. 2009 Feb; 19 (1): 1-17.
(5) Reitelseder S. Whey and Casein Labeled with L- [1-13c] Leucine and Muscle Protein Synthesis: Effect of Resistance Exeercise and Protein Ingestion. AM J Physiol Endocrinol metab. 2011 Jan; 300 (1): E231-42
Learn more
It is rare to know the names of the suppliers of the raw materials of the supplements that we consume. However, it is essential in order to ensure the traceability of the product.

The isolate of milk protein is manufactured by the Swiss Cremo company with Swiss organic milk under the aegis of the French producer Ingredia. The Swiss Cremo has produced quality milk and dairy derivatives respecting the principles of sustainable agriculture since 1927. It is number 2 of Swiss dairy transformers. CREMO guarantees Swiss quality and has received, as such, the "Swiss guaranteed" label since 2005, which ensures, among other things, the absence of GMOs.


Cremo and the 3,500 milk producers that are also complied with the requirements of ecological services which stipulate that farms respect the environment, animals and do not use GMOs. Thanks to its modern installations and its quality requirement at the level of its raw materials, CREMO has the ISO 9001 certification (for its manufacturing processes), FSSC 22000 (for food safety) and ISO 14001 (for its good management of 'environment).

Total proteins, also called micellar proteins, represent a formidable technical advance in the protein family to replace casein. If we retrace the history of hyperprotein supplements, we realize that there was a constant increase in their biological quality.

The first proteins marketed appeared in the 1940s. They then contained Soy. Very little digestible, soybeans were supplanted 10 years later by the calcium caseinate (which is commonly called casein, but which, due to its artificial aggregation with calcium, did not digest very well). It was not until the 90s that the Whey popularized. Of quality much higher than casein, it quickly replaces it. Nowadays, total milk proteins are imposed on their own thanks to their digestive qualities and their perfect complementarity with Whey.

No chemical manipulation or genetics
a simple chemical manipulation (called "instantaneization") makes it possible to transform poor quality, completely insoluble proteins, into proteins that melt in water. In Nutrimuscle, we prefer to use quality proteins to avoid chemical processes.

Total biological proteins Nutrimuscle are "non-insisting". Consequently, they do not contain transgenic soy lecithin (GMO) or carboxymethylcellulose, and have not undergone treatments based on ionizing radiation.

Why are many protein treated by veal rennet?
The rennet is essential to alter the molecular structure of milk proteins so that they become cheese. Technically, it is said that the rennet is used to flocular the casein part of milk. The latter is therefore contaminated by the veal rennet while its amino acids were degraded during the reaction to transform milk into cheese.


in Nutrimuscle, we only use noble matter for our total proteins. They come directly from milk by cold ultrafiltration. Thus, total Nutrimuscle biological proteins are therefore not treated with veal quailte. The integrity and quality of amino acids are therefore not altered, and no animal residue foreign to milk is present. Total biological proteins Nutrimuscle are therefore perfectly suitable for vegetarians who want to be supplemented in protein.


Benefits of total biological proteins Nutrimuscle
By this double origin, the total biological protein is both:
• anabolic thanks to the rapid assimilation of the Whey;
• Anti-catabolic thanks to the slow and durable assimilation of micellar casein.

Scientific research shows that taking 43 g of casein increases anabolism by 31 % while reducing catabolism by 27 % (2).

Although they are of a molecular weight (23,000 daltons) much higher than Whey (15,000 daultons), the digestibility of total biological proteins of nutrimuscle milk is almost perfect since it exceeds 95 % .

In theory, the higher the molecular weight of a protein, the good is good to digestion. But this is not the case for total organic proteins: in contact with the acid of the stomach, they form a precipitation which will slow their digestion. It is this slowdown that allows their good assimilation and explains their long duration of action.

A new study compared the behavior of a native micellar casein when it is used:

just after bodybuilding (8 heavy series for the thighs in this study);
on an empty stomach , at rest.
In 40 minutes, the taking of 20 g of native micellar casein increases by 50 % the level of leucine in the blood after training and 100 % the level of leucine in the blood at rest. An hour after taking, the level of leucine in the blood almost returned to its starting point after training and 50 % higher than at the start in the case of rest (1). These differences are not explained due to a slowdown or malabsorption of the protein due to training. They reflect a more intense use of amino acids due to the stimulation of muscle anabolism by physical effort.

the study also shows that in relation to a rest situation, for the same amount of Proteins, the muscles receive 56 % more amino acids when the subjects used protein supplements just after training. This better absorption partly explains why proteins are 16 % more anabolic after exercise (1). (Note: a whey or a total milk protein would have given better results thanks to their higher assimilation speeds.)


because of this more pronounced anabolism that consumes proteins, the level of acids Bloody aminas will fall much faster after effort than at rest. So you have to eat in the hour that follows your post-effect snack. On the contrary, other studies have shown that calcium caseinates seemed to be resistant to this stimulating effect of training anabolism: amino acids stagnate in the blood, inert, instead of acting in the muscles (2) . It is therefore necessary to regain protein fairly quickly after training, including if we use a so -called slow protein (native casein), because the effort accelerates in a way the speed of assimilation of the protein. This, not during the absorption phase, but in terms of its use by muscles.

When you put yourself in a diet to lose fat, you have to review your whole food program as well as the nature of your supplementation. Protein number 1 when you try to lose fat is the total milk protein (also called casein). Indeed, in order to reduce your calorie intake, you have to space your meals more in order to eat less. This spacing can be done by passing from a whey (rapid digestion protein) to the total milk protein (slow digestion protein which will limit catabolism).

On the contrary, to take dry muscle, it is advisable to favor the isolate of Whey which, thanks to its speed of digestion, makes it possible to multiply small anabolic meals. In this context, the total milk protein becomes counterproductive, because it does not allow you to eat as frequently as with the isolate, due to its slowness of action. However, this remark is only true during the day. At night, the total milk protein limits nocturnal catabolism whether you are taking a muscle or loss of fat.
A new study strengthens the status of the total anti-fat protein protein (3).
With regard to Whey, the total milk protein increases the use of our own fat as fuel. In other words, thanks to the intake of total milk protein, our body burns its fat more readily with a whey bringing as many calories.

The total milk protein, by favoring the use of lipids, will protect the integrity of muscle mass which strengthens its status of anti-catabolic protein. Destroy its fat being the number 1 goal of the diet, the total milk protein turns out to be our best ally during a calorie restriction.

The objective of taking Bacillus Coagulans Ganedenbc30® consists of:

Increase the assimilation of amino acids, in particular for key amino acids for anabolism such as leucine and especially glutamine, which is very difficult to assimilate correctly.
Optimize health: the proliferation of pathogenic bacteria in the digestive system generates a large number of toxic substances. By fighting against these bad bacteria, the bacillus coagulans Ganedenbc30® induce surprising effects against joint pain, bad sleep, etc.
Fight against digestive disorders such as bloating that can be felt with hypercalorical diet or on a diet, both particularly rich in protein. It is necessary to use at least 100 million spores of bacillus coagulans per day so that effects occur (2).


Proteins contribute to the development and maintenance of muscle mass.
Who is the product for?
Total biological proteins Nutrimuscle are aimed at people wishing to vary their sources of protein and amino acids, and in particular:

to athletes for taking muscle;
to sedentary, for Who action and fatty action and fat loss is very useful during a diet.
Our customer reviews
Your opinions

Free delivery to a relay point from 30€ of purchase
in France
3x payment without fees
from 100€