Organic oats
Organic farming certified

Very good digestibility

Powder produced with our stone grinders
Learn more
Payment in 3 installments without fees
Splitting the cost of your basket into 3 payments, nothing could be simpler with Alma! Available from 50 euros
Livraison gratuite*
We guarantee fast delivery
in less than 5 days, at your home or in
relay point
1 à 2 jours de livraison supplémentaires
En raison d'un volume important de commande, veuillez observer 1 à 2 jours supplémentaires sur le délai de livraison classique. Merci !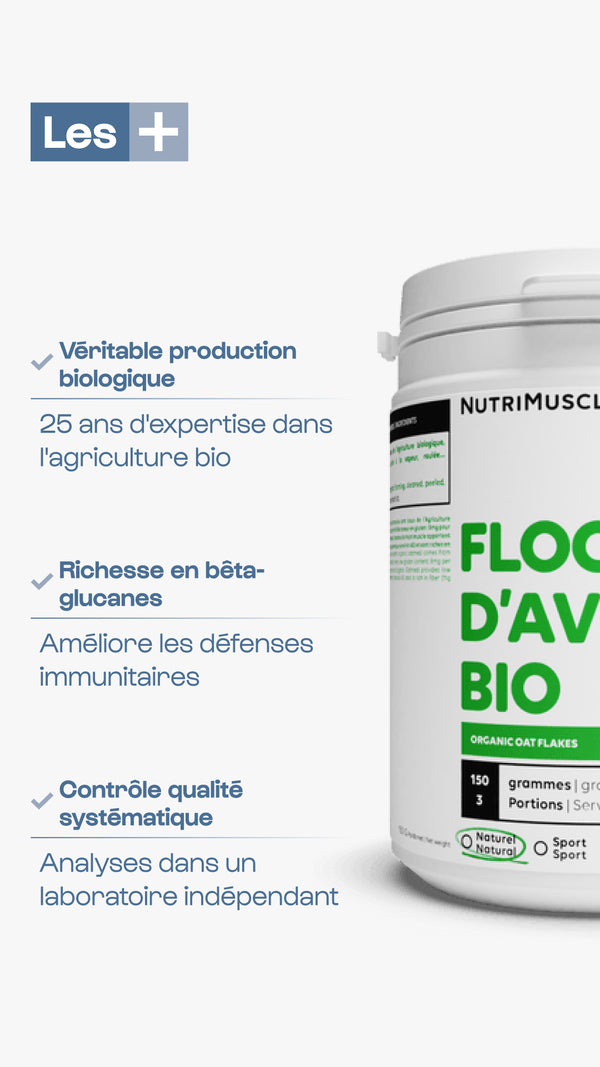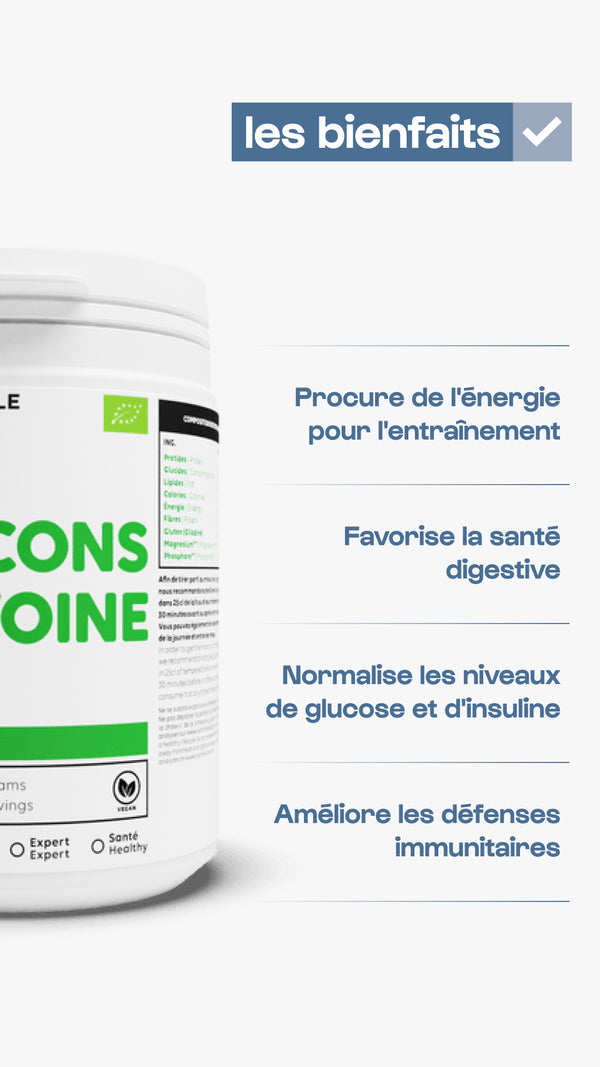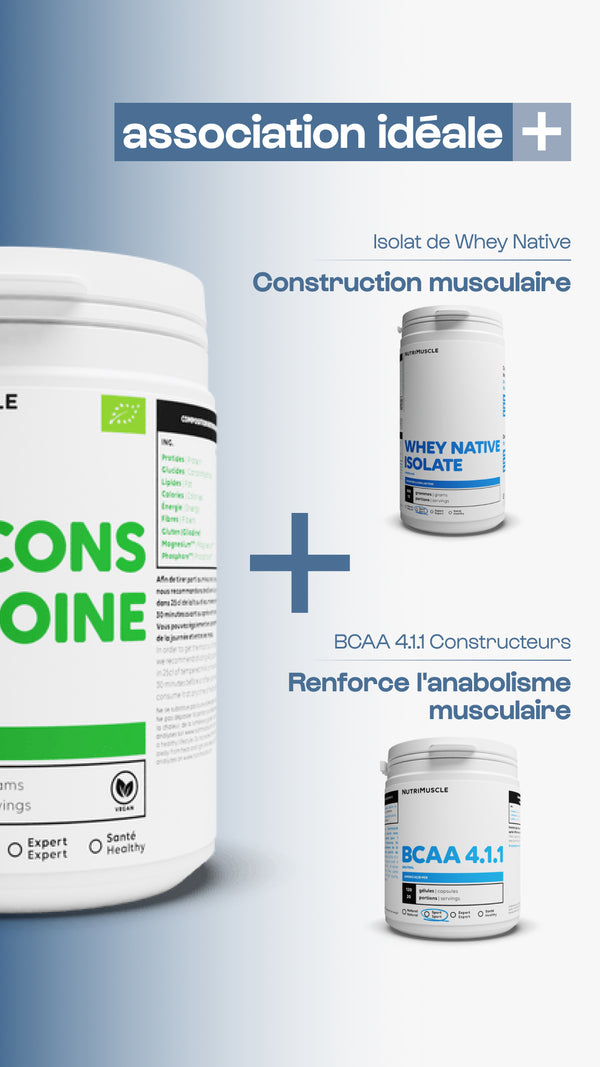 Organic oats
From
Regular price
27,95€

i.e. 5,59€ / Kg
Sale price / Kg
27,95€
Regular price / Kg
i.e. 5,59€ / Kg
Good to know
Oat flakes are an excellent source of essential nutrients such as complex carbohydrates, fibers, proteins, vitamins B1 and B5, magnesium, iron and zinc.
Learn more.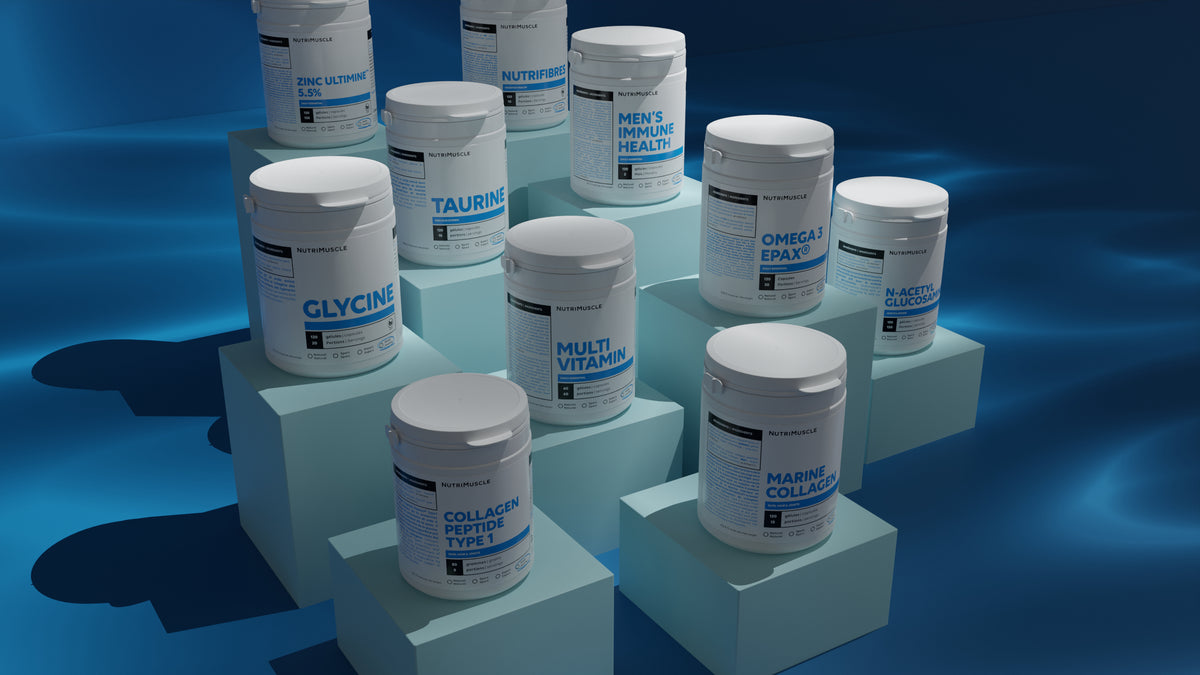 What the product does
Beta-glucan benefits
Nutrimuscle organic oatmeal are very rich in super-fibers called beta-glucan. Beta-glucans improve immune defenses, especially in sportsmen training intensely, normalize glucose and insulin levels, etc.
Digestive health
Nutrimuscle biological oats contribute to the maintenance of your digestive health often undermined by the repetition of your intense muscle training.
Everything about this product
Interaction with other Nutrimuscle products
Nutrimuscle biological oats improve the assimilation of proteins and amino acids.
References
(1) CRINNION WJ. Organic Foods Contain Higher Levels of Certain Nutrients, Lower Levels of Pesticides, and May Provide Health Benefits for the Consumer. Altern Med Rev. 2010 Mar; 15 (1): 4-12.
(1) Rondalli M. [The Biological Activity of Beta-Glucans]. Minerva Med. 2009 Jun; 100 (3): 237-45.
(2) Rose Dj. Influence of Dietary Fiber on Inflammatory Bowel Disease and Colon Cancer: Importance of Fermentation Pattern. Nutr Rev. 2007 Feb; 65 (2): 51-62.
(3) Meydani M. Potential Health Benefits of Evanthramides of Oats. Nutr Rev. 2009 Dec; 67 (12): 731-5.
(4) Sadiq Butt M. Oat: Unique Among The Cereals. EUR J NUTR. 2008 Mar; 47 (2): 68-79.
(5) Kirwan JP. Effects of Moderate and High Glycemic Index Meals on Metabolism and Exercise Performance. Metabolism. 2001 Jul; 50 (7): 849-55.
(6) Kirwan JP. A fashionrate glycemic meal before endurance exercise can enhance performance. J Applied Philsiol. 1998 Jan; 84 (1): 53-9.
Learn more
It is rare to know the names of the suppliers of the raw materials of the supplements that we consume. However, it is essential in order to ensure the traceability of the product. It is for this reason that in Nutrimuscle, we only use very high -end organic oatmeal, whose quality is guaranteed by world leaders: Davert © produces Nutrimuscle organic oatmeal in its factory d 'Germany.

The German group Davert GmbH represents a guarantee of quality, because this company has been selling "biological" certified food for more than 25 years. This means that Davert © specialized in the "biological" long before it was fashionable. Davert © makes "organic" by passion and not by commercial necessity. They always believed that organic was the only way to eat healthy.

Thanks to this leadership, Davert © is one of the first organic food suppliers in Germany. This long experience allowed them to acquire very great expertise in the "biological", in particular on the side of their farmers, which they choose with meticulousness and with whom a lasting relationship had time to set up. >
The "organic" standards of Davert © do not only cover the minimum of the specifications allowing to obtain biological approval. They go far beyond this minimum. Their cereals are all the subject of a systematic analysis of conformity by an independent laboratory.

on the other hand, Davert © has developed innovative systems for separation and cleaning of cereals, which allow you to obtain A very pure food. As with Nutrimuscle, Davert © philosophy is to focus above all on the quality of the product. The latter is made affordable thanks to important packaging, sober packaging as well as minimalist marketing. And like Nutrimuscle, Davert © pronounces against GMOs and refuses to use them.

The choice between Nutrimuscle organic oats and nutrimuscle organic barley flakes is based above all on an individual preference. However, in taking muscle, a slight advantage emerges in favor of Nutrimuscle organic oats. Indeed, Nutrimuscle organic oatmeal are two to three times smaller and are less hard than the Nutrimuscle organic barley flakes, which avoids having to chew them at length. They will thus take less time to be digested. The impression of satiety will be shorter, which is an advantage when taking a dry muscle or a massage.

When you pay attention to your weight, it is best to opt for Nutrimuscle organic oatmeal rather than the nutrimuscle organic powdered oatmeal. Indeed, we are forced to chew the flakes. They also take more time to be digested. The impression of satiety will be extended, which is an asset when you want dry muscle. On the other hand, when taking muscle is problematic, opt for nutrimuscle organic powdered oatmeal thanks to their ease of assimilation.


do not confuse oatmeal powder and oat powder powder and oat powder
There is oat flour available to cook. As it is, this flour does not taste very good and is not very digestible (trypsin inhibitors). One has the impression of eating an extract of still green bark. Sensation that never ceases to go up and may cause hints.

On the contrary, the nutrimuscle organic powdered oatmeal are obtained from the biological oats that have been ground in Very fine and very regular powder in nutrimuscle stone mills. Thus, we do not find the irregularity or abrasiveness of the flour or the flakes that one would have passed yourself in the mixer.

This particular attention given to the grinding of flakes facilitates soaking and therefore the dissolution of powder in water or in milk. In order to avoid the pitfall of bitter taste, the nutrimuscle organic powdered oatmeal have been preputted, which gives them a pleasant taste. Thus, they are ready to consume, easy to prepare and very digestible, which constitutes an advantage before, during and just after training.
Benefits of Nutrimuscle organic oatmeal
Nutrimuscle organic oatmeal are very rich in super-fibers called beta-glucan. They contain about 5 %. Research has shown that beta-glucans:

improve the immune defenses particularly in sportsmen training intensely;
Normalize glucose and insulin levels;
reduce the rate of bad cholesterol;
produce an appetite suppressant effect;
provide prebiotic action by nourishing good bacteria of the intestinal flora;
decrease the irritation of the intestine;
fight cancer against the favorable factors (1).
Fibers and maintenance of health
Compared to conventional carbohydrates such as maltodextrin or dextrose which provides rapid energy requiring little assimilation effort, nutrimuscle organic oatmeal provides slower energy and also have a big plus "health ».



Indeed, oats are rich in fiber, vitamins, minerals and antioxidants (3-4). In addition, having been steamed, they contain little or no trypsin inhibitors. For health, the minimum daily fiber intake is estimated at 25 g. The optimal daily intake must exceed 30 g.

It is only beyond this threshold that the risks of colon cancer are reduced by 50 % (2). However, in France, average consumption is only 21 g in men and 17 g among women. A diet poor in fruits and vegetables explains this fiber deficiency. Nutrimuscle organic oatmeal provides 11 g of fibers per 100 g. They contribute to maintaining your digestive health, often undermined by the repetition of your intense muscle training.

Nutrimuscle biological oats are the ideal muscle food for preparing physical effort. Compared to a placebo or high glycemic index carbohydrates, oats really make the difference in the sportsman: 75 g of oats, 45 minutes before an effort does not cause excessive increase in the level of sugar in the blood. This is a good thing, because any hyperglycemia is followed by a strong secretion of insulin, which ends up generating hypoglycemia and therefore premature fatigue.

On the contrary, compared to a placebo or a high glycemic index sugar, oats stem the drop in blood sugar during effort; This leads to obtaining an energy level from:
• 13 % higher after 1 hour of effort;
• 11 % higher after 1h30 of effort.

Thanks to oats, the increase in men's performance is 23 % higher than a placebo and 17 % larger than with high glycemic index (5). Among women, increase is 16 % (6).



1. Carbohydrates participate in the recovery of muscular functions (contraction) after a very intense and/or long -term physical effort that caused muscle fatigue and the exhaustion of glycogen stocks in the skeletal muscles. The benefits are obtained by consuming carbohydrates from all sources, with a total intake of 4 g per kg of body weight per dose within 4 hours, and at the latest within 6 hours of a very intense physical effort and/or Long -term having resulted in muscle fatigue and exhaustion of glycogen stocks in skeletal muscles.

2. Proteins contribute to the development and maintenance of muscle mass.
Who is the product for?
Nutrimuscle biological oats are addressed:

To athletes for his slow energy intake during the effort;
to the sedentary for the benefits of its important fiber content.
Our customer reviews
Your opinions

Free delivery to a relay point from 30€ of purchase
in France
3x payment without fees
from 100€