Vitamins D3 + K2-MK7
From
Regular price
17,95€

i.e. 0,59€ / capsule
Sale price / Kg
17,95€
Regular price / Kg
i.e. 0,59€ / capsule
Superior quality patented

Vitamin D and K2 synergy

Strengthens bones and the immune system
Learn more
Payment in 3 installments without fees
Splitting the cost of your basket into 3 payments, nothing could be simpler with Alma! Available from 50 euros
Livraison gratuite*
We guarantee fast delivery
in less than 5 days, at your home or in
relay point
1 à 2 jours de livraison supplémentaires
En raison d'un volume important de commande, veuillez observer 1 à 2 jours supplémentaires sur le délai de livraison classique. Merci !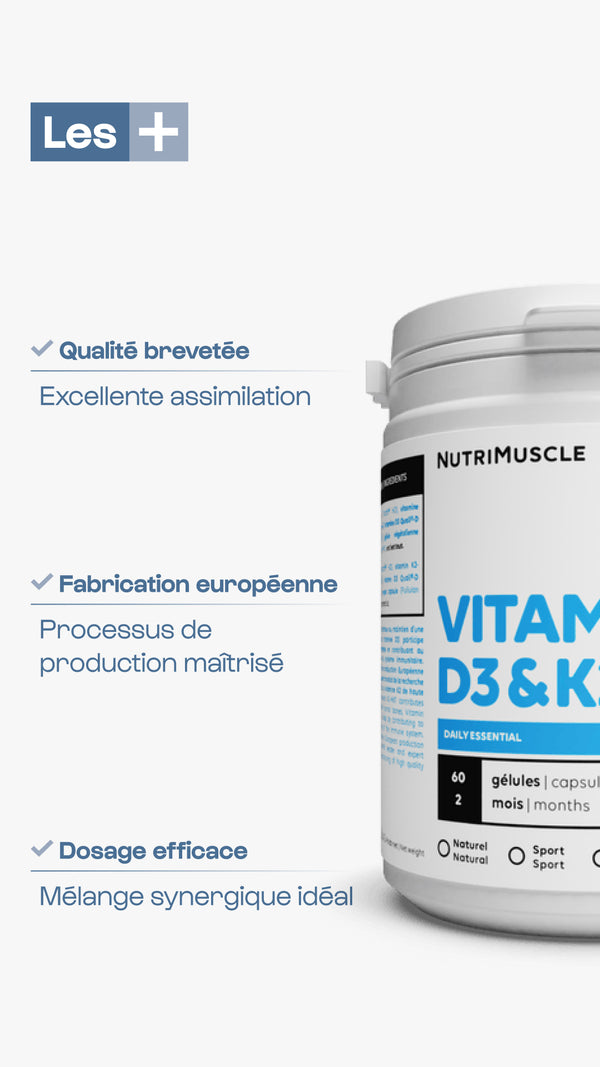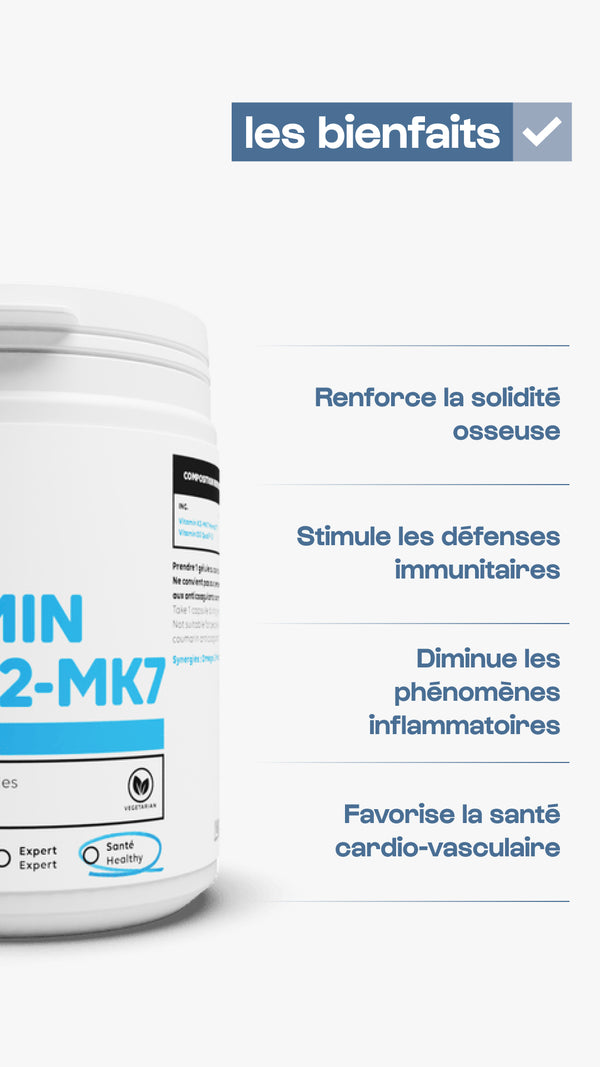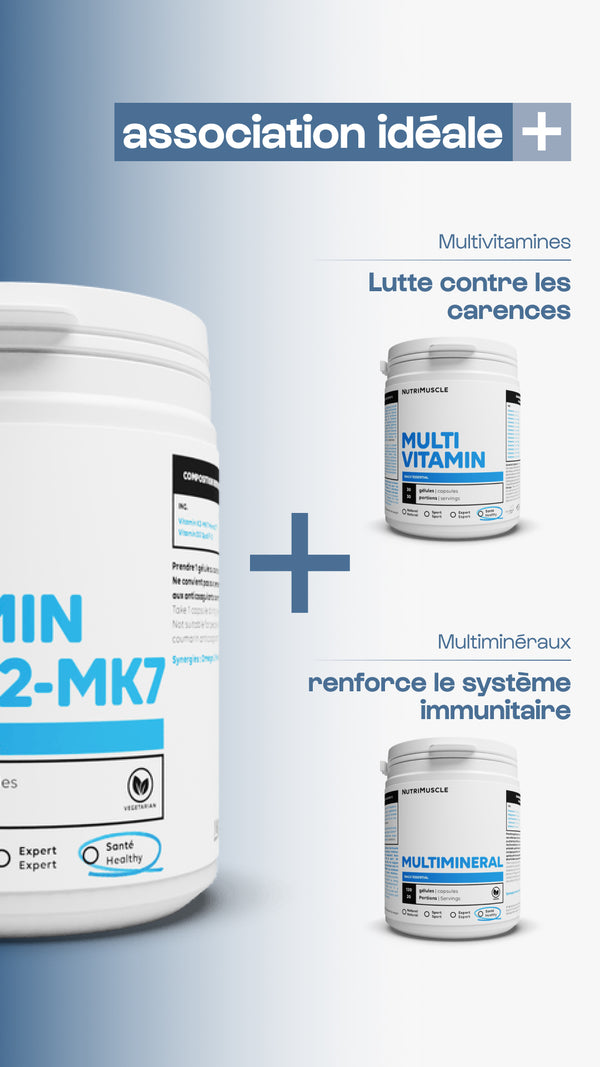 Vitamins D3 + K2-MK7
From
Regular price
17,95€

i.e. 0,59€ / capsule
Sale price / Kg
17,95€
Regular price / Kg
i.e. 0,59€ / capsule
Good to know
Vitamin D3+K2 is additional protection for bone health.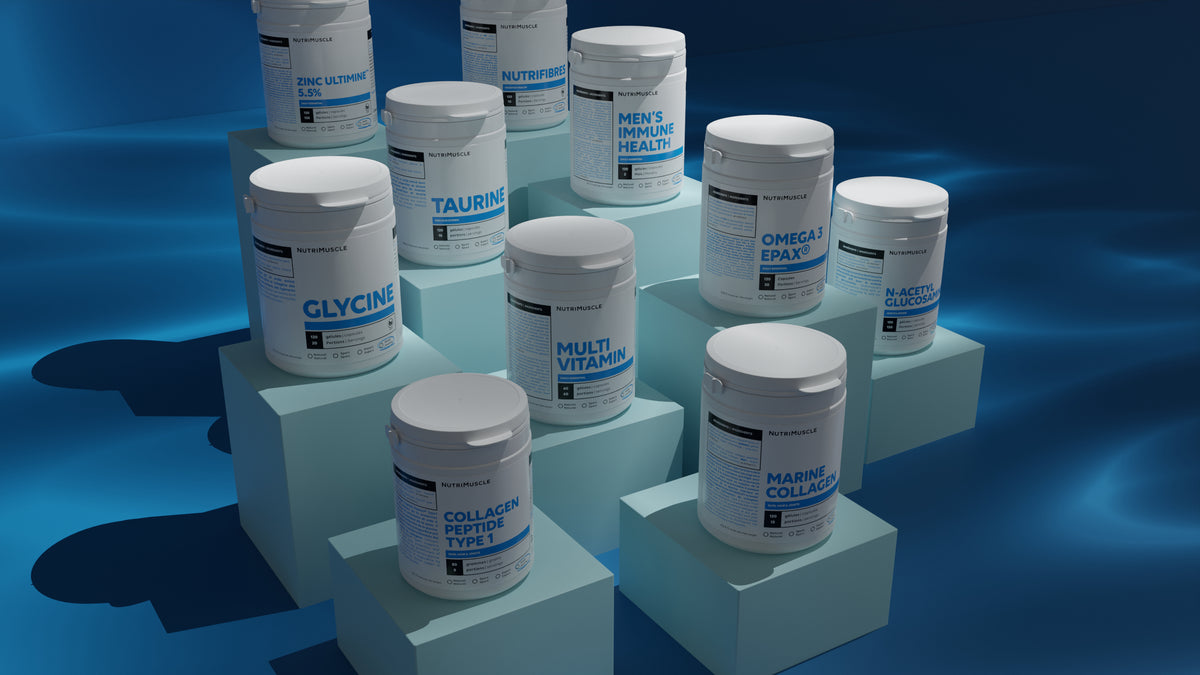 What the product does
Fight against vitamin D deficiencies
The reference study is. VI. Max (for supplementation in vitamins and antioxidant minerals) put forward that a large part of the French have difficulties in meeting the minimum recommended needs in vitamins.

A study of the CREDOC also concluded that more than 82 % of French people do not cover their minimum vitamin D needs and are also more than 32% to be in deficit in vitamin C, 25% in vitamin E, 21% in vitamin B9, ... (4)

In addition, winter, our organism is generally defined in vitamin D. Indeed, at this time of the year, we are less exposed to the ultraviolet sun rays which allow us to synthesize vitamin D. Hence the Interest of complementation to increase our reserves.
Bone solidity
Vitamin D contributes to the proper use of calcium and magnesium, in particular for the maintenance of bone integrity.
Everything about this product
Interaction with other Nutrimuscle products
There is also a health synergy to combine the regular use of vitamins whose vitamin D with that of omega 3. This is what medical research has shown, particularly with regard to the prevention of heart disease , and the strengthening of immune defenses. The combined socket of vitamin D + of omega 3 is more effective than the single use of only one of these two food supplements (25). Such a synergy is also noted in athletes with regard to the fight against the misdeeds of free radicals (26).


several studies show that the association of vitamin D with dairy proteins makes it possible to have Positive effects:

on weight loss in particular linked to the best absorption of calcium by vitamin D intake (27);
on force, especially in seniors (28). > For bone solidity, vitamin K2 will act in synergy with Peptide Peptid type 1 collagen (collagen peptides) and also more specific type IIM on the action of cartilages, because collagen is a major constituent of bones.

Likewise, vitamin D considerably reinforces the effects of vitamin K2 on bone solidity (29).

Vitamin K2 is to be taken with multivitamins which contains it vitamin K1. The K2 is therefore not duplicating with multivitamins. On the contrary, it reinforces its effects.

Anti-cholesterol drugs and antibiotics reduce the absorption of vitamin K2. These drugs therefore increase the need for vitamin K2.

There are no known antagonisms between vitamin D and other supplements.
References
(1) Shurgers LJ. Determination of Phylloquinone and Menaquinones in Food. Effect of food matrix on circulating vitamin k concentrations. HAEMOSTASIS 2000, 30, 298–307.
(2) Schurgers lj. Vitamin K- Containing Dietary Supplements: Comparison of Synthetic Vitamin K1 and Natto-Derived Menaquinone-7. Blood 2007, 109, 3279–3283.
(3) Schurgers lj. Differential lipoprotein transport pathways of k-vitamins in healthy subjects. Biochim. Biophys. ACTA 2002, 1570, 27–32.
(4) Pilorin T. Consumption of food supplements in France: consumer profile and contribution to nutritional balance. Nutrition and dietary notebooks volume 47, Issue 3, June 2012, pages 147–155.
(5) Pilz S. Effect of Vitamin D Supplementation On Testosterone Levels in Men. HORM METAB RES. 2011 Mar; 43 (3): 223-5.
(6) NIMPTSCH K. Association Between Plasma 25-OH Vitamin d And Testosterone Levels in Men. Endocrinol clin (Oxf). 2012 Jul; 77 (1): 106-12.
(7) Garcia la. 1,25 (OH) 2Vitamin D3 Stimulates Myogenic Differentiation by inhibiting Cell Proliferation and modulating the Expression of Promyogenic Growth Factors and Myostatin in C2C12 Skeletal Muscle Cells. Endocrinology August 1, 2011 vol. 152 No. 8,2976-2986
(8) Hodgson AB. The Effects of 4 Weeks Vitamin D3 Supplementation On Athletic Performance Medicine & Science In Sports & Exercise. 2012 44 (5S): 950
(9) Grimaldi, as. 25 (Oh) Vitamin D Is Associated With Greater Muscle Strength in Healthy Men and Women. Medicine & Science In Sports & Exercise: Post Acceptance, 14 August 2012
(10) Skaaby T. Vitamin D Status and Cardiovascular Disease and All-Cause Mortality incident: A General Population Study. Endocrine. 2012 Sep 27. [Epub ahead of print]
(11) Cheng Ty. Serum 25-Hydroxyvitamin d, vitamin a, and lung cancer mortality in the us population: a potential nutrient-nutrient interaction. Cancer Causes Control. 2012 Sep; 23 (9): 1557-65.
(12) Dobnig H. Independent Association of Low Serum 25-Hydroxyvitamin D and 1,25-Dihydroxyvitamin d Levels with all-causes and cardiovascular mortality. Arch Intern Med. 2008 Jun 23; 168 (12): 1340-9.
(13) Autier P. Vitamin D Supplementation and Total Mortality: A Meta-Analysis of Randomized Controlled Trials. Arch Intern Med. 2007 Sep 10; 167 (16): 1730-7.
(14) Salehpour A. A 12-Week Double-Blind Randomized Clinical Trial of Vitamin D3 Supplementation On Body Fat Mass in Healthy Overweight and Obese Women. Nutrition Journal 2012, 11:78
(15) Shahar dr. Dairy calcium intake, serum vitamin d, and successful weight loss. Am J Clin Nutr November 2010 Vol. 92 No. 5 1017-1022
(16) Soares MJ. Mechanistic Roles for Calcium and Vitamin D In The Regulation of Body Weight. OBES REV. 2012 Jul; 13 (7): 592-605.
(17) Forney L. Vitamin d Status, Adiposity and Performance Measures in College-Aged Students. Medicine & Science In Sports & Exercise. 2012 44 (5S): 951.
(18) Schwalfenberg GK. Vitamins K1 and K2: The Emerging Group of Vitamins Required for Human Health. J NUTR METAB. 2017; 2017: 6254836.
(19) Shea MK. The association between vitamin k status and knee osteoarthritis features in Older Adults: The Health, Agging and Body Composition Study. Osteoarthr. Cartil. 2016, 23, 370–378
(20) Zhang S. Vitamin K Status and Cardiovascular Events or Mortality: A Meta-Analysis. EUR. J. PREV. Cardiol. 2019, 26, 549–553.
(21) Alisi L. The Relationships Between Vitamin K and Cognition: A Review of Current Evidence Front. Neurol., 19 March 2019
(22) Sato T. MK-7 and its Effects on Bone Quality and Strength. Nutrients. 2020 Mar 31; 12 (4): E965.
(23) Juanola-Falgarona M. Dietary Intake of Vitamin K is reversely associated with Mortality Risk
J Nutr. 2014 May; 144 (5): 743-50.
(24) Dam V. Between Vitamin K and the Metabolic Syndrome: A 10-Year Follow-Up Study in Adults. J clin endocrinol metab. 2015 Jun; 100 (6): 2472-9.
(25) Earnest CP. Complementary Effects of Multivitamin and Omega-3 Fatty Acid Supplementation On Indices of Cardiovascular Health in Individuals with Elevated Homocystine. Int j vitam nutr res. 2012 Feb; 82 (1): 41-52.
(26) Filaire E. Effects of 6 Weeks of N-3 Fatty Acids and Antioxidant Mixture on lipid Peroxidation at Rest and Postexercise. EUR J APPE Physiol. 2011 Aug; 111 (8): 1829-39.
(27) Nutrition research volume 59, November 2018, pages 53 to 64 Hadil S. Subih
(28) Effects of a vitamin d and leucine-enriched Whey Protein Nutritional Supplement On Measures of Sarcopenia in Older Adults, The Provide Study: A Randomized, Double-Blind, Placebo-Controlled Trial. J Am Med Dir Assoc. 2015 Sep 1; 16 (9): 740-7. Bauer JM
(29) Kuang X. The Combination Effect of Vitamin K and Vitamin d On Human Bone Quality: A Meta-Analysis of Randomized Controlled Trials. Food Funct. 2020 AD 30; 11 (4): 3280-3297.
Learn more
Vitamin D Quali®-D is a vitamin D of pharmaceutical quality produced by the European brand DSM certified HACCP and ISO9001.

We have chosen the vitamin K2-MK7 of the producer Nattopharma for its form of Excellent patented quality Menaq7 Natural.
Benefits of vitamins D3 + K2-MK7 Nutrimuscle
To find out more about our vitamin D3 and our vitamin K2-MK7, we invite you to go to their respective procurement sheets:

Vitamin D3 Quali®d
Vitamin K2-MK7 < BR>

1. Vitamin D strengthens muscle functions and contributes to the proper functioning of the immune system.

2. Vitamin D helps to guarantee the absorption/functioning of calcium and phosphorus.

3. Vitamin D contributes to bone, dental health and proper muscle functioning.

4. Vitamin K contributes to bone health.

5.The vitamin MK7 contributes to the maintenance of the elastic properties of the arteries.


Our customer reviews
Your opinions

Free delivery to a relay point from 30€ of purchase
in France
3x payment without fees
from 100€