OPTIMSM® (Métylsulfonylméhane)
From
Regular price
19,95€

i.e. 0,13€ / capsule
Sale price / Kg
19,95€
Regular price / Kg
i.e. 0,13€ / capsule
Methyl-sulfonyl-methane pure 99%*

Rich organic sulfur

Very strong bioavailability

Glycosaminoglycan precursorsHALAL / KASHER
Learn more
Payment in 3 installments without fees
Splitting the cost of your basket into 3 payments, nothing could be simpler with Alma! Available from 50 euros
Livraison gratuite*
We guarantee fast delivery
in less than 5 days, at your home or in
relay point
1 à 2 jours de livraison supplémentaires
En raison d'un volume important de commande, veuillez observer 1 à 2 jours supplémentaires sur le délai de livraison classique. Merci !
Good to know
MSM, or MethylSulfonylMethane, is regularly used in the form of a cream, but its absorption by the skin can be difficult. We offer you a food supplement with high bioavailability.
Learn more.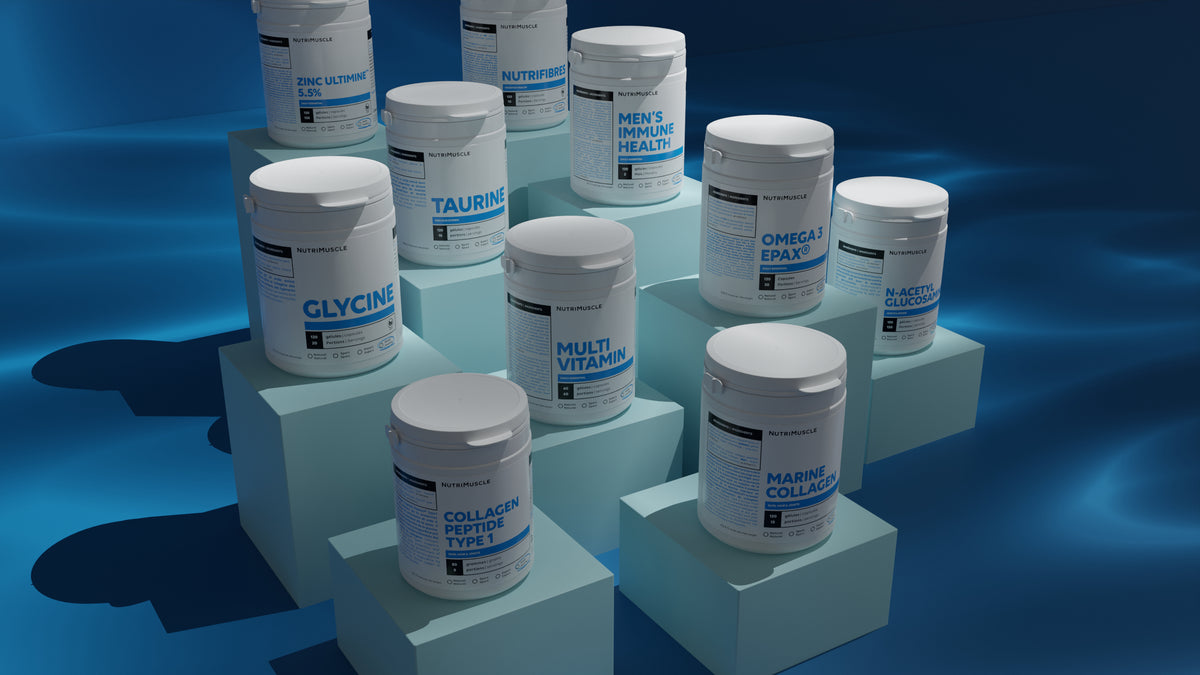 What the product does
Joint
A study testing electronlysulfonylmmethane supplementation on people with osteoarthritis (100 people) has improved pain and improving physical function (1).
Inflammation
Methylsulfonylmmethane reduces the release of inflammatory molecules following physical exercise. This creates an optimal environment for cells so that they can provide the appropriate response to the stimulus of the exercise (2).
Everything about this product
Interaction with other Nutrimuscle products
According to a study, the association of methylsulfonylmethane with glucosamine and chondroitin can be interesting (5).

It is better to consult a healthcare professional before the concomitant use of several food supplements.
References
Kim, L. S., Axelrod, L. J., Howard, P., Buratovich, N., & Waters, R. F. (2006). Efficacy of Methylsulfonylmethane (MSM) in Osteoarthritis Pain of the Knee: A Pilot Clinical Trial. Osteoarthritis and Cartilage, 14 (3), 286-294.
Van der Merwe, M., & Bloomer, R. J. (2016). The Influence of Methylsulfonylmethane On Inflammation-associated Cytokine Release Before and Following Streneous Exercise. Journal of Sports Medicine (Hindawi Publishing Corporation), 2016, 7498359.
Barmaki, S., Bohlooli, S., Khoshkhahesh, F., & Nakhostin-Roohi, B. (2012). Effect of Methylsulfonylmethane Supplementation We exercise - Nethed Muscle Damage and Total Antioxidant Capacity. The Journal of Sports Medicine and Physical Fitness, 52 (2), 170-174.
Kalman, D. S., Feldman, S., Scheinberg, A. R., Krieger, D. R., & Bloomer, R. J. (2012). Influence of Methylsulfonylmethane on markers of Exercise Recovery and Performance in Healthy Men: A Pilot Study. Journal of the International Society of Sports Nutrition, 9, 46.
Lubis, A. M. T., Siagian, C., Wonggokusuma, E., Marsetyo, A. F., & Setyohadi, B. (2017). Comparison of Glucosamine-Chondroitin Sulfate with and without Methylsulfonylmethane in Grade i-ii knee osteoarthritis: a double blind randomized controlled trial. ACTA Medica Indonesiana, 49 (2), 105-111.
Paganos, T., Giviss, P., Kritis, A., Christoulou, A. (2014) The Effect of Methylsulfonylmethane on osteoarthritic Large joints and mobile | Pagonis | International Journal of Orthopaedics.
Anthonavage, M., & Benjamin, R. (2015). Effects of Oral Supplementation With Methylsulfonylmethane on Skin Health and Winkle Reduction. Natural Medicine Journal, Vol 7.
Nakhostin-Roohi, B., Barmaki, S., Khoshkhahesh, F., & Bohlooli, S. (2011). Effect of Chronic Supplementation With Methylsulfonylmethane On Oxidative Stress following Acute Exercise in Untined Healthy Men. The Journal of Pharmacy and Pharmacology, 63 (10), 1290-1294.
Kim, S., Smith, A. J., Tan, J., Shytle, R. D., & Giunta, B. (2015). MSM Ameliorates HIV-1 Tat induced neuronal oxidative stress via rebalance of the glutathione cycle. American Journal of Translational Research, 7 (2), 328-338.
Learn more
The OPTIMSM® provider of Nutrimuscle benefits from an expertise of more than 30 years in terms of manufacturing. And guarantees ISO9001: 2015 (quality standard) and FSSC22000 certification (Food safety certification system). This is how you offer you a 99%pure product. Thanks to a distillation process in several stages, thus making it possible to avoid the presence of impurities and water. Nutrimuscle offers you a certified HACCP (Hazard analysis Critical Control Point) product, which ensures a secure and safe product. But that's not all, the Nutrimuscle Optitmsm® is certified CGMP (Current Good Manufacturing Practices) ensures a secure and quality manufacturing process.

in view of the composition of optitmsm ® From Nutrimuscle, it can be suitable for vegetarians and vegans, person wishing or unable to consume gluten and is guaranteed without allergens. It is also a Halal and Cosher certified product.
Who is the product for?
To athletes.
To preventive people.
OPTIMSM® benefits (Métylsulfonylméhane) Nutrimuscle
To test the effects of a molecule such as methylsulfonylmmethane on joints, researchers use the Womac index. This is a functional assessment that concerns people with coxarthrosis (hip osteoarthritis) or gonarthrosis (knee osteoarthritis). Patients must then answer different questions on a scale of 1 to 5. These questions are grouped in 3 different items: pain, function and stiffness. A study using this index was able to test the methylsulfonylmmethane supplementation for 26 weeks. All of the sub-scales (pain, function, stiffness) were improved after 26 weeks. Researchers explain this result by different potential properties such as being anti-inflammatory. Indeed, methylsulfonylmmethane would stimulate, according to the article, the synthesis of proteoglycans and hyaluronic acid and decreasing the activity of substances helping to damage the cartilage matrix (6).

OPTIMSM® improves elasticity (cutomer) and hydration (corneometer) of the skin. During a study, 81% of the participants (out of 63) could see this improvement.

the supplementation of the methylsulfonylmmethane made it possible to regulate the expression of genes which are responsible for the health of the skin. A 2015 study highlighted that such supplementation reduces fine lines and fine lines compared to a placebo group (7).

Studies have attributed to the methylsulfonylmethane of mitigating effects to the markers of oxidative stress after a period of physical exercises (8). A study stresses that methylsulfonylmmethane would be able to trap the ROS. This would be possible thanks to the increase in reduced glutathion (an antioxidant) and both a decrease in oxidized glutathione. The metabolism of methylsulfonylmmethane provides precursors necessary for the synthesis of reduced glutathione. This is how methylsulfonylmmethane would improve the oxidative state of cells. Another mechanism would be by involving NRF2, an element capable of modulating the activity of reduced glutathion and therefore its antioxidant capacity. NRF2 is generally present in the cytoplasm and therefore cannot play its role of regulation. MSM would promote its transfer to the nucleus and therefore its activity (9).
Our customer reviews
Your opinions

Free delivery to a relay point from 30€ of purchase
in France
3x payment without fees
from 100€