Biological Green Tea
From
Regular price
14,95€

i.e. 0,12€ / capsule
Sale price / Kg
14,95€
Regular price / Kg
i.e. 0,12€ / capsule
Biological origin

Rich in antioxidants and catechins

Slimming virtues
Learn more
Payment in 3 installments without fees
Splitting the cost of your basket into 3 payments, nothing could be simpler with Alma! Available from 50 euros
Livraison gratuite*
We guarantee fast delivery
in less than 5 days, at your home or in
relay point
1 à 2 jours de livraison supplémentaires
En raison d'un volume important de commande, veuillez observer 1 à 2 jours supplémentaires sur le délai de livraison classique. Merci !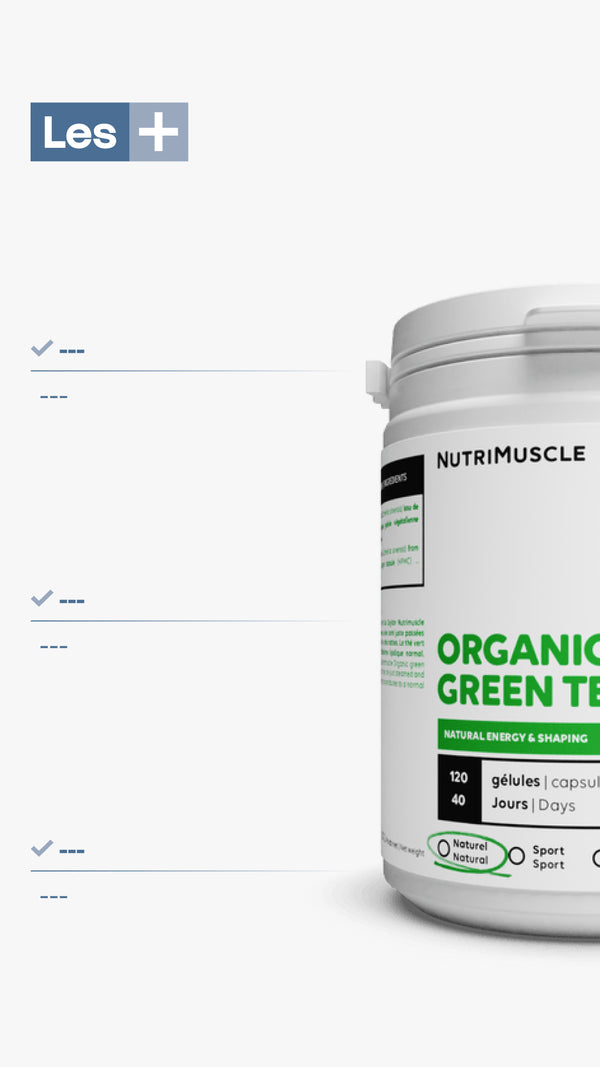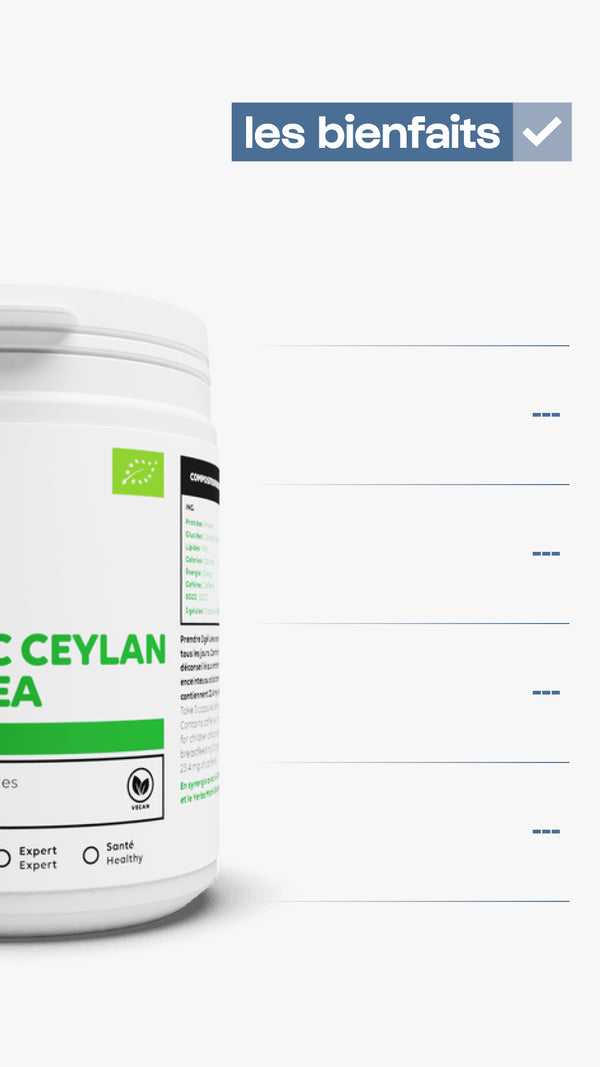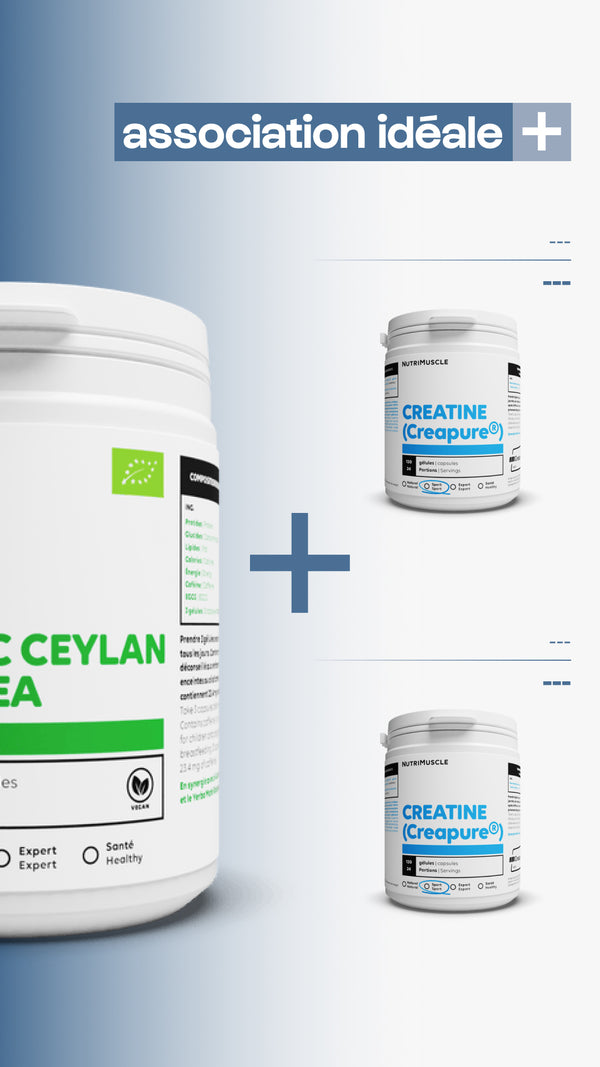 Biological Green Tea
From
Regular price
14,95€

i.e. 0,12€ / capsule
Sale price / Kg
14,95€
Regular price / Kg
i.e. 0,12€ / capsule
Good to know
Theine and caffeine are two identical molecules.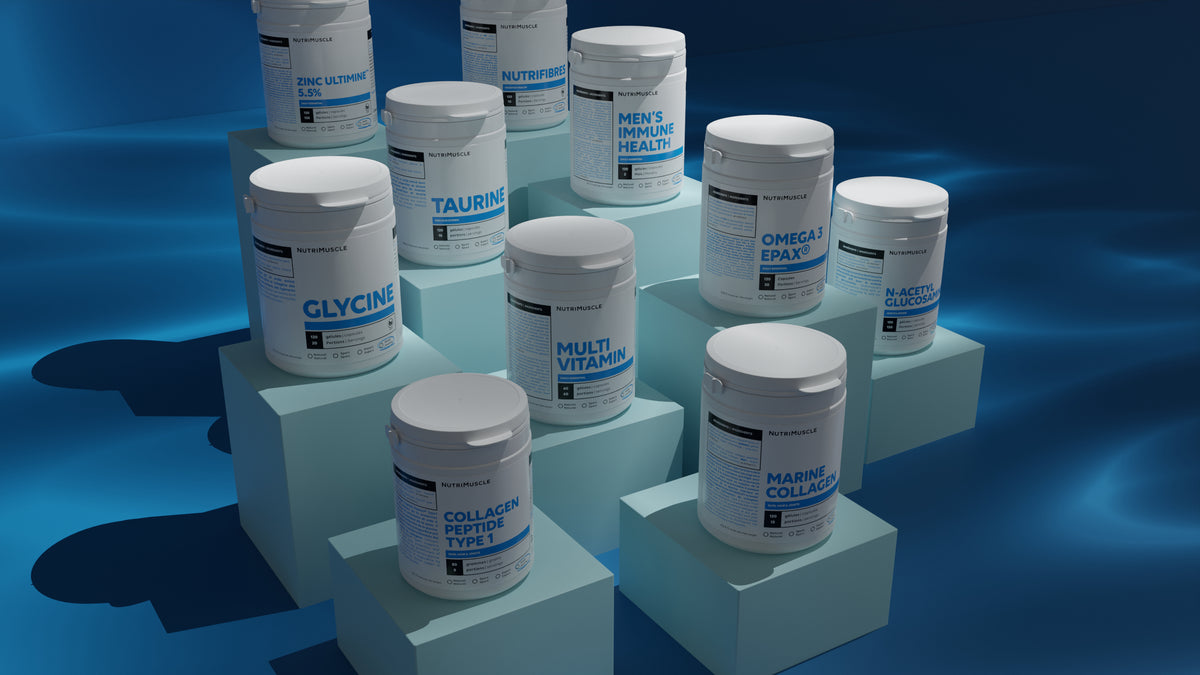 What the product does
Green tea anti-cancer action
Regular Green Tea Declaces the risks of many cancers, especially those of prostate in men and those in the breast, in women.
Rich in antioxidants
Green tea antioxidants have a triple role: health function, improvement in physical performance and anti-fat action.
Everything about this product
Interaction with other Nutrimuscle products
Nutrimuscle Biological Ceylon Tea reinforces the boosters and anti-grave effects of biological guarana and biological maté yerba.

Ceylon Biological Green Nutrimuscle is not to be taken at the same time as omega 3 in order to avoid preventing the right assimilation of these.
References
(1) Pérez-Parada A. Transfer of Pesticides to the Brew During Mate Drinking Process and Their Relationshipship with Physicochemical Properties. J approximately SCI Health B. 2010 Nov; 45 (8): 796-803.
(2) Grujic N. Effects of Different Extraction Methods and Conditions on the Phenolic Composition of Mate Tea Extracts. Molecules. 2012 Mar 2; 17 (3): 2518-28.
(1) Thavanesan N. The Putative Effects of Green Tea On Body Fat: An Evaluation of the Evidence and a Review of the Potential Mechanisms. BR J NUTR. 2011 Nov; 106 (9): 1297-309.
(2) Rains TM. Antiobesity Effects of Green Tea Catechins: a Mechanistic Review. J NUTR BIOCHEM. 2011 Jan; 22 (1): 1-7.
(3) Bérubé-Parent S. Effects of EncapsUlated Green Tea and Guarana Continant Extracts A Mixture of Epigallocatechin-3-Gallate and Caffeine On 24 H Energy Expending and Fat Oxididation in men. BR J NUTR. 2005 Sep; 94 (3): 432-6.
(4) Phung oj. Effect of Green Tea Catechins with or within Caffeine On Anthropometric Measures: A Systematic Review and Meta-Analysis. AM J Clin Nutr. 2010 Jan; 91 (1): 73-81.
(5) Shen cl. Dietary Polyphenols and Mechanisms of Osteoarthritis. J NUTR BIOCHEM. 2012 Jul 23.
(6) Henning sm. Randomized Clinical Trial of Brewed Green and Black Tea in Men With Prostate Cancer Prior to Prostatectomy. The prostate 2014 Early view
(7) Fei X. The Association of Tea Consumption and the Risk and Progression of Prostate Cancer: A Meta-Analysis. Int j clin expla. 2014 Nov 15; 7 (11): 3881-91.
(8) Yiannakopoulou Ec. Interaction of Green Tea Catechins With Breast Cancer Endocrine Treatment: A Systematic Review. Pharmacology. 2014; 94 (5-6): 245-8.
(9) Li MJ. Green Tea Compound in Breast Cancer Prevention and Treatment. World J Clin Oncol. 2014 Aug 10; 5 (3): 520-8.
(10) Wang L.TEA Consumption and Lung Cancer Risk: A Meta-Analysis of Case-Control and Cohort Studies. Nutrition. 2014 Oct; 30 (10): 1122-7.
(11) Ramshankar V. Chemoprevention of Oral Cancer: Green Tea Experience. J nat sci biol med. 2014 Jan; 5 (1): 3-7.
(12) Huang cc. Tea consumption and risk of head and nega cancer. Plos One. 2014 May 5; 9 (5): E96507.
(13) Moyle C.W. A. ??Potent inhibition of Vegfr-2 Activation by Tight Binding of Green Tea Epigallocatechin Gallate and Apple Procyanidins To Vegf: Relivance to angiogenesis. Molecular Nutrition & Food Research. Article First Published Online: Jan 22, 2015
(14) Butt ms. Green Tea and Anticancer Perspectives: Updates from Last Decade. Crit Rev Food SCI Nutr. 2015; 55 (6): 792-805.
(15) Fang cy. EGCG Inhibits Proliferation, Invasiveness and Tumor Growth by Up-Regulation of Adhesion Molecules, Deletion of Gelatinases Activity, and induction of apoptosis in nasopharyngeal carcinoma cells. Int j mol sci. 2015 Jan 23; 16 (2): 2530-58.
(16) Fujiki H. Synergistic Enhancement of Anticancer Effects On Numerous Human Cancer Cell Lines Treated with the Combination of Egcg, Other Green Tea Catechins, and Anticancer Compounds. J Cancer res clin oncol. 2014 Dec 28. [Epub ahead of print]
(17) Tao L. Differential Prooxidative Effects of the Green Tea Polyphenol, (-)-Epigallocatechin-3-Gallate, in Normal and oral cancer Cells are related to differentities in sirtuin 3 signaling. Mol Nutr Food res. 2014 Oct 20. [Epub ahead of print]
(18) Shan HM. Identification of Green Tea Catechins As Potent inhibitors of the Polo Box Domain of Polo-Like Kinase 1. Chemmedchem. 2015 Jan; 10 (1): 158-63.
(19) Zhang L. novel Mechanisms of Anticancer Activities of Green Tea Component Epigallocatechin- 3-Gallate. Anticancer agents Med Chem. 2014; 14 (6): 779-86.
(20) Zeng L. Effects of Physiological Levels of the Green Tea Extract Epigallocatechin-3-Gallate on Breast Cancer Cells. Endocrinol front (Lausanne). 2014 May 7; 5: 61.
(21) Nagle DG. Epigallocatechin-3-Gallate (EGCG): Chemical and Biomedical Perspectives. Phytochemistry. 2006; 67: 1849–1855.
(22) Mielgo-Ayuso J. Effects of Dietary Supplementation With Epigallocatechin-3-Gallate on Weight Loss, Energy Homeostasis, Cardiometabolic Risk Factors and Liver Function in Obese Women: Randomized, Double- Blind, placebo-control clinical trial. Br. J. Nutr. 2014; 111: 1263–1271.
(23) Kuo yc. Green Tea Extract Supplementation of Not Hamper Endurance-Training Adaptation Improves Antioxidant Capacity in Sendentary Men. IMPLAIR PHYSIOL NUTR METAB. 2015 Oct; 40 (10): 990-6.
(24) Chow HH. Effects of Dosing Condition On the Oral Bioavailabibility of Green Tea Catechins after Single-Dose Administration of Polyphenon e in Healthy individuals. Clin. Cancer Res. 2005; 11: 4627–4633.
(25) Naumovski N. Food inhibits the oral bioavilable of the major Green tea antioxidant epigalocatechin Gallate in Humans. Antioxidants (Basel). 2015 Jun; 4 (2): 373–393.
Learn more
It is rare to know the names of the suppliers of the raw materials of the supplements that we consume. However, it is essential in order to ensure the traceability of the product.

At Nutrimuscle, we only use very high -end green tea whose quality is guaranteed.
Guayapi Focusing on wild plants, picked by local tribes, respecting traditions. It is therefore an organic farming and certified without pesticide which preserves the environment.

Guayapi respects the quality charters of numerous organic and fair trade certification organizations. We are far from intensive culture, chemical extraction and GMOs. Indeed, what matters primarily to us is the quality of raw materials, your health and the results you will get using our nutritional supplements.
Benefits of Green Tea Ceylon Biological Nutrimuscle
If green tea is said to be green it is that, unlike black tea, it is not fermented. Green tea is less rich in tea (caffeine): 2.5% against 3.5% for black tea. Its particularity is based on its richness in catechins (12% against 2% for black tea).


the catechins are the molecules which, with caffeine, contribute to the thermogenic and anti-grave action of the green tea .

Green tea shares some of the slimming effects of caffeine in:

stimulating thermogenesis (waste of fatty calories in the form of heat);
activating the mobilization and oxidation of the oxidation of fats.
But green tea, also has clean effects, independent of those of caffeine in:

inhibiting the caloric absorption of lipids and food sugars;
reducing the secretion of Insulin (a hormone that promotes weight gain);
acting directly on fat cells to prevent them from growing even to destroy them (1 - 2).
These are the catechins that provide its effects Original with green tea. The latter therefore does not depend on its caffeine content to be effective as demonstrated by the following studies. Morning, noon and evening, men took green tea. The level of their calorie expenditure increased by 4% over 24 hours. This action even occurs with decaffeinated green tea which proves that it is not caffeine that gives tea this anti-fat property (3).

Ultimately, these effects result in a loss fat. For 60 days, overweight people followed a light diet. In addition, they have received detaineed green tea or a placebo. With the latter, weight loss is 2kg against 5kg with tea (4).

For 12 weeks, overweight men and women have taken green tea every night (bringing 583mg catechins). No regime has been prescribed. This regular grip of green tea induces an average fat loss of 2.3 kg against 500g for the placebo. The fatty melting is preferentially located around the size which decreases by 4.5% (4).


Regular green tea takes the risks of many cancers, in particular those of prostate in men and breasts, in women (6 to 12, to name a few of the most recent studies). The action of polyphenols is very specific. They only attack cancer cells, not to healthy cells (13).

In cancer cells, polyphenols produce oxidative action at the mitochondria (energy power plant) which causes the death of the malignant cell. In healthy cells, on the contrary, polyphenols induce the opposite effect by protecting attacks from free radicals.

Polyphenols also reduce the proliferation of blood vessels that irrigate cancer cells. By blocking their development, polyphenols samples cancer cells that die for lack of nutrients (13).

Thus, green tea acts at all steps by preventing the appearance of cancer and reducing the proliferation of malignant cells once it is declared (14 to 20).

: Reduction in cancer risk does not mean zero risk! You have to adapt your lifestyle by eating healthy and without excess, by practicing regular physical activity and eliminating risk factors (tobacco, alcohol, overweight, ...).

Another green benefit is that it helps prevent joint pain (5).

For 10 weeks, men with regular physical activity have received green tea daily (584mg of catechins). Compared to a placebo, the energy contribution of fats increased by 6% thanks to tea during an endurance effort.

Green tea thus improves body capacities to use its own fats as fuel .

Green tea is particularly rich in antioxidants, mainly in epigallocatechine gallate (EGCG) (21). The EGCG not only protects our cells from an excess of oxidation induced by free radicals but it is also he which explains the slimming effects of green tea (22).


antioxidants of tea Green thus produce a triple role: a health function, an improvement in physical performance and an anti-fat action (23).

However, for better absorption of EGCG, medical research suggests using tea tea Green on an empty stomach. Indeed, the more food is eaten with its green tea, the more the assimilation of EGCGs will be reduced (24 - 25).



caffeine contributes to the improvement of endurance physical, vigilance and concentration.
Who is the product for?
Ceylan Biological Nutrimuscle Green Tea is addressed:

To athletes who wish to improve their endurance before training;
to sedentary, in order to improve their daily life and their health. < /p>
Our customer reviews
Your opinions

Free delivery to a relay point from 30€ of purchase
in France
3x payment without fees
from 100€