Post workout isolate blend
From
Regular price
57,95€

i.e. 57,95€ / Kg
Sale price / Kg
57,95€
Regular price / Kg
i.e. 57,95€ / Kg
Accelerates recovery

Fight against inflammation

Prevention of joint and tendon pain
Learn more
Payment in 3 installments without fees
Splitting the cost of your basket into 3 payments, nothing could be simpler with Alma! Available from 50 euros
Livraison gratuite*
We guarantee fast delivery
in less than 5 days, at your home or in
relay point
1 à 2 jours de livraison supplémentaires
En raison d'un volume important de commande, veuillez observer 1 à 2 jours supplémentaires sur le délai de livraison classique. Merci !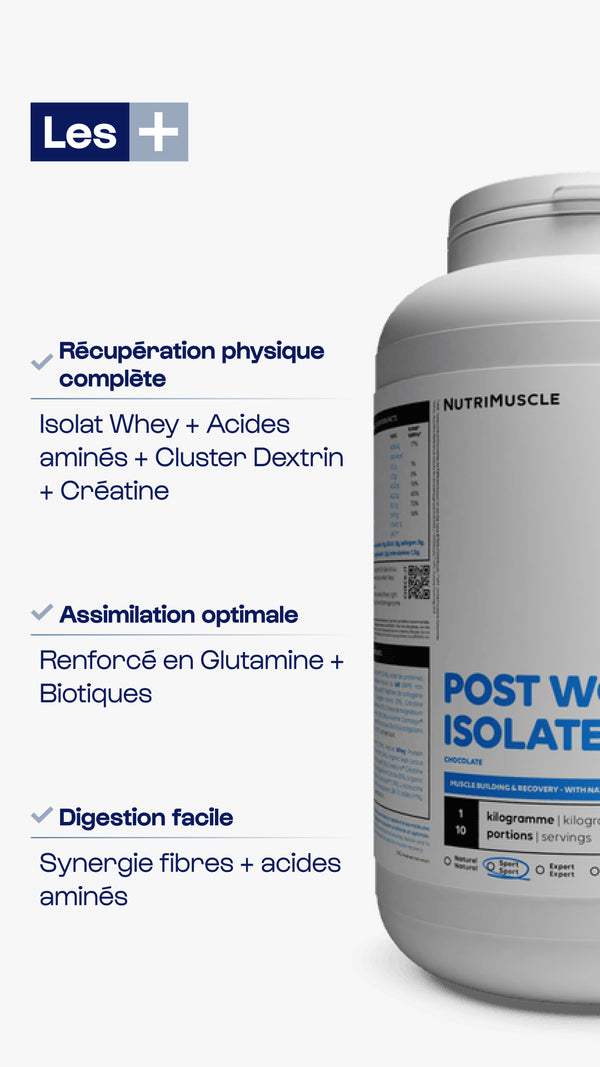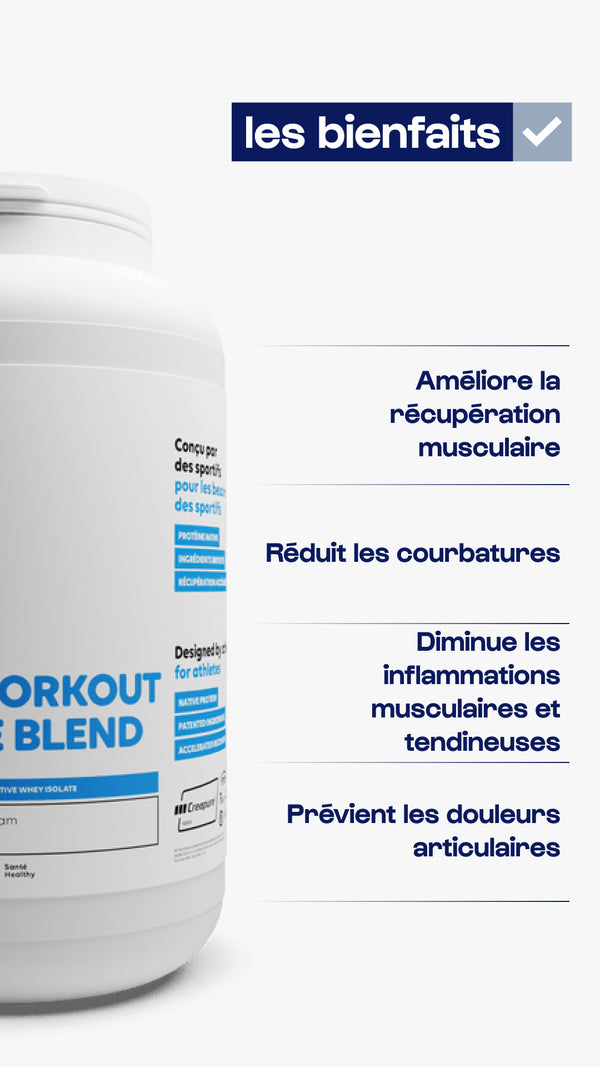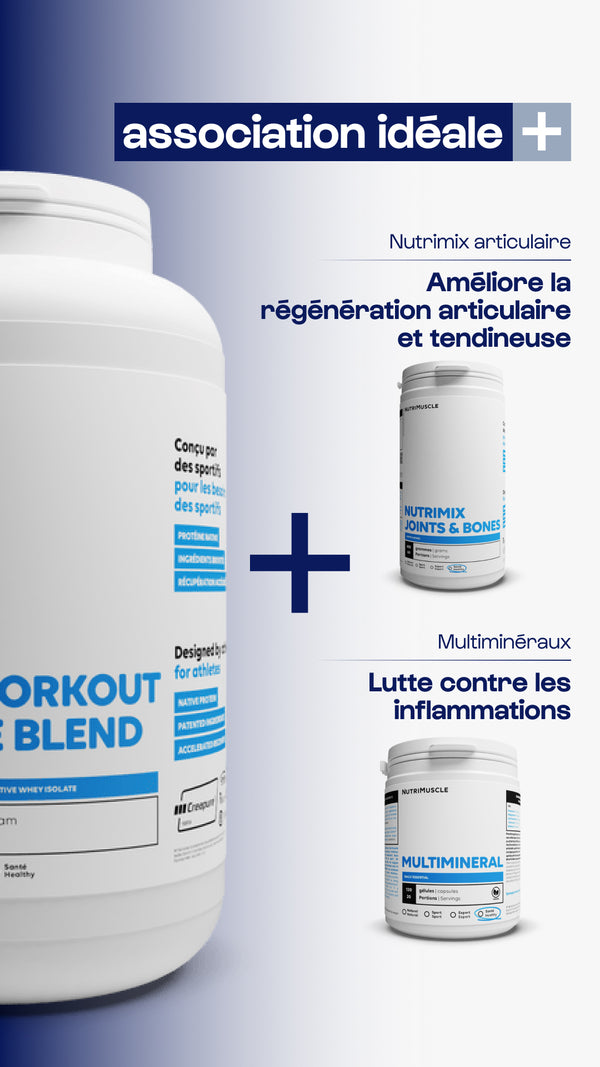 Post workout isolate blend
From
Regular price
57,95€

i.e. 57,95€ / Kg
Sale price / Kg
57,95€
Regular price / Kg
i.e. 57,95€ / Kg
Good to know
Our post Workout Isolate Blend has no particular taste. It does not contain any sweetener or coloring.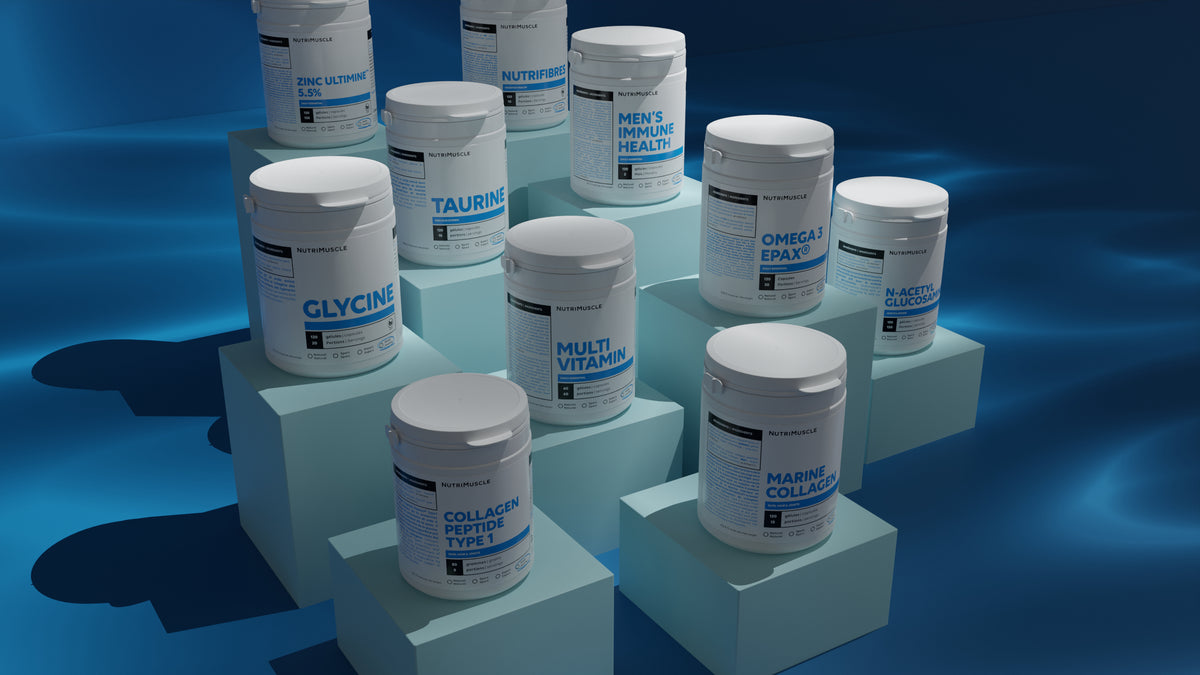 What the product does
Improvement of recovery after training
The Dextrin® cluster, Whey isolate and the BCAA 4.1.1 help:
Restore muscle glycogen stocks after training (Dextrin® cluster)
Improve muscle recovery (isolate of Whey native + BCAA 4.1.1)
Benefit from a boost of energy

The creatine acts in synergy with the cluster Dextrin, the isolate of Whey and the BCAA 4.1.1 To help:
Stimulate protein synthesis
Promote the storage of muscle glycogen
Protect cells against free radicals generated during effort
Reduction of pain related to training
Beta-alanine, magnesium citrate and maté yerba help:

Reduce aches
Reduce muscle inflammation
Regenerate muscle fibers (beta-alanine)

Collagen Peptide Peptan® Type 1 Help to:

Prevent joint and tendon pain
Athoring tendon inflammation
Everything about this product
Interaction with other Nutrimuscle products
To optimize joint and tendon recovery, we recommend that you take the post workout isolate blend with the articular nutrimix. The post workout isolate blend is a mixture adapted to a socket directly after training and is completely complementary with your usual protein.

The post workout isolate blend is not to be taken at the same time that potassium bicarbonate could cause digestive disorders.
References
At Nutrimuscle, we only use very high -end proteins whose quality is guaranteed by global leaders: Lactalis Ingredients © Produces the isolate of Whey Native Nutrimuscle in its HACCP and ISO9001 certified factory in France. << Br>
We use very high -end glutamine, whose quality is guaranteed by the Japanese leader in pharmaceutical bikingology Biokyowa Inc. Biokyowa Inc, HACCP certified and ISO9001.

at Nutrimuscle, we do not ' Let us use that very high -end collagen peptides, the quality of which is guaranteed by the world leader in gelatin and collagen hydrolyzes: the Dutch group Rousselot © Certified HACCP and ISO9001. He has specialized in this branch since 1891.

Alzchem AG produced the creatine monohydrate (Creapure®) Nutrimuscle in his HACCP and ISO9001 certified factory in Germany.

Natural Alternatives International produces beta-alanine carnosyn® whose formulation is patented.


the French group Solabia © Certified Haccp and ISO9001 produces magnesium citrate Nutrimuscle.

The Yerba Maté Nutrimuscle is produced by Guayapi, he is from Paraguay, a country from which he takes his scientific name (Ilex Paraguarians).

We have chosen the Japanese producer Dextrin® Glico Nutrition for its high solubility, improved taste and easy digestion. The Dextrin® cluster is a patented product whose efficiency and properties have been measured in several studies.
Benefits of the post Workout Isolate Blend Nutrimuscle
To find out more about the benefits of the Night Recovery Protein Blend, we invite you to go to the pride sheets of all its ingredients:

Whey native
collagen Peptide Peptan® 1
BCAA 4.1.1
Cluster Dextrin
Glutamine
Creatine monohydrate creapure®
yerba maté
magnesium citrate
beta-alanine
Biotics
p >
Our customer reviews
Your opinions

Free delivery to a relay point from 30€ of purchase
in France
3x payment without fees
from 100€