ZMP
100 % natural

The version of the ZMB without vitamin B6

Promotes restful sleep
Learn more
Payment in 3 installments without fees
Splitting the cost of your basket into 3 payments, nothing could be simpler with Alma! Available from 50 euros
Delivery estimated on 01/10
We guarantee fast delivery
in less than 5 days, at your home or in
relay point
Free product from 95€ purchase
We offer you a product from 95€ of purchases and you can accumulate loyalty points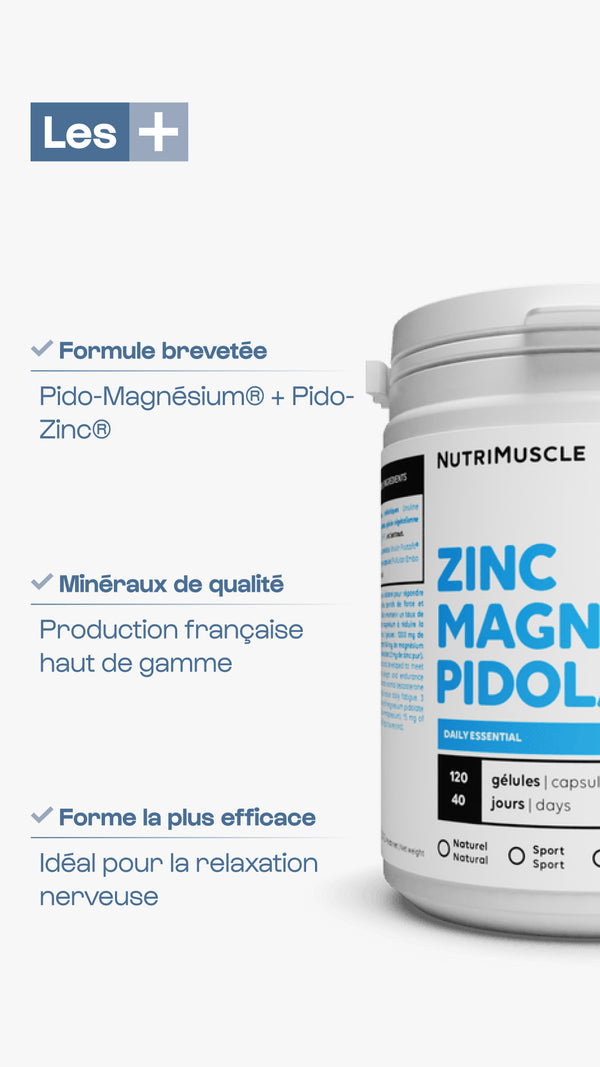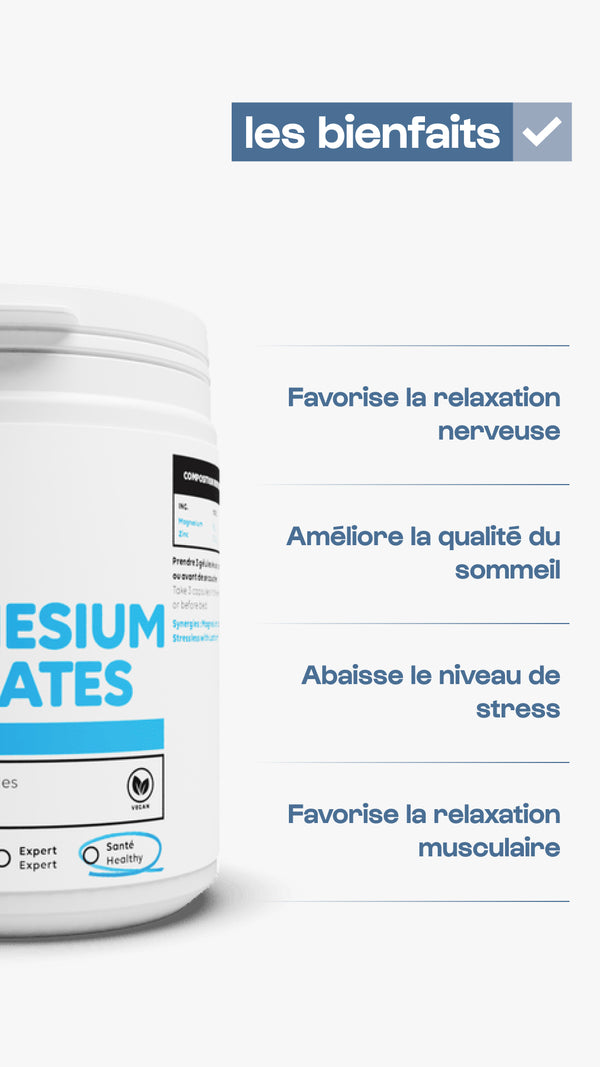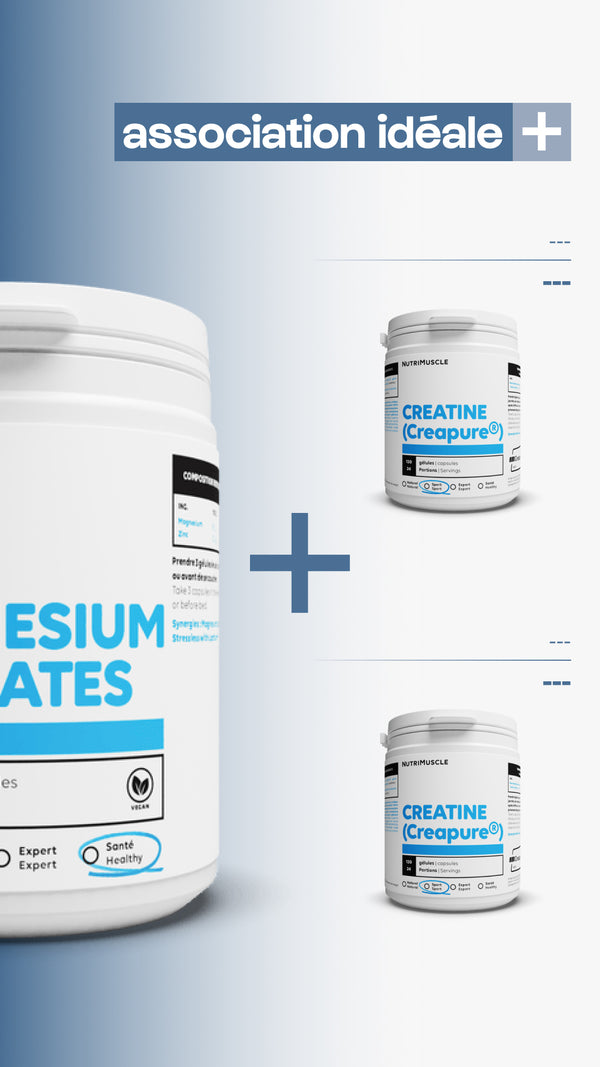 Bon à savoir
The ZMP is not a sleeping pill. It acts on the quality of sleep.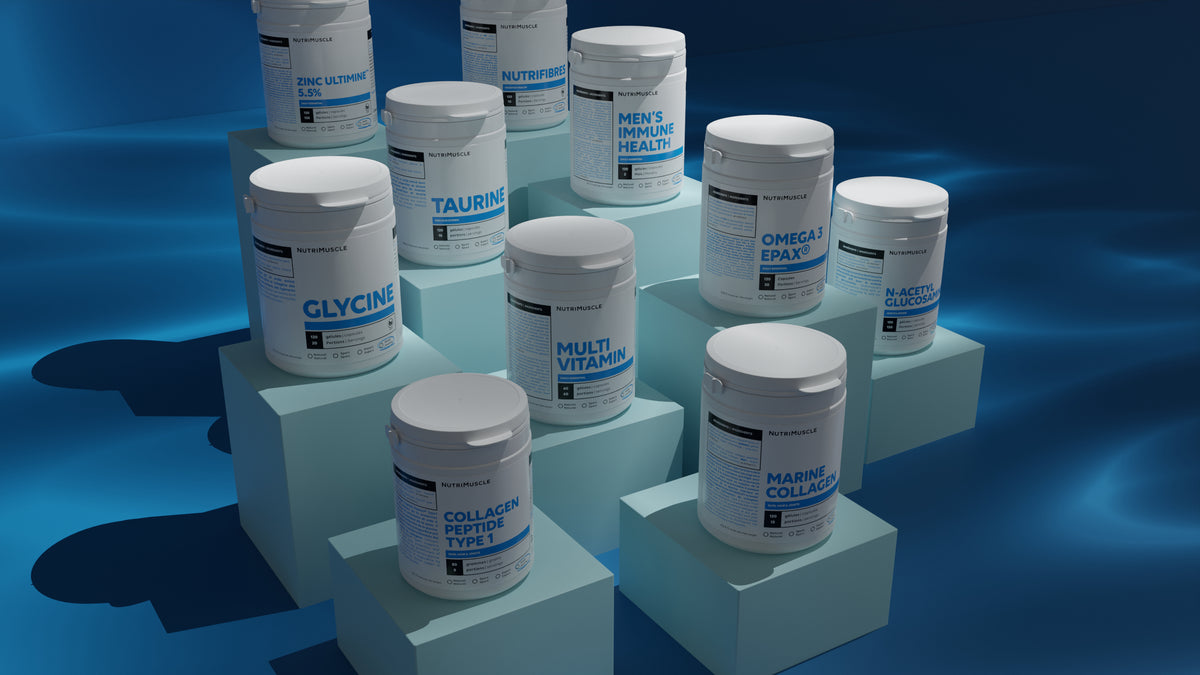 What the product does
Help reduce fatigue
Zinc benefits provide relaxing effects that promote better sleep.
Help with muscle and nervous relaxation
Pido-Magnesium® lowers the level of stress by 30% and helps muscle relaxation. Pido-Zinc® promotes muscle recovery by stimulating protein synthesis.
Our customer reviews
Your opinions
Everything about this product
Interaction with other Nutrimuscle products
The ZMP Nutrimuscle is complementary to the stressless Nutrimuscle which contains lactium (R) because these supplements induce a relaxing effect.

The ZMP is not to be taken at the same time as: potassium bicarbonate to avoid bloating Guarana, Natural Bio Booster, Yerba Maté, Ceylon Green Tea, Natural Bio Burner, Natural Caffeine, Green Bean Caffeine, Mix Focus so as not to hinder their stimulating action.
References
(1) Czernichow S. Relationship Between Serum, Red Cell, Urinary and Dietary Magnesium in A Middle-aged french adult population. Int j vitam nutr res. 2004 Mar; 74 (2): 123-8.

(1) Jamesa lj. Milk Protein Addition to Post-Excise Carbohydrate-Electrolyte Rehydration Solution. Is there a dose-responsibility relationship? Proceedings of the Nutrition Society (2011), 70: E118.
(2) Berardi JM. POSTEXCISE MUSCLE GLYCOGEN Recovery enhanced with a carbohydrate-protein supplement. Med SCI SPORTS EXERF. 2006 Jun; 38 (6): 1106-13.
(3) Test JF. [Psychopharmacological Properties of Three Magnesium Salts: Pidolate, Lactate and Aspartate]. Ann Pharm Fr. 1995; 53 (4): 176-83.
(4) Draco F. Pyroglutamic Acid Improves Learning and Memory Capacities in Old Rats. FUNCT Neurol. 1988 APR-Jun; 3 (2): 137-43.
(5) Grioli S. Pyroglutamic Acid Improves The Age Associated Memory Impalyment. Fundam clin pharmacol. 1990; 4 (2): 169-73.
(6) Hadjistavri ls. Beneficial Effects of Oral Magnesium Supplementation On Insulin Sensitivity and Serum Lipid Profile. Med SCI Monit. 2010 Jun; 16 (6): CR307-312.
(7) Wolfersberger MG. L-Pyrrolidone Carboxylic Acid Content in Mammalian Epidermis and other tissue. Journal of Investigative Dermatology. 1973. 60, 278–281.
(8) Cosaro E. Effects of Magnesium Supplements On Blood Pressure, Endothelial Function and Metabolic Parameters in Healthy Young Men With A Family History of Metabolic Syndrome. Nutr Metab Cardiovasc Dis. 2014 Nov; 24 (11): 1213-20.
(9) Falco CN. LATE OUTCOME OF A RANDOMIZED STUDY Oral Magnesium for Premature Complexes. Arq Bras Cardiol. 2014 Nov 11; 0.
(10) Falco CN. Successful Improvement of Frequency and Symptoms of Premature Complexes After Oral Magnesium Administration. Arq Bras Cardiol. 2012; 98 (6): 480-7.
(11) Salami A. Evaluation of the effects of magnesium pidolate as adjuvant treatment in blood pressure in the elderly. Black African medicine. 2012, vol. 59, no12, pp. 553-556.
(12) MEDEGAN B. Contribution of injectable and oral magnesium pidolate in the asthmatic medicine in black African medicine. 2012, vol. 59, no11, pp. 507-509.
(13) Hatjistavri ls. Oral magnesium Supplementation Reduces AMBULATORY Blood Pressure in Patients With Mild Hypertension. American Journal of Hypertension. 2009. Vol. 22, no. 10, pp. 1070–1075.
(14) Hankins JS. Phase I Study of Magnesium Pidolate in Combination with HydroxyCarbamide for Children with Sickle Cell Anaemia. BR J HAEMATOL. 2008 Jan; 140 (1): 80-5.
(15) Grazzi L. Magnesium as a preventive Treatment for paediatric episodic tension-type Headache: Results at 1-Year follow-up. Neurological sciences. 2007. Volume 28, Issue 3, pp 148-150.
(16) N'Guessan E. Results of the use of Magnesium per OS (Mag2 Buvable®): in Moderee arteriel hypertension in pregnant women. Black African medicine. 2006, vol. 53, no10, pp. 521-524.
(17) Grazzi L. Magnesium as a Treatment for Paediatric Tension Type Headache: At Clinical Replication Series. Neurological sciences. 2005, volume 25, Issue 6, pp 338-341.
(18) Anderson Ra. Potential Antioxidant Effects of Zinc and Chromium Supplementation in People with Type 2 Diabetes Mellitus. Journal of the American College of Nutrition. 2001 Volume 20, Issue 3, p: 212 - 218.
(19) from Franceschi L. Oral Magnesium Pidolate: Effects of Long-Term Administration in Patients with Sickle Cell Disease. BR J HAEMATOL. 2000. 108 (2): 284-9.
(20) from Franceschi L.The Effect of Dietary Magnesium Supplementation on the Cellular Abnomalitians of Erythrocytes in Patients with beta thalassemia intermedia. Haematologica. 1998 83: 118-125.
(21) Corica F. Effects of Oral Magnesium Supplementation On Plasma Lipid Concentrations in Patients With Non-insulin Dependent Diabetes Mellitus. Magnesium Research. 1994, 7 (1): 43-47.
(22) Castelli S. Magnesium in the prophylaxis of Primary Headache and Other Periodic Disorders in Children. Medical and Surgical Pediatrics. 1993, 15 (5): 481-488.
(23) Benassi L. Effectiveness of Magnesium Pidolate in the Prophylactic Treatment of Primary Dysmenorrhea. Clin Exp Obstet Gynecol. 1992; 19 (3): 176-9.
(24) Martin M. Intravenous and Oral Magnesium Supplements in the Prophylaxis of Cisplatin-Induced Hypomagnemia. Results of A Controlled Trial. American Journal of Clinical Oncology. 1992, 15 (4): 348-351.
(25) Ferrara la. Long-term magnesium Supplementation in essential hypertension. Cardiology. 1992; 81: 25–33.
(26) Cipolla C. Magnesium Pidolate in the Treatment of Seasonal Allergic Rhinitis. Prelimina Data. Magnesium Research. 1990 Jun; 3 (2): 109-12.
Learn more
It is rare to know the names of the suppliers of the raw materials of the supplements that we consume. However, it is essential in order to ensure the traceability of the product.

In the ZMP Nutrimuscle, we only use high -end minerals of the French group Solabia © Certified HACCP and ISO9001.
Benefits of the ZMB Pidolat Nutrimuscle
After intense training, we can remain tense which makes it difficult to relax essential to recovery. This can generate nervous fatigue and make the effort difficult the next day.


the pido-magnesium® has the relaxing virtues which will promote nervous regeneration by helping to sleep better.

Studies scientists have tested different forms of magnesium or placebo in rats. The latter received either Pido-Magnesium®, magnesium aspartate, magnesium lactate or a placebo, 1 hour before falling asleep (3). Once they slept, the researchers suddenly woke up the rats.

with placebo or magnesium aspartate, none of the rats could go back to sleep immediately after this alarm clock because they stayed Nervously agitated:

14% were able to go back to sleep immediately thanks to the magnesium lactate.
71% were able to go back to sleep immediately thanks to the pido-magnesium®.
the pido-magnesium® is the form most effective magnesium for nervous relaxation after stress and to promote sleep.

In some users, zinc-magnet supplementation will accelerate sleep. But the most important benefit of the ZMP is to improve the quality of sleep.

=> The regeneration of the nervous system will be more effective and you will quickly be stronger under the bar.

In a second experience, other rats received these same magnesium forms, 1 hour before an injection of amphetamine. The purpose of the latter being to induce an extreme nerve excitation of animals (3).

Magnesium aspartate and magnesium lactate increase the level of stress by 10%.

On the contrary, thanks to muscle relaxation, Pido-Magnesium® lowers the level of stress by 30%. In-vitro scientific studies (in test tube) carried out on the Nerf-Muscle torque show that the Pido-Magnesium® induces a relaxation which is reversible.

This means that unlike the drugs that have the purpose of to relax the muscles, in the morning, you will wake up in shape and strong and not very weak, because the relaxing action will have stopped acting. You can therefore train or start your day in great shape.

In the brain, pidolic acid acts as a glutamate antagonist (an amino acid that behaves like a stimulant of the central nervous system). If glutamate is a good thing to train, because it gives strength, in the evening, it can, however, prevent from sleeping.

Pidolic acid will hinder the action of glutamate which explains the relaxing effect of this protein. Pidolic acid is all the more effective since it is coupled with another nervous relaxing: magnesium (3).

But the benefits of pidolic acid do not stop there.

Scientific research has shown that the regular use of pidolic acid improves memory, this, both in animals and in humans (4 - 5).

Medical studies have also shown that Pido -Magnesium® promoted vascular relaxation, which improves blood exchanges (6 - 13).

Thus, the arrival of anabolic nutrients, in one direction, and the evacuation, in the other direction, of the metabolic waste induced by training, accelerate. In addition, heart work is facilitated which contributes to general rest and better sleep.

Pidolate (also called L-Pyrrolidone Carboxylic acid by scientists) is a molecule naturally present in our body, especially in the skin, the liver and the brain (7). Within the latter, the pidolate promotes the secretion of Gaba there, a natural molecule which facilitates relaxation.

because of its presence in multiple tissues, the impact of the pidolate was evaluated in very Various pathologies. Thus, many studies have examined the effects of a more or less long taking of pidolate on health.

we have a large amount of studies which demonstrate the long -term safety of pidolate in oral plug, Both in adults, seniors, pregnant women and in children and adolescents (8 to 13) (14 to 19) (20 to 26).



1. Zinc promotes the synthesis of DNA, fertility, reproduction and metabolism of macronutrients, carbohydrates and acids.

2. Zinc promotes the health of bones, hair, nails, skin, teeth and eyes.

3. Zinc contributes to preserving cognitive functions while promoting protein synthesis.

4. Zinc contributes to the maintenance of normal testosterone levels in the blood.

5. Zinc contributes to the proper functioning of the immune system.

6. Magnesium contributes contributes to electrolytic balance, strengthens muscle functions (neurotransmission and muscle contraction, including heart muscle) and protein synthesis.

7. Magnesium participates in normal energy metabolism.

8. Magnesium contributes to the proper functioning of the nervous system.

9. Magnesium helps reduce fatigue and exhaustion.

10. Magnesium preserves bone health.

11. Magnesium contributes to good dental health.
Who is the product for?
The ZMP is an additional supplement:

to athletes for muscle and nervous recovery after effort;
to sedentary people who need a mineral supplementation and better sleep .

Free delivery
from 50€ purchase
Product offered
from 110€ purchase
3x payment without fees
from 100€