Organic barley flakes
Organic farming certified

Important fiber content

Ideal diet food

Powder produced with our stone grinders
Learn more
Payment in 3 installments without fees
Splitting the cost of your basket into 3 payments, nothing could be simpler with Alma! Available from 50 euros
Black Friday conditions
Black Friday:
-5% below 100€
-15% from 100€
-25% from 200€
-30% from 300€
Delivery estimated on 10/12
We guarantee fast delivery
in less than 5 days, at your home or in
relay point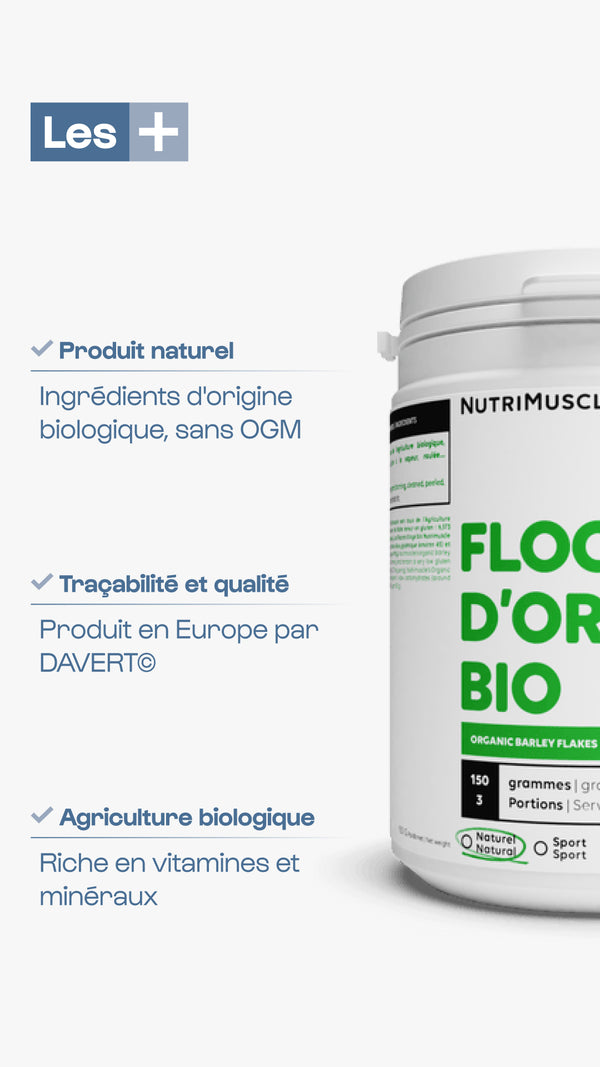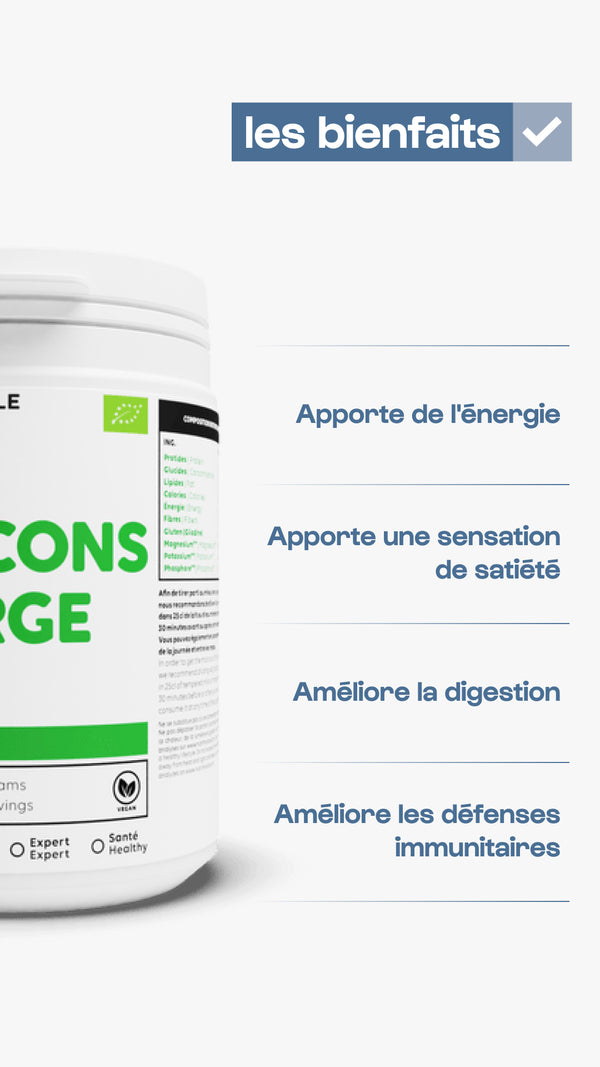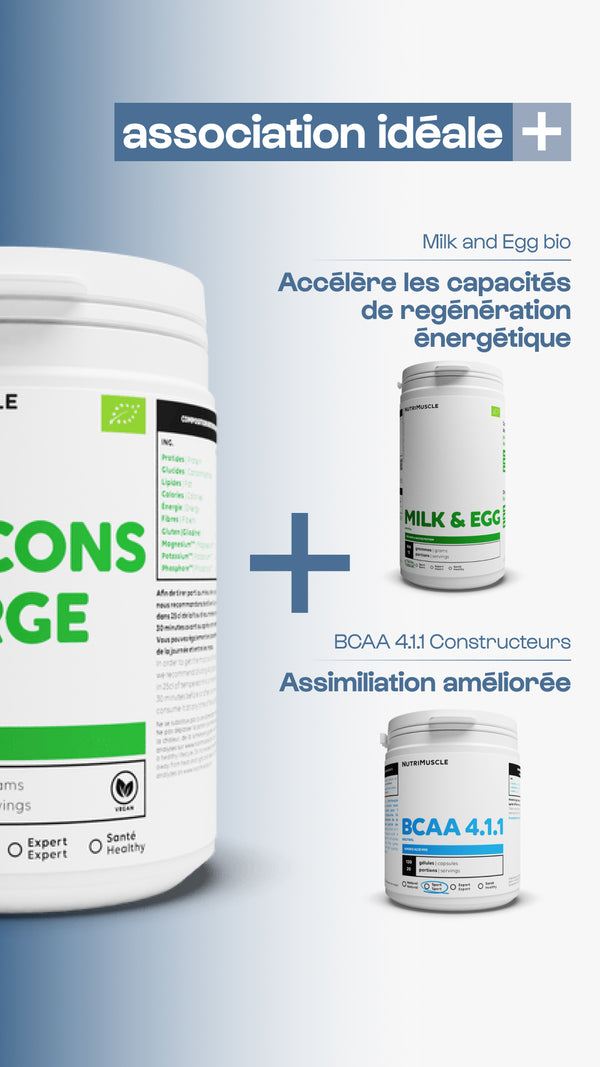 Organic barley flakes
From
Regular price
29,95€

i.e. 4,99€ / Kg
Sale price / Kg
29,95€
Regular price / Kg
i.e. 4,99€ / Kg
Good to know
Barley flakes are rich in fiber, which makes them beneficial for intestinal digestion and health. The insoluble fibers present in barley flakes contribute to the proper functioning of the digestive system by promoting regular intestinal transit.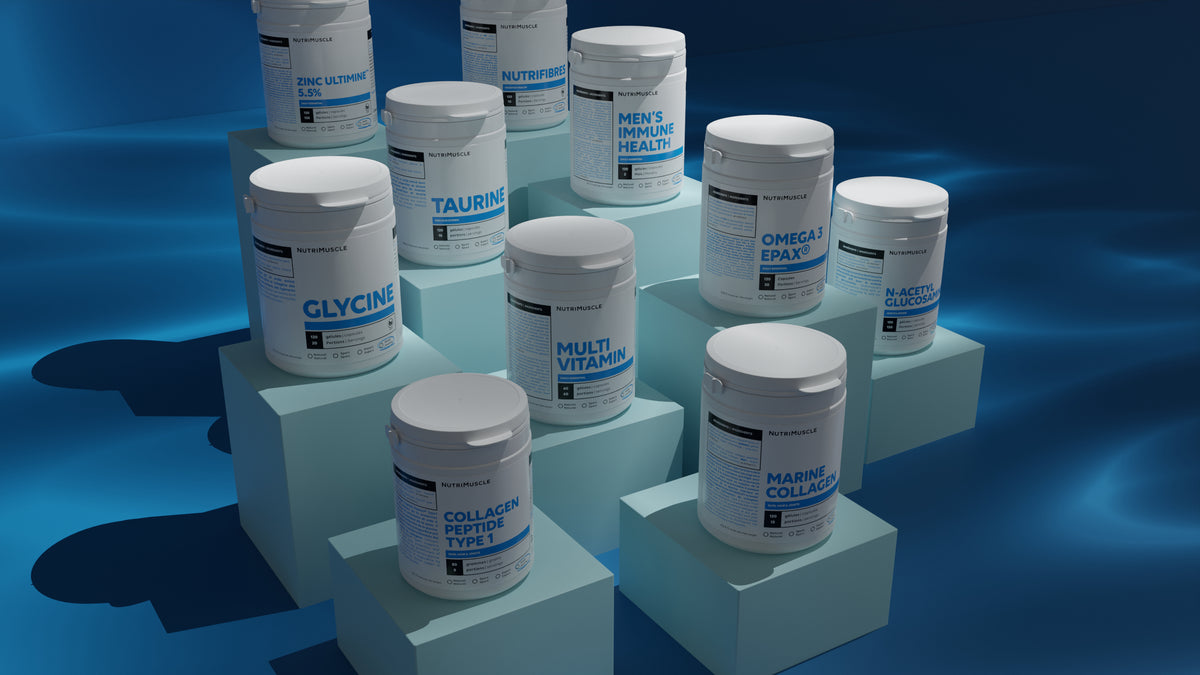 What the product does
Beta-glucan benefits
Nutrimuscle organic barley flakes are very rich in super-fibers called beta-gluca. Beta-glucans improve immune defenses, especially in sportsmen training intensely, normalize glucose and insulin levels, etc.
Organic barley flakes on the diet
Nutrimuscle biological barley flakes are the ideal diet food: they are not very caloric, they cut appetite in a lasting way, and provide energy as long as possible.
Everything about this product
Interaction with other Nutrimuscle products
Nutrimuscle biological barley flakes improve the assimilation of proteins and amino acids.
References
(1) Rondalli M. [The Biological Activity of Beta-Glucans]. Minerva Med. 2009 Jun; 100 (3): 237-45.
(2) Rose Dj. Influence of Dietary Fiber on Inflammatory Bowel Disease and Colon Cancer: Importance of Fermentation Pattern. Nutr Rev. 2007 Feb; 65 (2): 51-62.
(3) Flight I. Cereal Grains and Legumes in the Prevention of Coronary Heart Disease and Stroke: A Review of the Literatingcereal Grain and Legumes in the Prevention of CHD and Stroke : A review. European Journal of Clinical Nutrition 2006. 60, 1145-1159
(4) Topping DL. Short-chain Fatty Acids and Human Colonic Function: Roles of Resistant Starch and Nonstarch polysaccharides. Physiol Rev. 2001 Jul; 81 (3): 1031-64.
(5) Colombo ml. COULARRAY ELECTROCHEMICAL EVALUATION OF TOCOPHEROL AND TOCOTRIENOL ISOMERS IN BARLEY, OAT AND SPELT GRAINS. Nat Prod common. 2009 Feb; 4 (2): 251-4.
(6) Sakuma M. Dose-Dependent Effects of Barley Cooked With White Rice On Postprandial Glucose and Desacyl Ghrelin Levels. J Clochem Nutr. 2009 Mar; 44 (2): 151-9.
(7) Livesey G. Influence of the Physical Form of Barley Grain on the Digestion of its Starch in the Human Small Intestine and implications for Health. AM J Clin Nutr. 1995 Jan; 61 (1): 75-81.
Learn more
It is rare to know the names of the suppliers of the raw materials of the supplements that we consume. However, it is essential in order to ensure the traceability of the product. At Nutrimuscle, we only use very high -end organic barley flocks whose quality is guaranteed by world leaders: Davert © produces Nutrimuscle organic barley flocks in its Germany factory. > The German group Davert GmbH represents a guarantee of quality, because this company has sold certified organic foods for more than 25 years. This means that Davert © specialized in biological well before it was fashionable. Davert © is organic by passion and not by commercial necessity. They always believed that organic was the only way to eat healthy.

Thanks to this leadership, Davert © is one of the first organic food suppliers in Germany. This long experience allowed them to acquire very great expertise, especially on the side of their farmers, chosen with meticulousness, and with whom they have a lasting relationship. Davert © "organic" standards do not only cover the minimum of the specifications to obtain biological approval. They go far beyond this minimum. Their cereals are all the subject of a systematic analysis of conformity by an independent laboratory.

on the other hand, Davert © has developed innovative systems for separation and cleaning of cereals, which allow you to obtain A very pure food. As with Nutrimuscle, Davert © philosophy is to focus above all on the quality of the product. The latter is made affordable thanks to important packaging, sober packaging as well as minimalist marketing. And like Nutrimuscle, Davert © pronounces against GMOs and refuses to use them.

The choice between Nutrimuscle organic barley flakes and Nutrimuscle organic oatmeal is based above all on an individual preference. However, some common sense rules can help guide your choice, particularly within the framework of a diet.

The Nutrimuscle organic barley flakes are larger and harder than the Biological Oat Flakes Nutrimuscle , which obliges to chew them more, and will take more time to digest. The impression of satiety will thus be prolonged, which constitutes an asset during the caloric restriction.

compared to the nutrimuscle organic oats, the nutrimuscle biological barley flakes swell more in a liquid if we gives them time. By letting the Nutrimuscle organic barley flocks swell, it feels like having a lot of food, which facilitates the diet.

If you want to lose weight, Nutrimuscle organic barley flakes are more appropriate during the day. They will provide a more prolonged feeling of satiety), because their digestion and their assimilation are longer and require more work on the part of the digestive system.
On the other hand, the advantage of the barley flocks Nutrimuscle powder biological compared to whole flakes is that they are easier and therefore faster to digest. This "lightness" constitutes a major asset before, during and just after training as well as in taking a dry muscle or in mass gain.

Do not confuse barley Flakes powder and barley powder
There is barley flour available to cook. As it is, this flour does not taste very good and is not very digestible (trypsin inhibitors). One has the impression of eating an extract of still green bark. Sensation that never ceases to go up and may cause hints.

On the contrary, Nutrimuscle organic barley flakes are obtained from organic barley flakes which have been molded in very fine and very regular powder in the nutrimuscle stone mills. Thus, we do not find the irregularity or abrasiveness of the flour or the flakes that one would have passed yourself in the mixer. This particular attention given to the grinding of flakes facilitates the soaking and therefore the dissolution of the powder in water or in milk.

in order to avoid the pitfall of bitter taste, the biological barley flakes Nutrimuscle have been prepied, which gives them a pleasant taste. Thus, they are ready to consume, easy to prepare and very digestible, which constitutes an advantage before, during and just after training.

Benefits of Nutrimuscle organic barley flocks
Nutrimuscle organic barley flakes are very rich in super-fibers called beta-gluca. Barley flakes contain about 7 %.

Research has shown that beta-glucans:

improve the immune defenses particularly in sportsmen training intensely;
Normalize glucose and insulin levels;
reduce the rate of bad cholesterol;
produce an appetite suppressant effect;
provide prebiotic action by nourishing good bacteria of the intestinal flora;
decrease the irritation of the intestine;
fight against factors promoting cancers (1).
Fibers and maintenance of health
Compared to conventional carbohydrates such as maltodextrin or dextrosis which provides rapid energy requiring little assimilation effort, nutrimuscle organic barley flakes provide a slower energy and also have a big plus "health ». Indeed, barley flakes are rich in fiber, vitamins, minerals and antioxidants (3-4). In addition, having been steamed, they contain little or no trypsin inhibitors.

For health, minimum fiber daily intake is estimated at 25 g. The optimal daily intake must exceed 30 g. It is only beyond this threshold that the risks of colon cancer are reduced by 50 % (2). However, in France, average consumption is only 21 g in men and 17 g among women. A diet poor in fruits and vegetables explains this fiber deficiency.
Nutrimuscle organic barley flakes provide 12.2 g of fibers per 100 g. They contribute to maintaining your digestive health often undermined by the repetition of your intense muscle training.

Nutrimuscle biological barley flakes constitute the ideal muscle food for preparing physical effort. Compared to a placebo or high glycemic index carbohydrates, barley really makes the difference in the sportsman. Thus, 75 g of barley 45 minutes before an effort does not cause any excessive increase in the level of blood in the blood. This is a good thing, because any hyperglycemia is followed by a strong secretion of insulin, which ends up generating hypoglycemia and therefore premature fatigue.

On the contrary, compared to a placebo or a high glycemic index sugar, barley stems the drop in blood sugar during effort; This leads to obtaining an energy level from:

13 % higher after an hour of effort;
11 % higher after an hour and a half of effort.
Thanks to barley, the increase in men's performance is 23 % greater than a placebo and 17 % larger than with a high glycemic index (5). In women, the increase is 16 % (6).

Barley helps combat cardiovascular disease. Studies are a decrease of 5 to 8 % of the level of bad cholesterol thanks to the daily intake of 3 g of fiber from barley. Medical research has proven that the health benefits of cereals like barley was all the more important since they are whole cereals and not refined cereals (3).

Barley fibers act as prebiotics, that is to say that they promote the proliferation of good bacteria at the level of the colon (4). Barley is also rich in tocotrienols, a rare form, but very beneficial of vitamin E (5).

The big problem during periods of caloric restriction is to have to eat all the time. The ideal diet food should be little caloric, cut the appetite in a lasting way, and provide energy as long as possible. Nutrimuscle biological barley flakes perfectly respond to this specifications. Indeed, compared to other carbohydrates, the feeling of satiety is extended by barley (6).

With equal calorie intake, the desire to eat is reduced by 40 % (6). Almost 20 % of the calories contained in barley flakes are not assimilated by the digestive system (7). We are talking about resistant starch (digestion). Although the calories of this starch are eliminated by natural routes, they however participate in digestive health (prebiotic actions). Note, however, that this level of non -assimilated calories drops to 2 % when the barley flakes have been reduced to powder.



1. Carbohydrates participate in the recovery of muscular functions (contraction) after a very intense and/or long -term physical effort that caused muscle fatigue and the exhaustion of glycogen stocks in the skeletal muscles. The benefits are obtained by consuming carbohydrates from all sources, with a total intake of 4 g per kg of body weight per dose within 4 hours, and at the latest within 6 hours of a very intense physical effort and/or Long -term having resulted in muscle fatigue and exhaustion of glycogen stocks in skeletal muscles.

2. Proteins contribute to the development and maintenance of muscle mass.
Who is the product for?
Nutrimuscle biological barley flakes are addressed:

to sportsmen for their slow energy intake during effort;
to sedentary for the benefits of their large fiber content, or during a diet.
Our customer reviews
Your opinions

Free delivery
in France
3x payment without fees
from 100€