Night Recovery Protein Blend
From
Regular price
29,95€

i.e. 599,00€ / Kg
Sale price / Kg
29,95€
Regular price / Kg
i.e. 59,90€ / Kg
Probiotics and prebiotics

Optimizes recovery

Digestive comfort
Learn more
Payment in 3 installments without fees
Splitting the cost of your basket into 3 payments, nothing could be simpler with Alma! Available from 50 euros
Livraison gratuite*
We guarantee fast delivery
in less than 5 days, at your home or in
relay point
1 à 2 jours de livraison supplémentaires
En raison d'un volume important de commande, veuillez observer 1 à 2 jours supplémentaires sur le délai de livraison classique. Merci !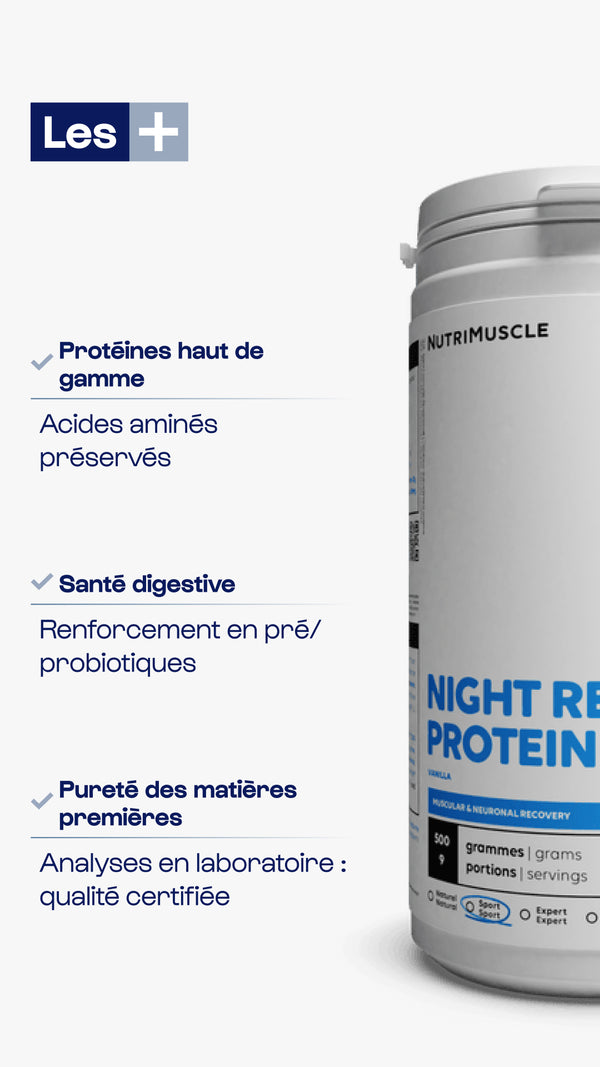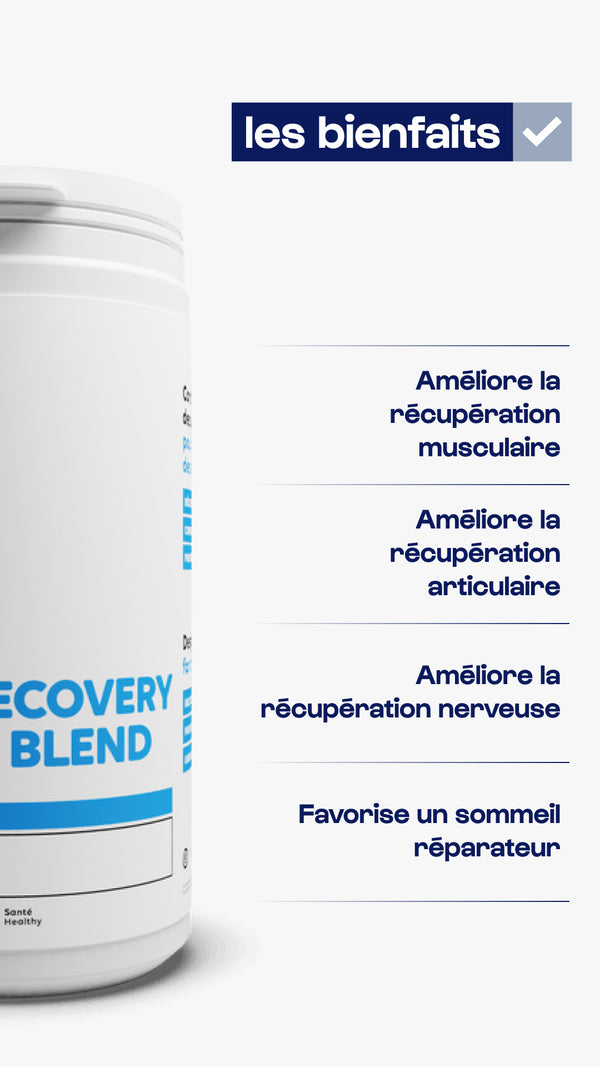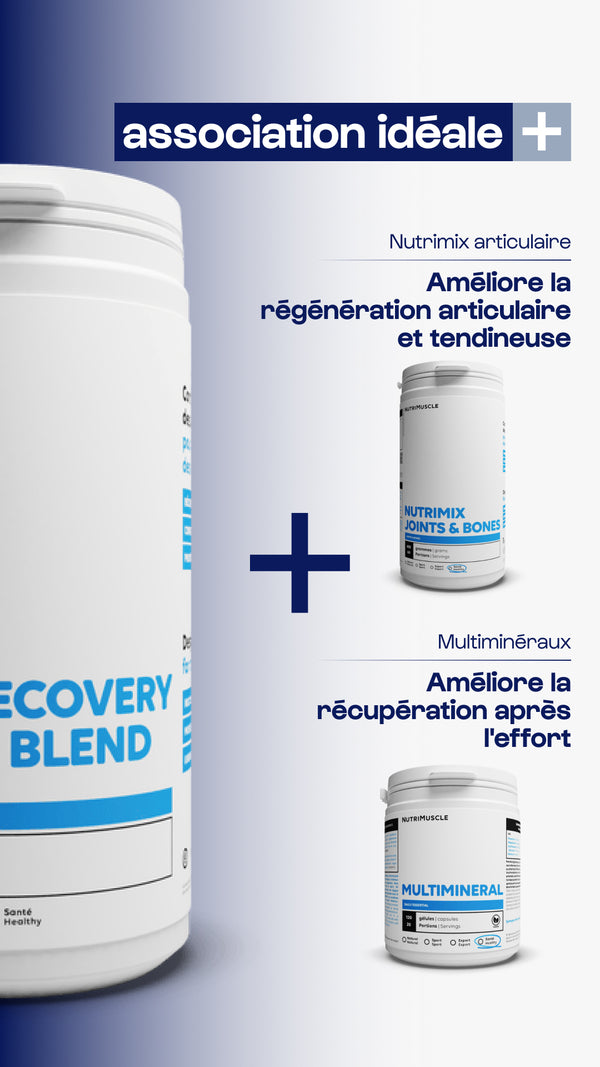 Night Recovery Protein Blend
From
Regular price
29,95€

i.e. 599,00€ / Kg
Sale price / Kg
29,95€
Regular price / Kg
i.e. 59,90€ / Kg
Good to know
Good recovery is essential to quickly return to training.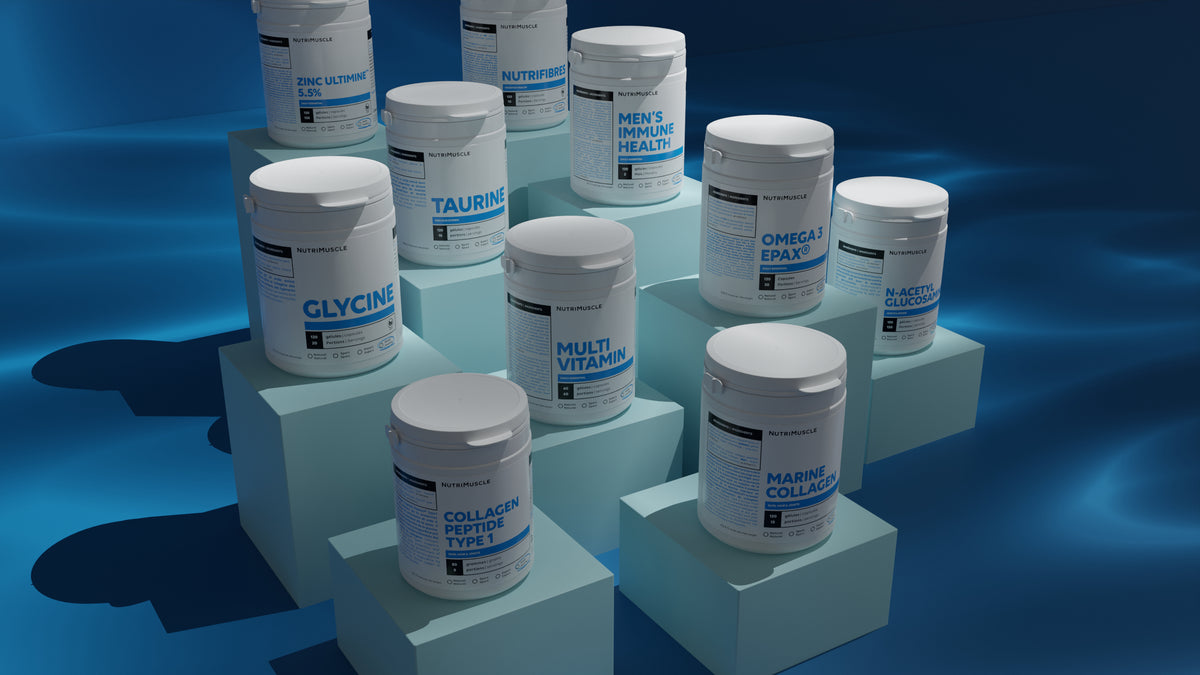 What the product does
Improved muscle recovery
Total proteins of the Night Recovery Protein Blend contain 80% casein and 20% of Whey. The slow digestion of casein provides muscles with all the amino acids they need to recover throughout the night.

Creatine optimizes physical recovery by minimizing muscle catabolism and promoting the storage of muscle glycogen.

Zinc pidolate contributes to better muscle recovery by stimulating protein synthesis.

The glutamine of the Night Recovery Protein Blend contributes to digestive comfort as well as to muscle construction.
Improvement of nervous and neuronal recovery
Zinc pidolates and magnesium contribute to the regeneration of the nervous system thanks to their relaxing and anti-stress properties. Creatine has protective effects on the nervous system and thus contributes to improving intellectual performance.
Everything about this product
Interaction with other Nutrimuscle products
To optimize joint and tendon recovery, we recommend that you take the Night Recovery Protein Blend with the articular Nutrimix. The Night Recovery Protein Blend is a mixture adapted to a night intake and is completely complementary to your usual protein.

The Night Recovery Protein Blend is not to be taken at the same time as potassium bicarbonate, this could cause digestive disorders. The Night Recovery Protein Blend is not to be taken with boosters (caffeine, tea, guarana).
Learn more
At Nutrimuscle, we only use very high -end proteins whose quality is guaranteed by global leaders: Ingredia produces total proteins of Nutrimuscle milk. Ingredia also produces lactium® Nutrimuscle.

We use very high -end glutamine, the quality of which is guaranteed by the Japanese leader in pharmaceutical Biokingology Biokinga Inc. Biokingowa Inc, HACCP certified and ISO9001.

At Nutrimuscle, we only use very high -end collagen peptides whose quality is guaranteed by the world leader in gelatin and collagen hydrolyzes: the Dutch group Rousselot © Certified HACCP and ISO9001. He has specialized in this branch since 1891.

The crystallized nutrimuscle glycine does not use transformation substance based on GMOs and is suitable for vegetarians.

alzchem AG produces creatine monohydrate ( CREAPURE®) Nutrimuscle in its HACCP and ISO9001 certified factory in Germany.

The French group Solabia © Certified HACCP and ISO9001 produces pidolates of zinc and magnesium Nutrimuscle.

The total proteins that make up the Night Recovery Protein Blend, also called micellar proteins, represent a formidable technical advance in the proteins family to replace "casein". If we retrace the history of hyperprotein supplements, we realize that there has been a constant increase in their biological quality.

The first proteins marketed appeared in the 1940s. They then contained soybeans. Very little digestible, soybeans were supplanted 10 years later by the calcium caseinate (which is commonly called casein but which, due to its artificial aggregation with calcium, did not digest very well). It was not until the 90s that the Whey popularized. Of quality much higher than the "casein", it quickly replaces it, which almost disappears. Nowadays, total milk proteins are imposed on their own thanks to their digestive qualities and their perfect complementarity with Whey.

No chemical or genetic manipulation
A simple chemical manipulation (called "instantaneization") makes it possible to transform poor quality, completely insoluble proteins into proteins that melt in water. At Nutrimuscle, we prefer to use quality proteins to avoid chemical processes. Total Nutrimuscle milk proteins are "non-insistant". Consequently, they do not contain transgenic soy lecithin (GMO) or carboxymethylcellulose, and have not undergone treatments based on ionizing radiation.

Why are many protein treated by veal rennet?
This manipulation comes during the manufacture of cheese. The rennet is essential to alter the molecular structure of milk proteins so that they become cheese. Technically, it is said that the rennet is used to flocular the casein part of milk. The latter is therefore contaminated by veal rennet while its amino acids were degraded during the reaction to transform milk into cheese.

In Nutrimuscle, we only use noble matter for our total proteins. They come directly from milk by cold ultrafiltration. Thus, total Nutrimuscle milk proteins are therefore not treated with veal quailte. The integrity and quality of amino acids are therefore not altered, and no animal residue foreign to milk is present. Total proteins of Nutrimuscle milk therefore suit perfectly for vegetarians who want to be supplemented in protein.
Night Recovery Protein Blend Nutrimuscle benefits
To find out more about the benefits of the Night Recovery Protein Blend, we invite you to go to the pride sheets of all its ingredients:

Total proteins
Collagen Peptide Peptan® 1 > Glutamine
crystallized glycine
Creatine monohydrate creapure®
magnesium pidolate
zinc pidolate
lactium®


proteins contribute to development and maintenance of muscle mass .
Who is the product for?
The Night Recovery Protein Blend Nutrimuscle is addressed:

To athletes wishing
Better recover from their training and limit fatigue the next day,
benefit from a good protein intake in the evening and have a better sleep.
Our customer reviews
Your opinions

Free delivery to a relay point from 30€ of purchase
in France
3x payment without fees
from 100€