Peak ATP® Booster
From
Regular price
17,95€

i.e. 0,59€ / capsule
Sale price / Kg
17,95€
Regular price / Kg
i.e. 0,59€ / capsule
Adenosine 5'-Triphosphate patented

Improves blood circulation

Effectively reduces fatigue
Learn more
Payment in 3 installments without fees
Splitting the cost of your basket into 3 payments, nothing could be simpler with Alma! Available from 50 euros
Black Friday conditions
Black Friday:
-5% below 100€
-15% from 100€
-25% from 200€
-30% from 300€
Delivery estimated on 08/12
We guarantee fast delivery
in less than 5 days, at your home or in
relay point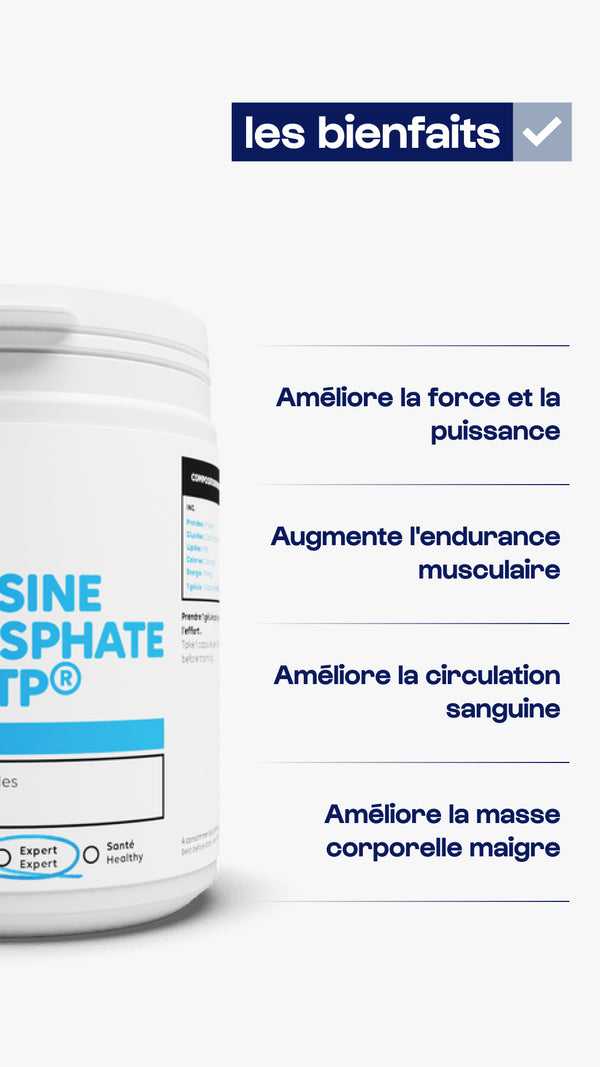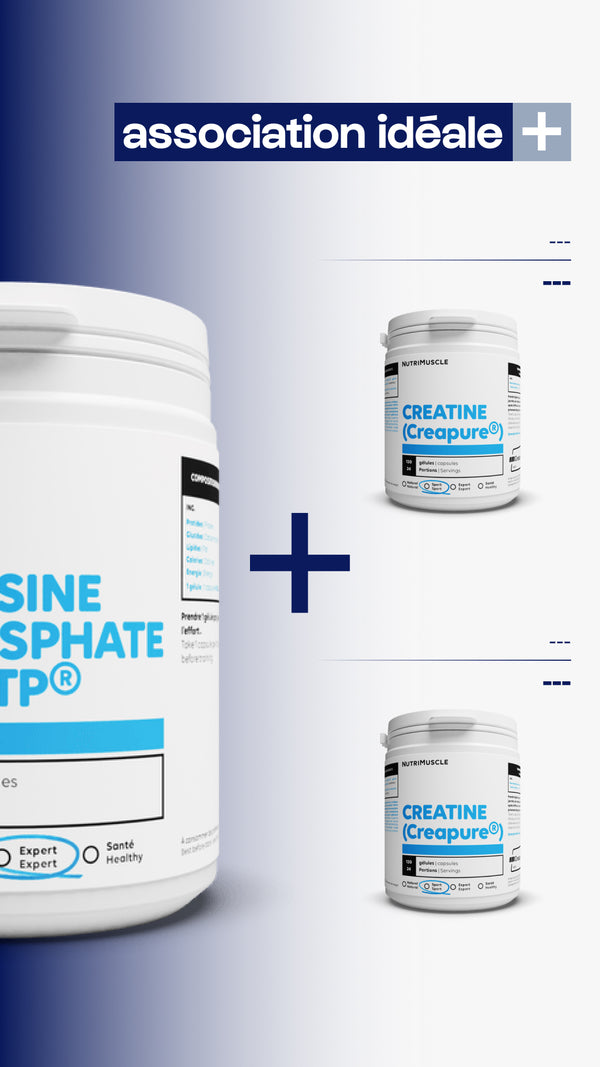 Peak ATP® Booster
From
Regular price
17,95€

i.e. 0,59€ / capsule
Sale price / Kg
17,95€
Regular price / Kg
i.e. 0,59€ / capsule
Good to know
The Peak ATP® Booster has a very good synergy with other boosters, such as caffeine or the Natural Bio Booster.
Everything about this product
Interaction with other Nutrimuscle products
The PEAK ATP® Booster can be taken in synergy with stimulating boosters such as the Green Caffeine Bio Booster, natural caffeine or the Natural Bio Booster. PEAK ATP® Booster can also be synergy with ATP stimulators such as creatine and ubiquinol.
References
(1) John A.RATHMACHER, John C FULLLER, et al. (2012). Adenosine-5'-Triphosphate (ATP) Supplementation improves low peak muscle torque and torque fatigue daring repeated high intensity exercise sets. PMC3483284.

(2) Cheng S, Scigalla FP, Speroni di Fenizio P, Zhang Zg, Stolzenburg J-U, Neuhaus J (2011) ATP Enhances Spontaneous Calcium Activity in Culture Suburothelial Myofibroblasts of the Human Bladder. PLOS ONE 6 (10): E25769. https: //doi.org/10.1371/journa ...

(3) Endo M. (2009) Calcium-Induced Calcium Release in Skeletal Muscle. Physiol Rev. 89 (4): 1153-1176.

(4) Ralf Jager, Michael D Roberts, et al. (2014). Oral Adenosine-5'-Triphosphate (ATP) Increases Blood Flow Flowing Exercise in Animals and Humans. Journal of the International Society of Sports Nutrition Volume 11.

(1) Jacob M Wilson, Jordan M Joy, Ryan P Lowerry, Michael D Roberts, Christopher M Lockwood, Ansi H Manninen, John C Fuller, Eduardo O de Souza, Shawn M Baier, Stephanie Mc Wilson and John A Rathmacher , Effects of Oral Adenosine-5?-Triphosphate Supplementation On Athletic Performance, Skeletal Muscle Hypertrophy and Recovery in Resistance-Trained Men Nutrition & Metabolism 2013, 10:57 DOI: 10.1186/1743-7075-10-57






(2) K.Kichenin, Stéphanie Decollogne et al. Cardiovascular and pulmonary Response to Oral Administration of ATP in Rabbits. (2000). J. APP. Physiol. 88: 1962-8.

(3) M.Kitakaze, T. Minamino, et al. (1999). Adenosine and Cardioprotection in the Diseased Heart. 10475769

(4) Roger Goldstein, M.D et al. Arm Training in Patients With Chronic Obstructive Pulmonary Disease. (2008). West Park Healthcare Center. NCT00657293.

(5) R.RABINI, E. PETROZZI, et al. (1997). Diabetes Mellitus and Subjects' Ageing: A Study on the ATP Content and ATP - Related Enzyme Activities in Human Erythrocytes. Corpus ID: 12488367.
Benefits of the PEAK ATP® Booster Nutrimuscle
A recent study has been carried out to measure the effects of PEAK ATP® supplementation on the power and resistance performance of 21 athletes (1).

After 12 weeks of testing, the Researchers noted an increase in force ( +55.3kg) for athletes who used 400 mg of PEAK ATP® per day against +22.4kg for the placebo group.

The athletes who have followed a supplementation in PEAK ATP® have also improved their power n vertical weight.



The PEAK ATP® Booster increases muscle excitability by maintaining good calcium levels in cells. When the level of intracellular calcium increases, there is also an increase in the number of links between muscle fibers and the speed at which they slide to cause a contraction. These two phenomena have beneficial effects on muscle strength and power.



ATP production takes place in all cells in the body. Several studies have proven that the PEAK ATP promotes cardiovascular functions and pulmonary systems (2.3,4) but also all peripheral systems. He intervenes in particular in the brain, where the circulation of blood is toned, thus improving cerebral metabolism and mental acuity.



The decline in ATP production is associated with failures in the functioning of organs and muscles, very often linked to age (5). PEAK ATP can help restore ATP levels similar to those observed in younger individuals in the body.



The PEAK ATP® Booster stimulates the production of proteins contributing to the construction of new muscle tissues. This thus leads to the increase in lean mass.
Who is the product for?
The Peak ATP® Booster is addressed:

to athletes wishing to improve their strength, their energy level and their endurance during training.
Our customer reviews
Your opinions

Free delivery
in France
3x payment without fees
from 100€