Potassium citrate in capsules
From
Regular price
19,95€

i.e. 0,16€ / capsule
Sale price / Kg
19,95€
Regular price / Kg
i.e. 0,16€ / capsule
Allergen

Combined action of citrate and potassium

Preservation of the blood, nervous and muscular system
Learn more
Payment in 3 installments without fees
Splitting the cost of your basket into 3 payments, nothing could be simpler with Alma! Available from 50 euros
Livraison gratuite*
We guarantee fast delivery
in less than 5 days, at your home or in
relay point
1 à 2 jours de livraison supplémentaires
En raison d'un volume important de commande, veuillez observer 1 à 2 jours supplémentaires sur le délai de livraison classique. Merci !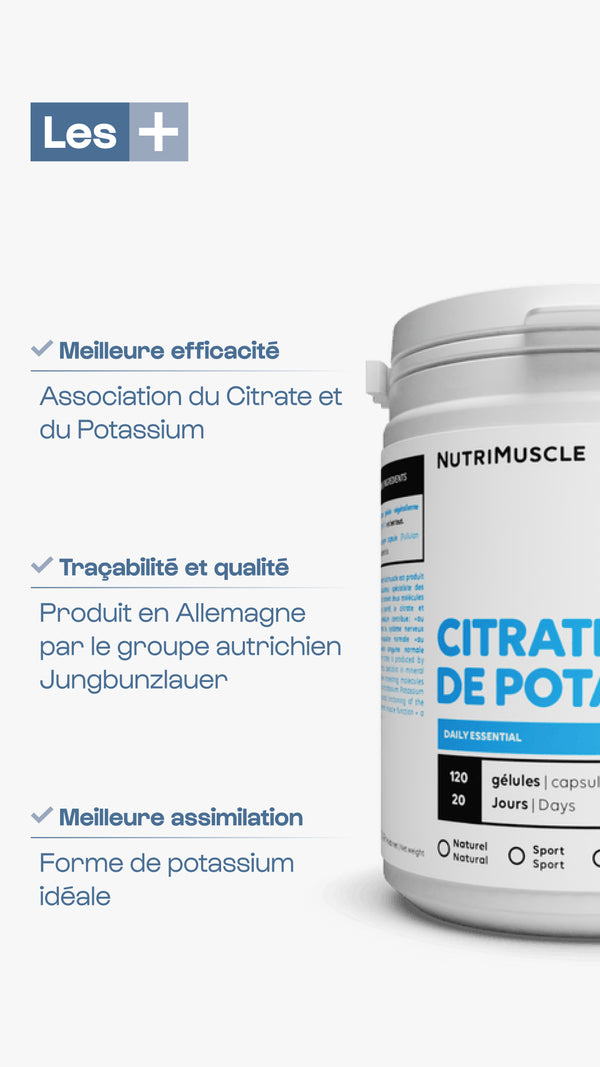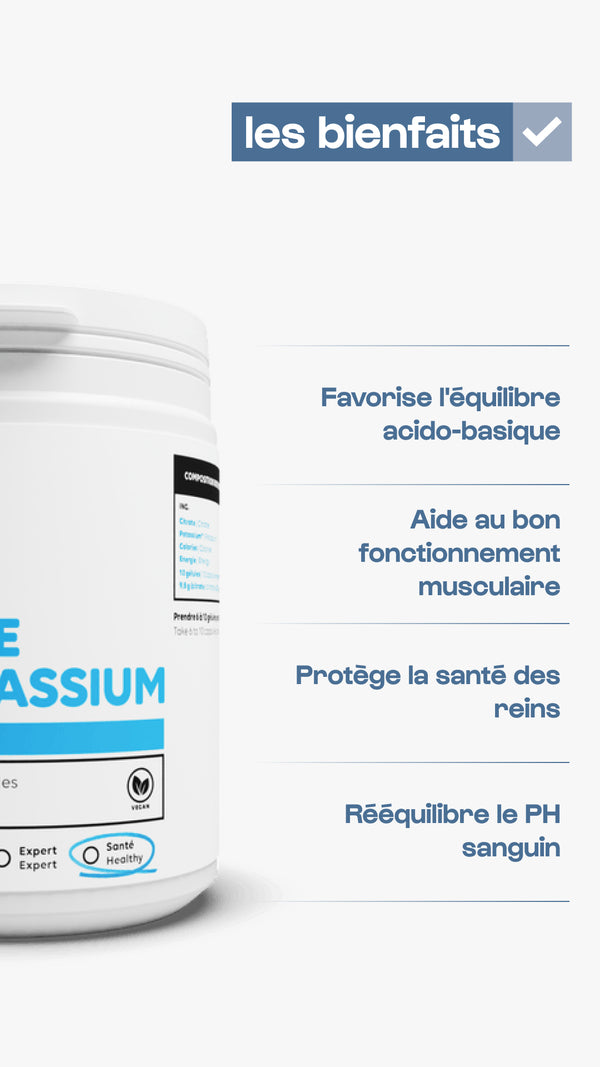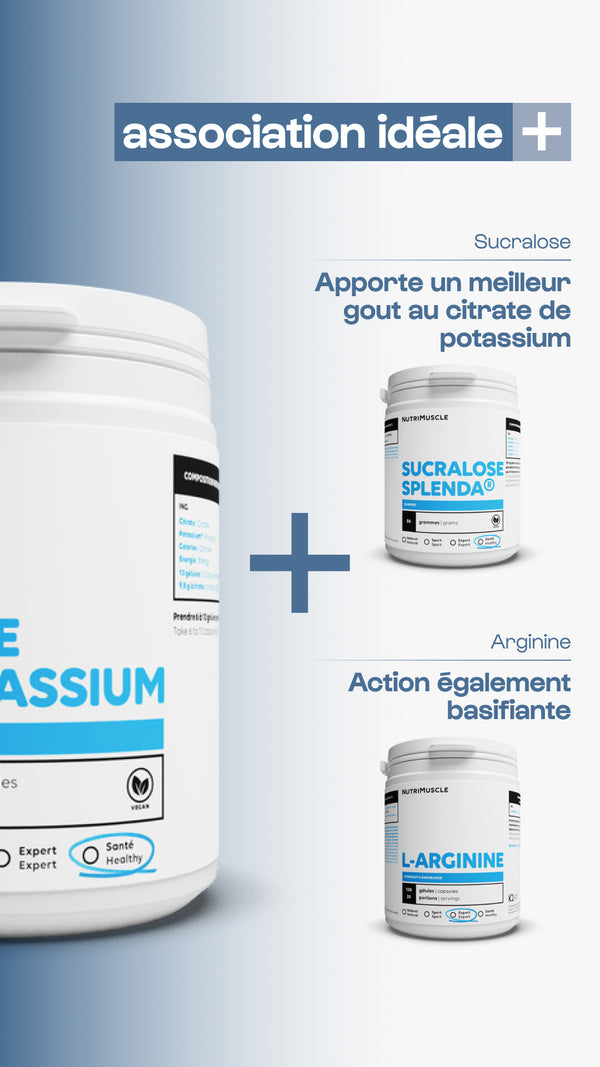 Potassium citrate in capsules
From
Regular price
19,95€

i.e. 0,16€ / capsule
Sale price / Kg
19,95€
Regular price / Kg
i.e. 0,16€ / capsule
Good to know
Potassium in its form of citrate is the most similar form.
Everything about this product
Interaction with other Nutrimuscle products
The Nutrimuscle potassium citrate can be combined without problem with the following supplements:

carbohydrates such as maltodextrin, dextrose, waxy maize or nutri-fibers;
of organic oats or organic barley or powder barley, but the mixture may not have a very good taste. On the other hand, the Nutrimuscle potassium citrate can be used before or after the cereals, provided that the latter are not mixed in milk or with a protein;
Sucralose: this sweetener will be able to hide the salty taste of the citrate without Highlight its effectiveness;
creatine: it can be mixed without problem;
l-arginine, because its action is also basic.

Protein. When in doubt, use it between meals, in divided doses throughout the day;
Carnitine: it is acidic;
The BCAA and L-Leucine: you can try, but we the not -boring, because it tends to cause heavy stomachs;
peptopro®, amino acids or peptides;
collagen Peptide Peptan.
References
(1) Dietary Supplement Fact Sheets. In Office of Dietary Supplements, National Institutes of Health: Washington, DC, 2018.
(2) Ferraro, P.M.; Bargagli, M.; Trinchieri, a.; Gambaro, G. Risk of Kidney Stones: Influence of Dietary Factors, Dietary Patterns, and Vegetarian - Vegan Diets. Nutrients 2020, 12, 779.
Learn more
It is rare to know the names of the suppliers of the raw materials of the supplements that we consume. However, it is essential to ensure the traceability of the product.

We have been posting all our suppliers for over 27 years. This is also the case for our pharmaceutical quality potassium citrate, produced in Germany by the Austrian group Jungbunzlauer.
Nutrimuscle potassium citrate benefits
Potassium acts with sodium in the regulation of body fluids and in the production of nerve impulses necessary for the contraction of the muscles (1). Potassium also plays a role in the transport of glucose in muscles as well as in the production of ATP (1).

Both during training as during a diet, blood is accudited. Potassium citrate responds to this problem by helping to rebalance the blood pH.

Regular supplementation in potassium citrate is an excellent way to reduce the formation of calculations, because this buffer agent dissolves the constitutive molecules even before they crystallize. (2)

To have more details on the benefits of the potassium citrate, you can consult the game more learn more.



1. Potassium contributes to good Operation of the muscles.

2. Potassium contributes to the proper functioning of the nervous system.

3. Potassium contributes to regulating blood pressure.

4. Potassium promotes neurological function.
Who is the product for?
Potassium citrate is addressed:

to athletes to rebalance their blood pH after training,
to sedentary people who follow a diet or wish to restore their acid-base balance.
Our customer reviews
Your opinions

Free delivery to a relay point from 30€ of purchase
in France
3x payment without fees
from 100€