Whey native biological isolate
Biological certified

Contains 87 % protein

Rapid assimilation
Learn more
-10% from 3 products purchased with the code: NUTRIDAYS15

Payment in 3 installments without fees
Splitting the cost of your basket into 3 payments, nothing could be simpler with Alma! Available from 50 euros
Delivery estimated on 05/10
We guarantee fast delivery
in less than 5 days, at your home or in
relay point
Free product from 95€ purchase
We offer you a product from 95€ of purchases and you can accumulate loyalty points
Whey native biological isolate
Sale price / Kg
47,95€
Regular price / Kg
Bon à savoir
To prevent your whey from foaming, add a little oats to your shaker.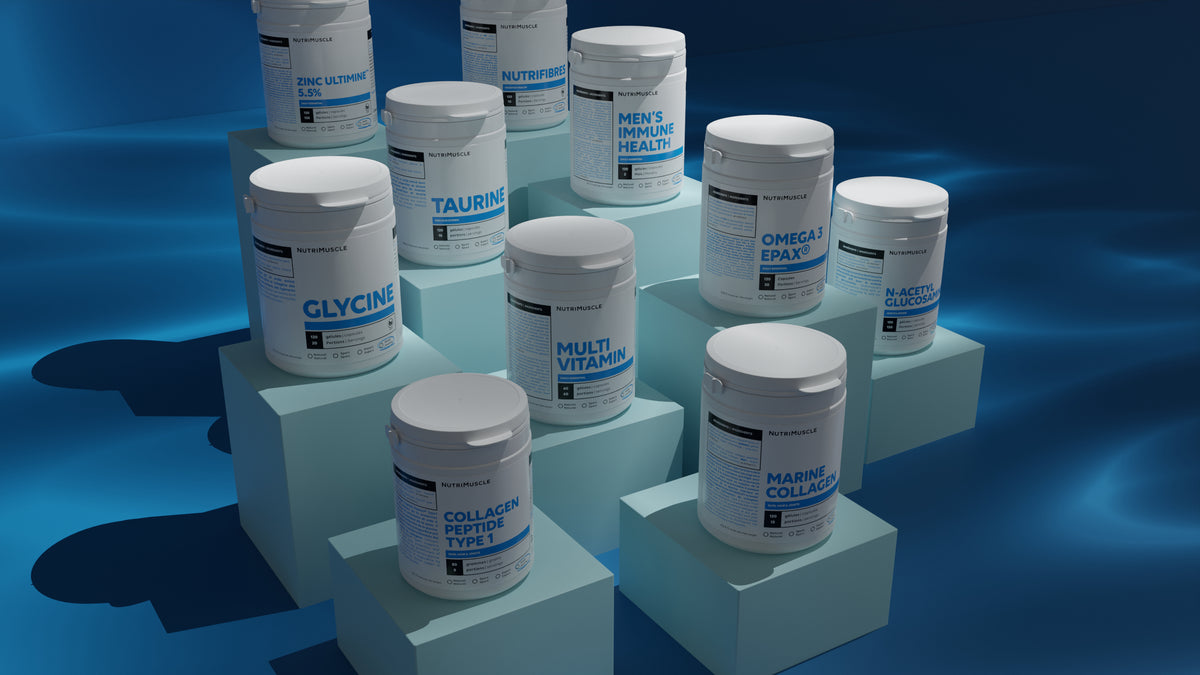 What the product does
Rapid assimilation proteins
The Nutrimuscle Nutrimuscle Native Whey isolate is ideal for rising to revive muscle anabolism depressed by nightfield and immediately after training due to its speed of absorption.
Muscle growth
A protein intake adapted to athletes, for maintenance and an increase in muscle mass.
Everything about this product
Interaction with other Nutrimuscle products
Proteins and BCAA
This study (7) bears new lighting about the profile of the BCAAs that must be taken with its protein.

There are two different forms of BCAA Nutrimuscle:

The BCAA 4.1.1 manufacturers, which are the richest in leucine to optimize anabolism.
The BCAA 2.1.2 Resistance, rich in Leucine and Valine in order to combat catabolism and training fatigue.
Compared to a casein intake, the isolate of Nutrimuscle native whey induces a lesser elevation by Valine. In order to optimize anabolism, it is therefore wise to associate it with BCAA 2.1.2 Resistance richer in Valine. It would be less wise to do the opposite, which would even more unbalance the aminogram instead of rebalancing it towards an environment more favorable to anabolism.

Synergies between supplements
The Nutrimuscle Nutrimuscle native whey isolate improves the assimilation of biotics, carnitine and creatine.


The Nutrimuscle Nutrimuscle native whey isolate is not to be taken at the same time as potassium bicarbonate to avoid bloating.
References
(1) Antonione R. Whey Protein Ingestion Postprandial Enhances Anabolism During Short-Term Bed Rest in Young Men. J NUTR. 2008 Nov; 138 (11): 2212-6.
(2) Betts J. The Influence of Carbohydrate and Protein Ingestion During Recovery from prolonged exercise on subsequant Endurance Performance. J Sports SCI. 2007 Nov; 25 (13): 1449-60. Physiol Behav. 2009 Jan 8; 96 (1): 162-8.
(3) Lam sm. The influence of Whey Protein and glycomacropeptide on Satiety in Adult Humans. Physiol Behav. 2009 Jan 8; 96 (1): 162-8.
(4) Burd Na. Enhanced amino acid sensitivity of myofibrillar protein synthesis persists for up to 24 h after resistance exert in young men. J. Nutr. April 1, 2011 vol. 141 No. 4,568-573
(5) Pennings B. EXERCISING Before Protein Intake Allows for Greater Use of Dietary Protein-Derved Amino Acids for Novo Muscle Protein Synthesis in Both Young and Elderly Men. AM J Clin Nutr. 2011 FEB; 93 (2): 322-31.
(6) Levenhagen DK. POSTEXCISE NUTRIENT Intake Timing in Humans is Critical to Recovery of Leg Glucose and Protein Homeostasis. AM J Physiol Endocrinol metab. 2001 Jun; 280 (6): E982-93.
(7) Keogh JB. Effect of glycomacropeptide fractions on cholecystokinin and food intake. BR J NUTR. 2010 Mar 8: 1-5. [Epub ahead of print]
Learn more
It is rare to know the names of the suppliers of the raw materials of the supplements that we consume. However, it is essential in order to ensure the traceability of the product. In Nutrimuscle, we only use very high -end proteins, the quality of which is guaranteed by world leaders: prolactal produces the isolate of Nutrimuscle Nutrimuscle native in its ISO14001 and OHSAS18001 certified factory in Austria.

Indeed, what matters primarily to us is the quality of raw materials, your health and the results you will get using our nutritional supplements. This quality is essential for proteins, because it is a food that you often consume (every day or even several times a day) and in large quantities. Our Nutrimuscle native whey isolat meets these criteria of quality and traceability that we consider essential.

Throughout its manufacture, the Nutrimuscle Nutrimuscle Native Isolate has received constant attention with regard to the concern for non-denaturation of this biological protein.

Four particularities really make the difference with other proteins:

No biological cheese protein derived from milk
With the boom in the biological has arrived the boom in the organic cheese industry. Traditionally, Whey comes from waste from the cheese industry. This means that manufacturers have added bacteria (to ferment milk) and enzymes (in order to curdle the milk). They then eliminate the juice (whey) from the cheese thus obtained, a bit as the serum is removed which flies on the surface of the yogurts. The big advantage is that this waste that was once thrown at the sewer is not expensive, which explains the drop in the price per kilo of the classic whey and the attractive price of inexpensive organic whey.

Using native biological native serum proteins, the Nutrimuscle Nutrimuscle native whey isolate comes from a noble non -deteriorated and organic raw material, not from cheese waste that has undergone chemical transformations harmful to the right assimilation of protein. In addition, depending on the type of cheese manufactured, the composition of the classic whey fluctuates from one lot to another. A native serum protein of milk does not know these quality variations.

No heat treatment
Thanks to an innovative membrane extraction technique, the Nutrimuscle native Whey native isolate is obtained cold, that is to say without heating distorting amino acids and therefore their anabolic power. Austrian organic milk is first of all microfiltrated in order to eliminate fat and bacteria. It is then that the native organic whey is ultrafiltrated. Only natural, non -chemical filtrations are used. Thus, the growth factors, naturally present in milk, are perfectly preserved while they are destroyed by heat. For example, TGF intake is 95 µg per 100 g. This TGF (Growth Factor transforming) plays an important role in maturing stem muscle cells (satellite cells) as well as in their transformation into mature muscle cells (1).

No GMP (glycomacro-peptides)
In addition to the slightest denaturation of amino acids, the isolate of Nutrimuscle Dairy Nutrimuscle Native has the advantage, on cheese proteins derived from milk, not to contain glycomacro-peptides (GMP). The presence of GMP in a whey testifies to the denaturations suffered by amino acids when making cheese.

As their name suggests, GMPs constitute an agglomerate of sugars (30 %) and amino acids (up to 70 %).

The GMPs are particularly poor in leucine, the most anabolic amino acid for muscles. GMPs decrease the absorption of whey by inhibiting acid secretion in the stomach (acid essential to cutting whey into amino acids) (2). Their presence will therefore require more effort and more time on the part of the digestive system to cut the whey into smaller peptides. Who says slowdown in absorption says lessen of the anabolic action of the Whey (3).

We thought for a time that the advantage of GMPs was to reduce appetite thanks to their stimulating effect on the appetite suppressant hormones. Unfortunately, it is not, which means that the GMPs have no interest, neither for taking muscle or for fat loss (4-5). They therefore constitute an unnecessary dead weight for the sportsman. Thanks to the absence of GMP, the isolate of Nutrimuscle nutrimuscle nutrimuscle native contains 17 % of essential amino acids (in particular leucine) more than a classic isolate.

No chemical or genetic manipulation
At Nutrimuscle, we prefer to use quality proteins to avoid chemical processes.
The Nutrimuscle native Whey isolate is "non-instant". Consequently, it does not contain transgenic soy (GMOs) and has not undergone treatments based on ionizing radiation.
Bi -Native Biological Isolate Nutrimuscle.
Young men received 15 g of whey on an empty stomach or after a bodybuilding session (4). On an empty stomach, the taking of Whey increases the summary of muscle protein (anabolism) by 0.016 % per hour. When the Whey is used just after training, its anabolic impact is more than doubled, with an elevation of anabolism of 0.041 % per hour. This study shows that the increase in the sensitivity of muscles to Whey anabolism continues more than 24 hours after training.

The Nutrimuscle native whey isolate is unequaled to moderate appetite (3). It is therefore fully suitable for gaining dry muscle or during a diet.

The objective of taking Bacillus Coagulans Ganedenbc30® consists of:

Increase the assimilation of amino acids, in particular for key amino acids for anabolism such as leucine and especially glutamine that is very difficult to assimilate correctly.
Optimize health: the proliferation of pathogenic bacteria in the digestive system generates a large number of toxic substances. By fighting against these bad bacteria, the bacillus coagulans Ganedenbc30® induce surprising effects against joint pain, bad sleep, etc.
Fighting digestive disorders such as bloating that can be felt with hypercalorical diet or diet, particularly rich in protein. It is necessary to use at least 100 million spores of bacillus coagulans per day so that effects occur (2).


Proteins contribute to the development and maintenance of muscle mass.
Who is the product for?
The native organ isolate organic is addressed:

to athletes, for a supply of quality protein and an increase in their muscle mass.
Research & received ideas on product
Without aroma, with a slightly lacou natural taste, the Nutrimuscle Nutrimuscle native whey isolate can be consumed in the state or sweet with natural stevia Nutrimuscle. You can also decorate its taste by adding cocoa, coffee, tea, a syrup of your choice, a strawberry, a mint sheet; Or in fruity shaker: banana, apple, strawberries ... According to the desire of the moment.

How to prepare and consume your proteins?
The gases generated by the consumption of powdered proteins do not come from proteins. They mainly come from the temperature of the liquid in which they are diluted. This cold liquid, or even often too cold, consumed several times a day in quantity (1.5 to 2 liters) creates a thermal shock in the digestive system causing bloating, gases, or even a tourism for the most sensitive.

Nutrimuscle recommends consuming your proteins in a liquid at room temperature: prepare your proteins in the morning in a bottle, and then consume them during the day. In this way, the mixture is homogeneous, because the bubbles have evaporated so more Rots, and the room temperature of the content will not disturb your digestion, so more gas.

a mixture to prepare with care < BR> not having undergone chemical processes and consisting of native proteins, the Nutrimuscle Nutrimuscle native whey isolate should not be shaken for long in water or milk under penalty of producing a significant level of foam.

The use of blenders (whose metallic knives destroy the growth factors naturally present in milk) is not recommended: they reduce the anabolic impact of the Nutrimuscle Nutrimuscle Native Biological Iso. On the contrary, we advise to mix the preparation using a fork or a whip that is turned slowly. If the slightly pasty texture does not suit you, let stand for a minute so that the protein completely dissolves from itself in the liquid.
Our customer reviews
Your opinions

Free delivery
from 50€ purchase
Product offered
from 110€ purchase
3x payment without fees
from 100€