Lean Gainer isolate from Whey oats
Native whey isolate & organic oat powder

Mass gain

Pre-workout or post-workout
Learn more
Payment in 3 installments without fees
Splitting the cost of your basket into 3 payments, nothing could be simpler with Alma! Available from 50 euros
Delivery estimated on 01/10
We guarantee fast delivery
in less than 5 days, at your home or in
relay point
Free product from 95€ purchase
We offer you a product from 95€ of purchases and you can accumulate loyalty points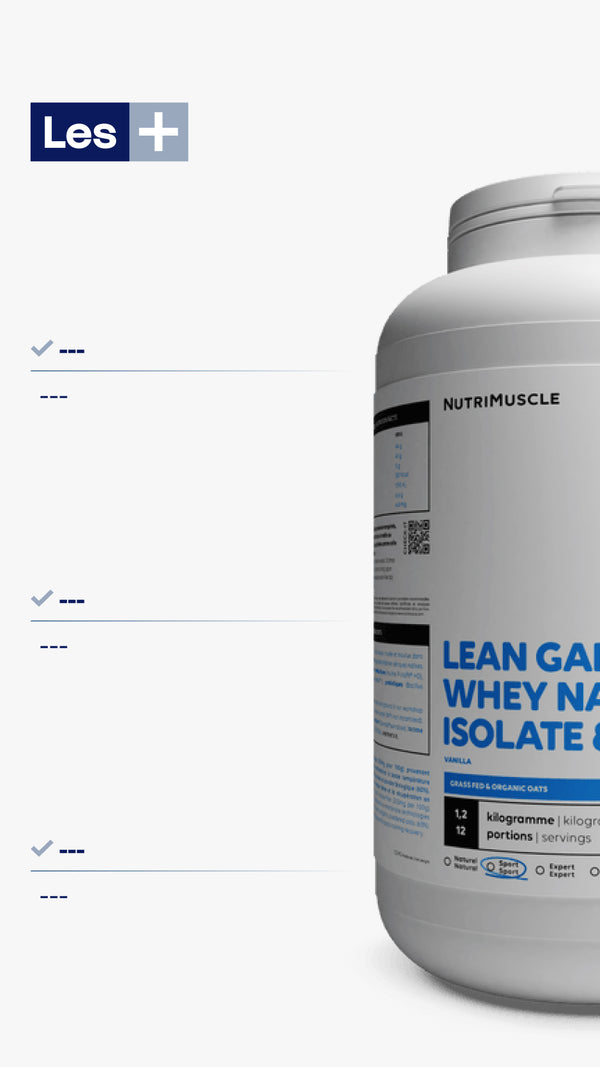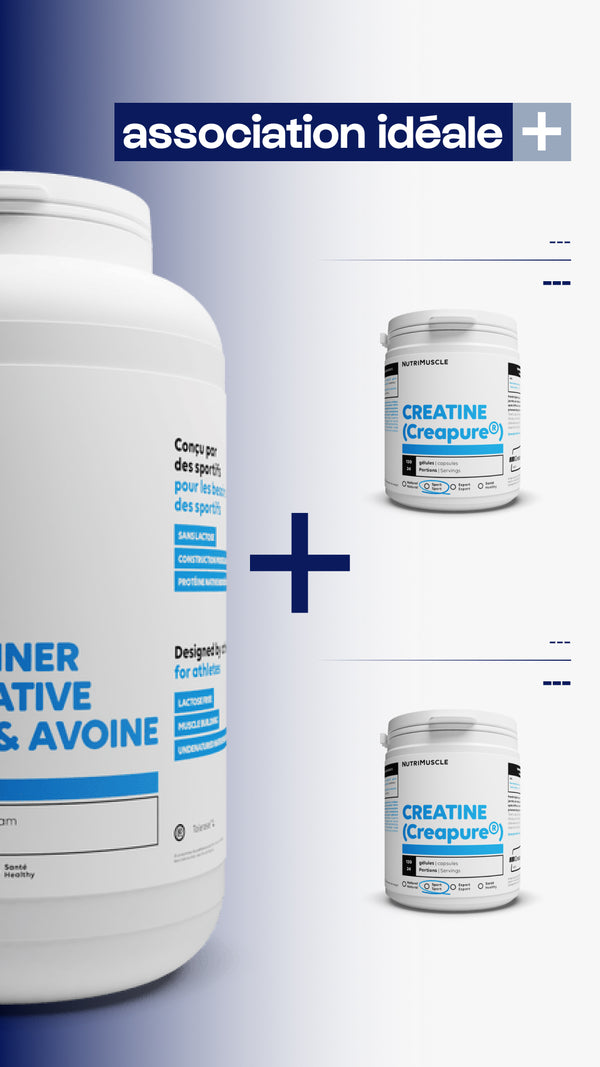 Lean Gainer isolate from Whey oats
Regular price
37,95€

i.e. 31,63€ / Kg
Sale price / Kg
37,95€
Regular price / Kg
i.e. 31,63€ / Kg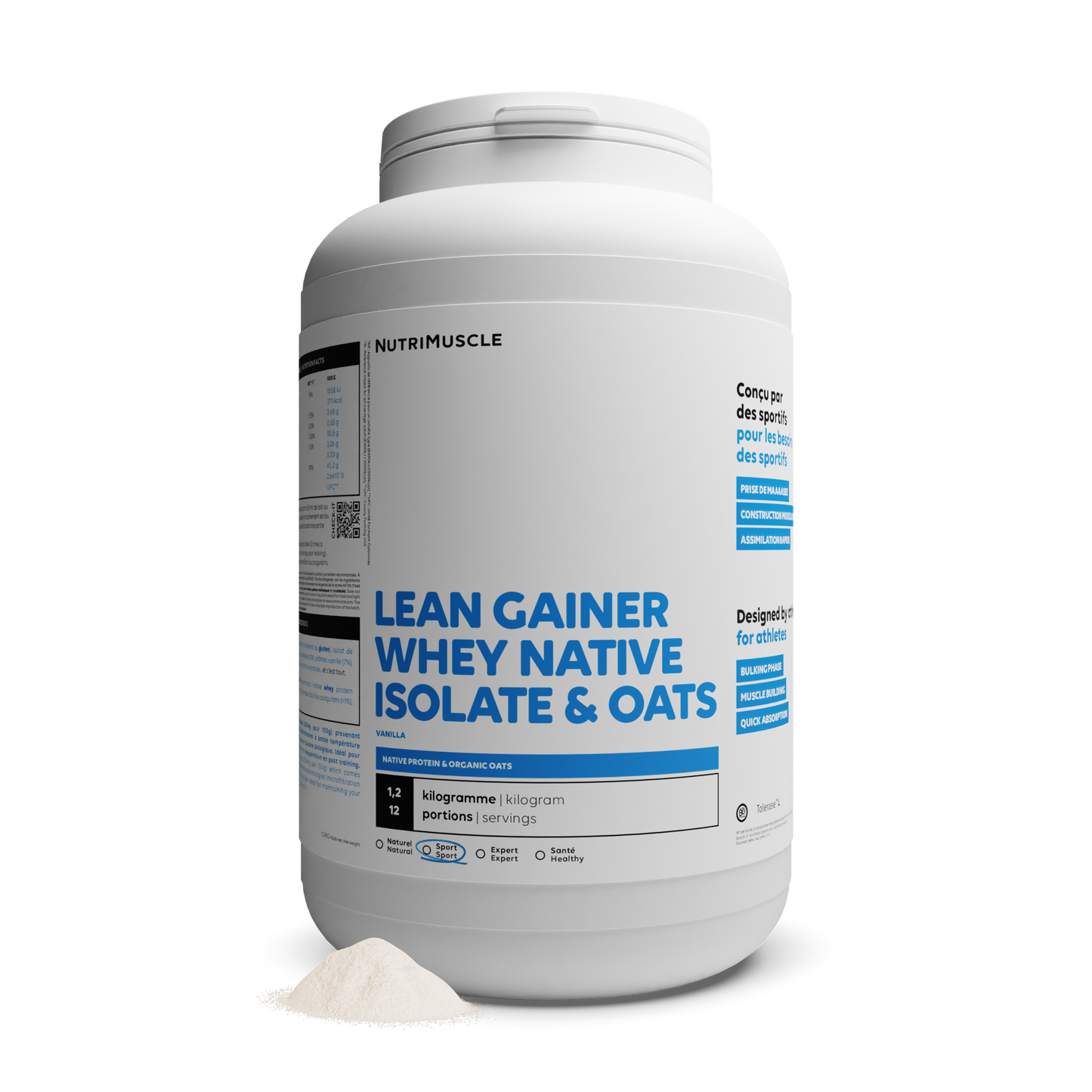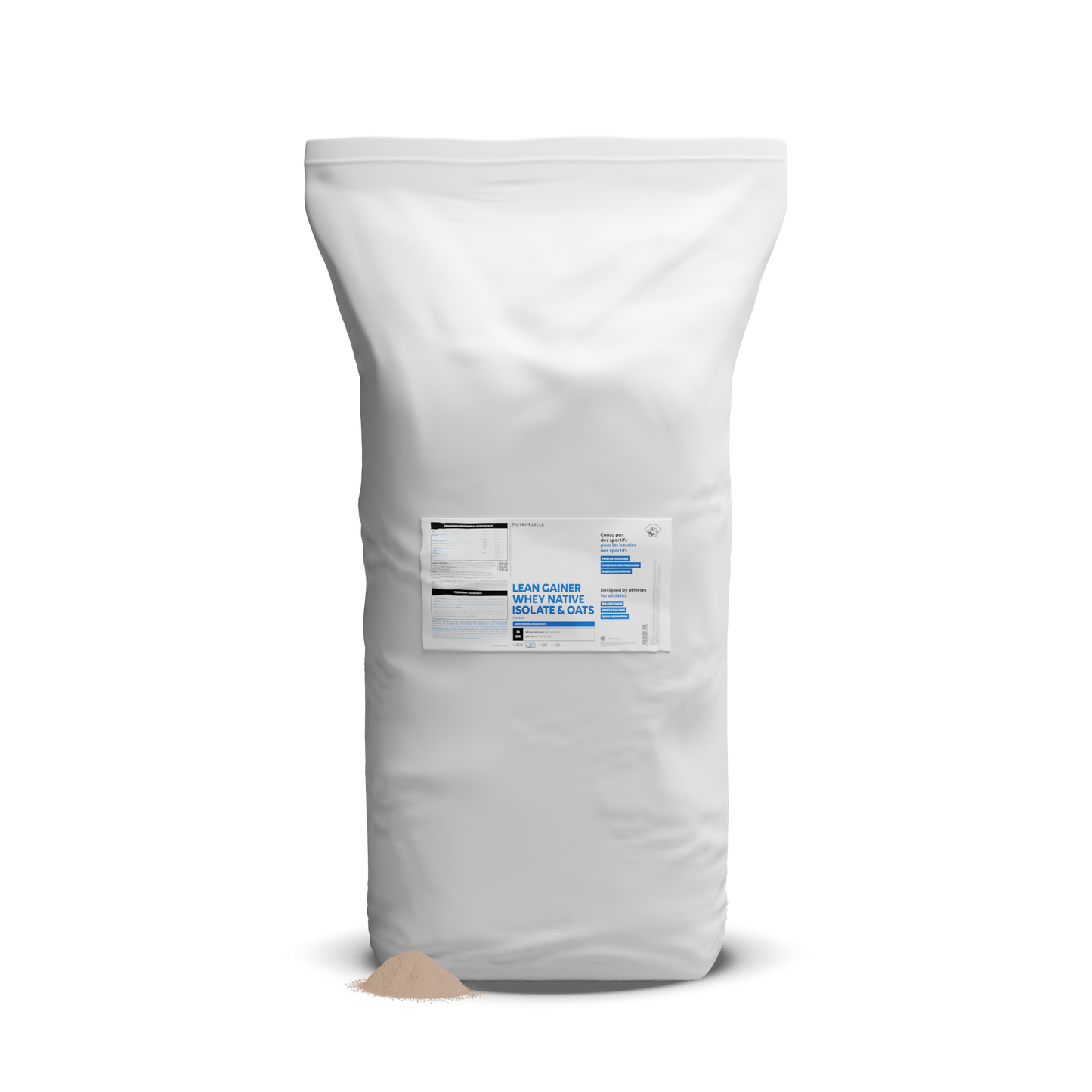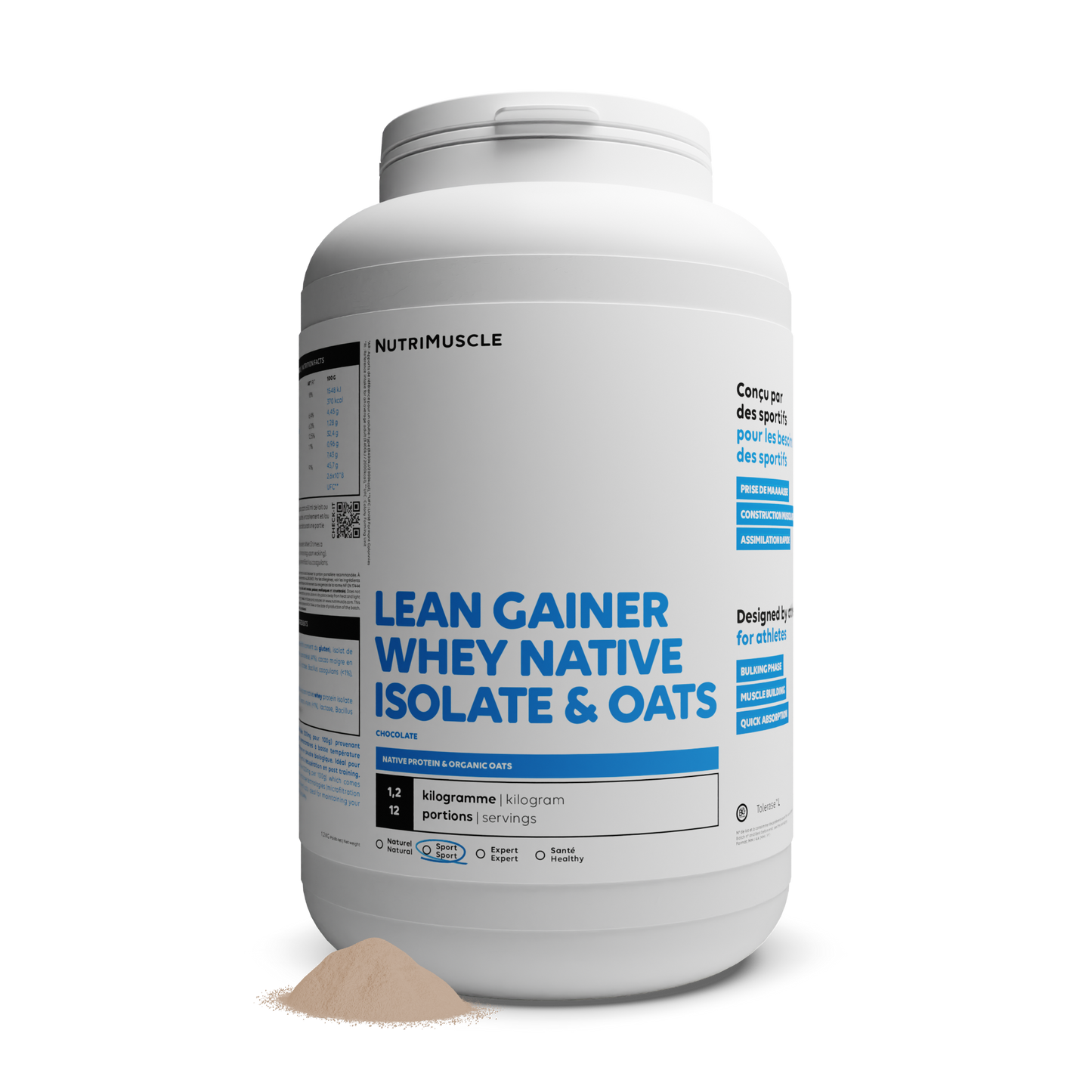 Bon à savoir
Sedentaries can also use a Lean Gainer to benefit from its satiety effect.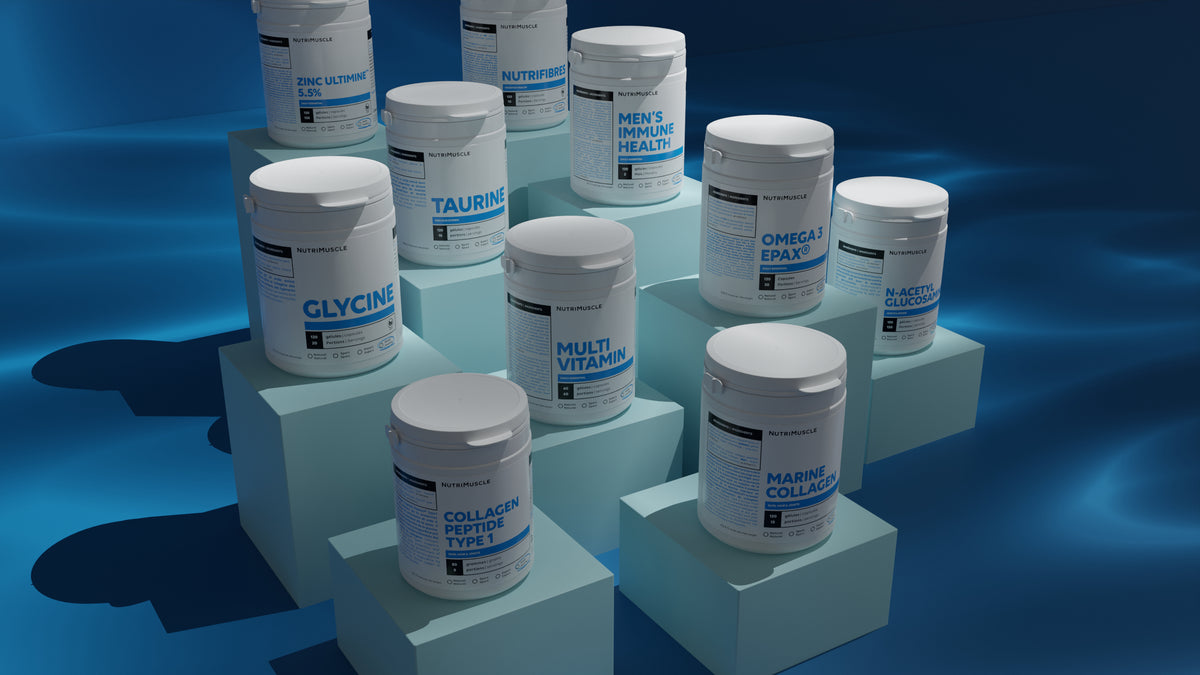 What the product does
Rapid energy supply & Best muscle sensations
Lean Gainer Isolate by Whey & Oat Nutrimuscle provides an energy source quickly usable by the body. It can therefore be taken before training to benefit from its effects during the sports session.

Our Lean Gainer contains oats rich in beta-glucan (super-fiber) and the native Whey isolate obtained by microfiltration and cold ultrafiltration. Thanks to this combination of quality carbohydrates and bioctive principles, it allows you to better feel its muscles while benefiting from a rapid energy supply.
Digestive health
The oatmeal that we use are beneficial digestive health thanks to their wealth in beta-glucans. These super-fibers make it possible to feed the good bacteria of the intestinal flora and to reduce the irritation of the intestine.

Our Native Whey isolate is very easily digested thanks to its soft extraction process which does not distort the protein. It is also diluted and does not pose a problem for people intolerant to lactose.

Our customer reviews
Your opinions
Everything about this product
Interaction with other Nutrimuscle products
The Lean Gainer Isolat of Whey & Oat Nutrimuscle improves the assimilation of biotics, carnitine and creatine.

The Native Whey isolate of Lean Gainer induces a lesser elevation of Valine. It is therefore judicious to use Lean Gainer with BCAA 2.1.2 Resistance richer in Valine to optimize anabolism.

Lean Gainer Whey & Oat Nutrimuscle is not to be taken at the same time as potassium bicarbonate to avoid bloating.
Learn more
The isolate of Whey Native Nutrimuscle is obtained cold thanks to an innovative membrane extraction technique, that is to say without heating denaturing amino acids. This helps keep their anabolic effects.

The milk is first microfiltrate to eliminate fat and bacteria. It is then that the Whey is ultrafiltrated by a cold process (temperature less than 10 °). The filtration techniques used are natural.

Source of carbohydrates with low glycemic index (about 40) and rich in fiber, the oatmeal powder of Lean Gainer slows the absorption of carbohydrates, which reduces the rise in insulin.

Made by Davert, the German leader in organic flakes, the organic oats that make up Lean Gainer is of very high quality. The powder of organic oats is made by Nutrimuscle in its factory for a perfect control of the granularity of the powder and its quality thanks to a grinding on stone wheel.
Benefits of the Lean Gainer Isholate of Whey Oat Nutrimuscle
To deepen your knowledge and understand the use of the 2 supplements making up the Lean Gainer isolate of Whey & Oat Nutrimuscle We invite you to consult the product sheets of:

The isolate of Whey Native Nutrimuscle Nutrimuscle biological oats


1. Proteins contribute to the development and maintenance of muscle mass.

2. Carbohydrates participate in the recovery of muscular functions (contraction) after a very intense and/or long -term physical effort that caused muscle fatigue and the exhaustion of glycogen stocks in the skeletal muscles. The benefits are obtained by consuming carbohydrates from all sources, with a total intake of 4 g per kg of body weight per dose within 4 hours, and at the latest within 6 hours of a very intense physical effort and/or long -lasting having resulted in muscle fatigue and depletion of glycogen stocks in skeletal muscles.
Who is the product for?
The Lean Gainer Isolat of Whey & Oats Nutrimuscle is addressed:

to athletes for a supply of protein and quality carbohydrates for an increase in their muscle mass;
to the sedentary for its effect of satiety with its high quality ingredients
to people who have a low protein diet.

Free delivery
from 50€ purchase
Product offered
from 110€ purchase
3x payment without fees
from 100€